Dearest Birth Mother,
We are Violet and Terry. Considering the decision to place your unborn child for adoption must be impossibly hard. We very sincerely want you to know that if you choose us as adoptive parents, we will cherish your child forever. Adoption would allow us to have the family we have always dreamed of. Our home is filled with love, laughter, faith, hope, food, music, and Abby (our 5-year old puppy).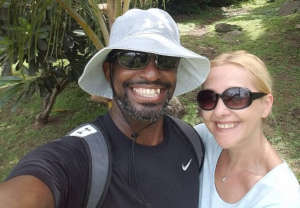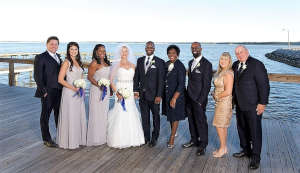 Our Story (the short version!)
We met in the spring of 2012 at a Manhattan restaurant that Violet frequented and where Terry worked. By August we were, and have been since, inseparable. The "moment" for us was when we were sitting on a park bench overlooking the Hudson River talking about our lives, as well as our hopes and dreams. We listened to each other. We understood each other. We trusted each other. We helped each other. We needed each other. We loved each other. Then and now. We recently celebrated our second wedding anniversary!
We were married in the Catholic Church. Our wedding day was filled with friends and family from the world over, along with great food, music and dancing. There was also a speech from us encouraging everyone to love and respect each other regardless of personal differences.
We moved to the Indianapolis area in November 2017 from New York City with the goal of starting a family in a more family-friendly environment. We knew from the beginning that it would be very difficult for us to conceive a child, so we always talked about adoption as our best family building option. We are now filled with excitement and cannot wait to be blessed with our first child.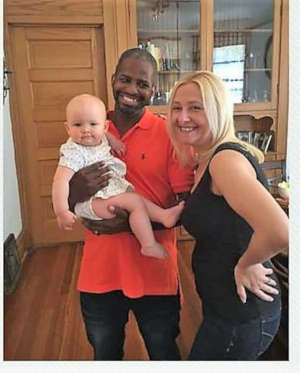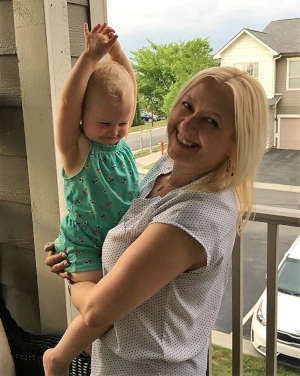 About Violet (by Terry)
Violet is compassionate and loving with a passion for living life to the fullest. She is creative, nurturing and supportive. She cares deeply for the well-being of our family. I know that she will be a great mom. She wears her emotions on her sleeve, and I love how quick she is to embrace others. She enjoys cooking and preparing new, exciting (and delicious!) dishes. Violet's sense of humor is wonderful and sneaks up on you in amazing and disarming ways. She is a fast learner and dives headfirst into research when she doesn't know the answer to something. In fact, it was her adoption research that led us to you! Violet is an only child who was born in Poland. She holds a Certified Public Accountancy license and works as a Senior Financial Auditor with a prestigious insurance firm.
About Terry (by Violet)
Terry is a loving husband and my rock. He is intelligent, charming, energetic, charismatic, outgoing. He has a great sense of humor and lights up the room with his smile, jokes and storytelling. Kind, patient, and caring- I am sure that these traits and his love and compassion are something he will instill in our family. Terry is supportive, patient, and open-minded. He has a great sense of morality and shows unconditional love. He will ensure our child(ren) see the value in everything they have, from the food on the table to a good education.
Terry has the biggest heart. It is his nature to be there for people when they need help or to just share what's troubling them. He believes that life is about living and he just refuses to let stress and worry consume him. He keeps life exciting. Terry also has a sensitive side and I love that about him. Terry is the oldest of three siblings and grew up in Mississippi. Terry is a Notre Dame graduate with experience in financial software sales and currently works in the professional service industry as a server/trainer at an upscale steakhouse in Indianapolis.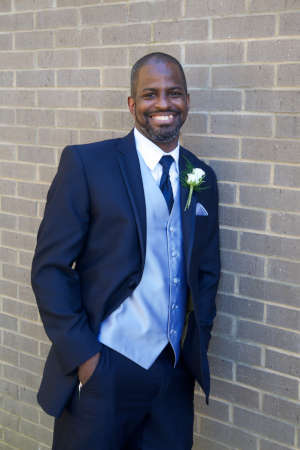 Our Home
We live in a modern apartment community in central Indiana. Our apartment is a two-bedroom, two-bath open concept with lots of space. The walls are filled with memories of our times together, and there are little elephants everywhere! Although we plan on buying a home soon in the same area, we have truly made our apartment our "home."
Our community is diverse and welcoming. The schools near us are some of the best in the nation. We attend a Catholic Church where we are both active participants. We live near numerous parks, playgrounds, agricultural and entertainment venues. We have a strong network of supportive family members and close friends, both here in Indianapolis, as well as many other places. This includes Terry's mother who can't wait to welcome and spoil her first grandchild!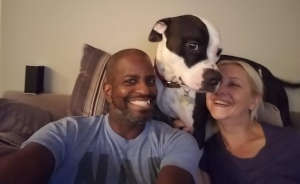 About Abby
Our Abby is more than just a dog. She is a loved and extremely well cared-for family member. We brought her home at five and half weeks old and cannot imagine our life without her. We have ensured her of a healthy diet, taught her to be respectful, given her everything she needs and much of what she wants. She has given us a constant reminder of the importance of play, sleep, love, affection and laughter in our lives.
Our Interests
We share a love for reading, music, movies and cooking (although Violet is the top chef at home!) We enjoy entertaining, competitive board games, travelling and exploring new places and things. Violet thoroughly enjoys creating scrapbooks, decorating and event planning. One of her newest hobbies is gardening. Terry is a sports fan, both participating and watching. He enjoys running and is involved in co-ed flag football and sand volleyball leagues. We love to laugh, stay positive and enjoy the simple pleasures in life.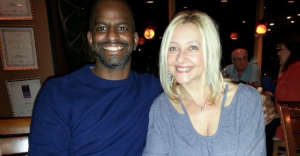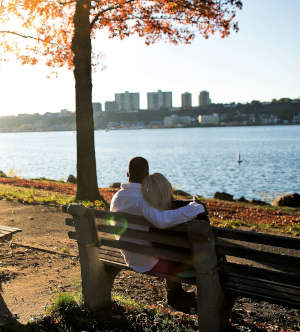 In Closing
We understand that the decision you are facing is incredibly difficult. We are ready and willing to be as open with our relationship with you as you would allow. Please know that we will raise your child to be an important, respectful, caring, and loved member of society. Our parents raised us with strong values, and we will do the same for your child.
You can also reach us through our adoption counselor Maggie Benz at:
800-869-1005
847-366-6343 (text)
maggie@centerforfamily.com
With love, Violet and Terry