Dear Birth Mother,
Our names are Tibor and George. We're so happy you wanted to take the time to get to know us better! We can't imagine the difficult decision you are making. Please know that we respect your journey in deciding what is best for your child. What we can offer is a loving home with two devoted dads, a big and caring extended family, and an opportunity for you to stay connected to the extent you wish.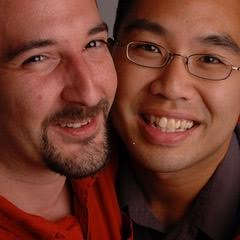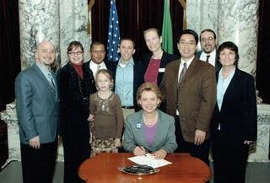 We have spent much of our lives as advocates for justice and to help make our communities better places. In fact, when we first met in our hometown of Seattle over a decade ago, it was through a campaign for LGBT equality. We quickly realized that we were both from immigrant families – from Hungary and Hong Kong. Though we had different backgrounds, we shared so many common stories – love for our ethnic foods, interpreting for our parents, and keeping our traditions alive. We recently celebrated our third wedding anniversary and long to have the opportunity of experiencing the joys and challenges of raising a child. Adoption offers us the chance to be parents.
How We Met
After completing graduate school on the East Coast, George moved back to Seattle and started an advocacy group to fight for marriage equality. At an event, George noticed Tibor and gathered the courage to spark up a conversation! After a bit of chitchat, we decided to set up a date. So, we met up at a neighborhood cafe on a Saturday afternoon and talked (and talked, and talked!) – about our families, travel adventures, the upcoming elections, and the future. After many cups of coffee, the hours melted away as we got to know each other and started to fall in love.
Soon, we had family get-togethers, which went really well – partly because we have nieces of the same age and mothers who love to gab. After a year, we moved in together. The hardest part was introducing our furry companions (Tibor had two dogs and a cat and George had a cat) to each other. It took some time, but in the end, it worked out! Though we only have one cat now, we hope to raise a child around pets.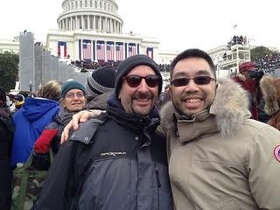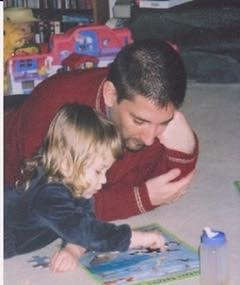 About Tibor (by George)
Tibor is one of the kindest and most patient people I know. (In fact, he is always the first call his mom makes if she has ANY problems!) He grew up the second of three kids in Seattle. Soon after we met, Tibor landed a job as an aide to a local elected official and worked for county government for over five years. Now, he is a full-time student at Northwestern University pursuing a Masters in Public Administration.
One of the many things I love about Tibor is how he embraces his heritage. When his parents emigrated from Hungary, his mom wanted her kids to stay connected to their roots, so she helped start an organization to teach kids Hungarian folk traditions.
This eventually inspired Tibor to live in Hungary for two years during college and dance professionally. To this day, he continues to perform with a local dance troupe, and travels the country teaching these beautiful dances. I am his biggest cheerleader!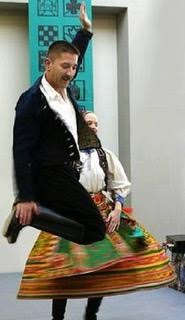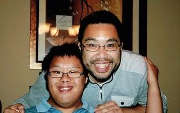 About George (by Tibor)
George is an amazing person. He is thoughtful, patient, and understanding, and I know he will be an incredible father. He was born in Canada and grew up in the Seattle area with his older brother, Francis. Since his parents, Chester and Cecilia, owned a restaurant, George and his brother regularly helped out. As a matter of fact, he is quite famous for busing tables on roller-skates while in grade school! George now works for a foundation based in Chicago focusing on strengthening democracy.
George loves sports and is really good at anything with a ball and net, including volleyball, badminton, and ping-pong. But his favorite sport by far is tennis. He has played since high school, and nowadays spends a lot of time teaching and organizing lessons for beginners.
Our Home
We live in a two-bedroom condo in Chicago's Edgewater neighborhood. We chose this apartment partly because it was so close to the park and Lake Michigan. Our home has a light and airy feel with floor to ceiling windows that lead to a large balcony. Our favorite spot in our home is the kitchen. George loves to spend Sundays at the farmer's market and then whipping up amazing meals for the upcoming week. Tibor is a very good helper, and thankfully, a big fan of George's culinary talents!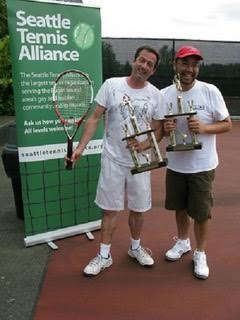 Our Family
Tibor's immediate family is tight-knit and all live in the Seattle area. His brother, Peter, a sheriff's deputy, is married to Abby and they have two daughters (Gabby is 14 and Maddie is 10). Their home includes several acres, allowing him to keep horses and dogs. Tibor's dad, Alex, lives close to them and, as he is retired, has provided immeasurable support with childcare. Tibor's mom, Marta, continues to live in the house in which he and his siblings grew up. His sister, Andrea, a restaurant manager, also lives close-by. They are very eager to welcome another child into our family.
George's parents, Chester and Cecilia, are immigrants from Hong Kong and are retired, spending a lot of time gardening, swimming, and traveling. His older brother, Francis, is a software engineer at Microsoft and loves to play volleyball with his wife, Cindy, and their three kids, Lad (25), Chazzy (22), and Teagan (13). Lad has special needs (Downs Syndrome) and is always the life of the party. They also can't wait until we adopt a precious child.
We are two dads who would shower your child with tons of attention and a lifetime of opportunities. If you would like to learn more about us, please contact us directly at tiborandgeorgeACFB@gmail.com. You can also contact our adoption counselor, Maggie Benz at 800-869-1005 (toll free), 847-366-6343 (text) or maggie@centerforfamily.com.
We welcome your call!
Tibor and George