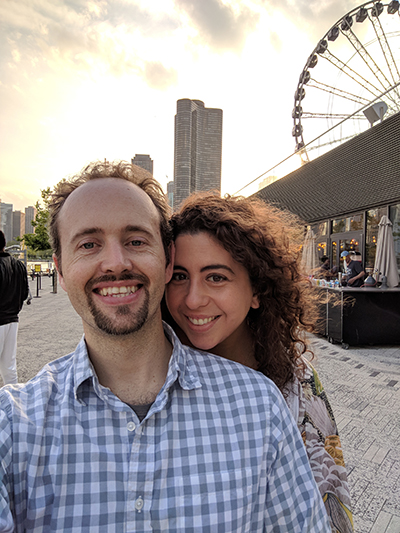 We are Susaan and Joe and we'd love to share a little slice of our lives with you! We look forward to growing our family through adoption and hope you will consider us in placing your child. We admire the enormous strength it takes to determine the best path for your child's future and very much appreciate you.
Our Story
We are a happy, playful, adventurous, and artistic couple with wonderful families and friends. We try to lead with compassion and joyfulness. Every day, we celebrate and uplift each other's individuality while growing stronger as a family.
We are both theatre artists and met working on plays in Chicago. Susaan (rhymes with "shoes on") is an actor and Joe is a set designer. After our third production together, we started dating and were married three years later in 2017. In many ways our personalities are very different, but we complement each other perfectly!
Some of our favorite things:
Cooking We love creating things in the kitchen. We always make delicious and healthy meals.
Traveling We love exploring close to home and around the world.
 Art We believe art is a vital part of life and we go to theatre, concerts, and museums regularly.
 Outdoors We love tennis, bike riding, the beach, picnicking, farmer's markets, apple picking, hiking, camping, and outdoor events.
 Creating We're always making things and we relish a good creative project including painting, drawing, ceramics, crafts, renovating our basement and more.
 Families  We are super close with both of our families and love talking to them often.
 Friends We love seeing our friends, having them over for dinner and hosting parties. We're always up for a group  adventure! 
 Toby Our dog! He's very cuddly and sweet.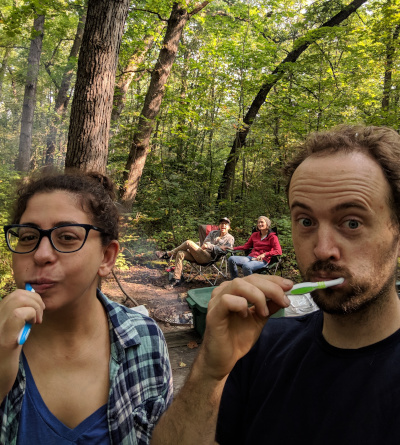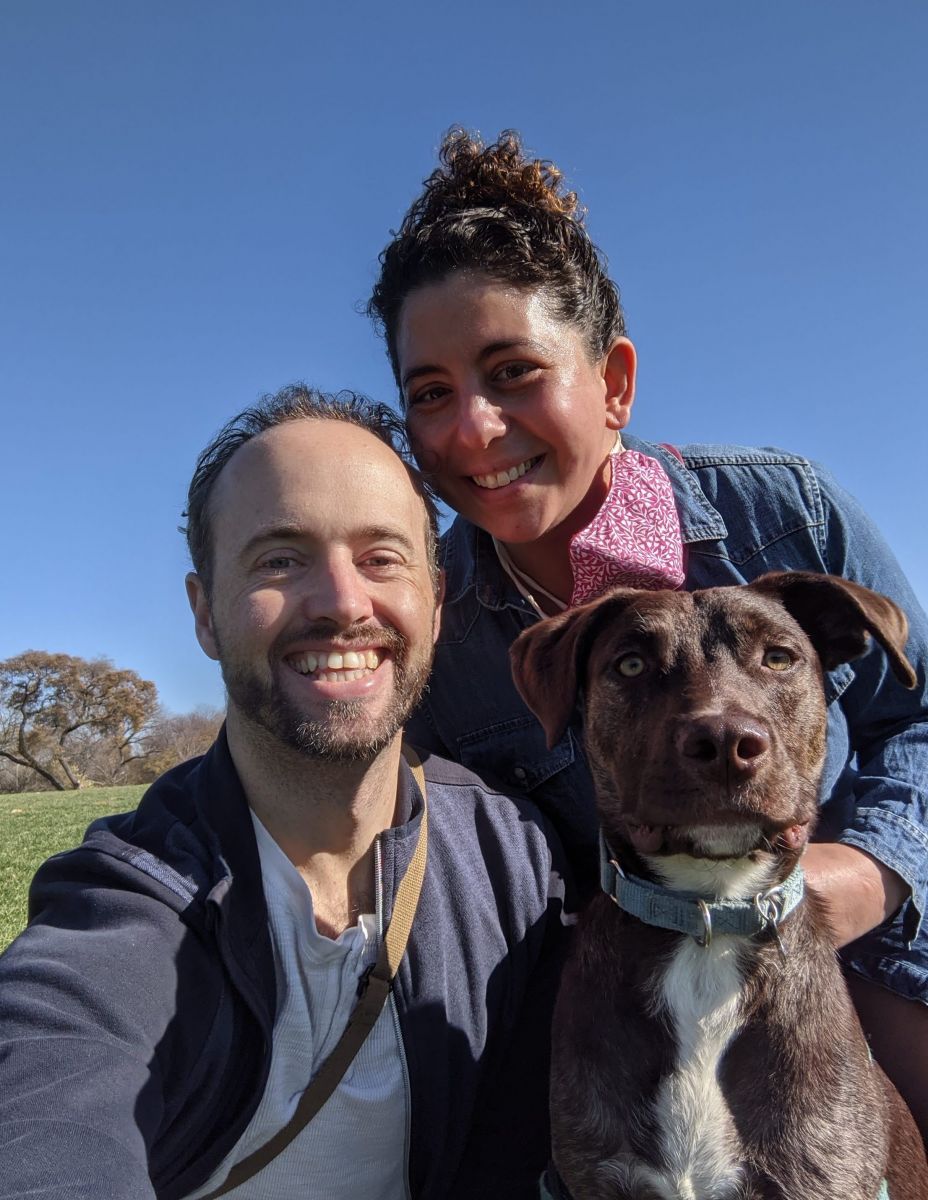 Susaan (by Joe)
I love Susaan because she has so much love for life, her family, and all the people around her. I wanted that endless well of love to always be in my life. She is so much fun to be with and treats everyone with kindness and compassion. She does her best to always see what others are feeling and going through and her empathy makes her a wonderful actor. Her hard working, spontaneous, and energetic personality shines on stage as well as in everyday life. When Susaan isn't acting in plays, tv, or film, she enjoys working with children, having nannied quite a few toddlers over the years. I am amazed by the energy and joy she brings to children taking them on all sorts of adventures to parks and museums. Susaan is also an avid potter and started a small pottery buisness selling her beautiful creations.
Joe (by Susaan)
Joe has the biggest and best laugh you will ever hear. He's slightly famous for it. It's such a testament to his personality, and humanity, that everyone loves him. He's a person you can count on. He's also a genuinely smart guy who is able to solve almost any problem. Joe grew up in South Africa and moved to the USA when he was 16. He comes from a family of athletes and artists, so he has an excellent balance of creative spirit and practical focus. He's a very accomplished theatrical set designer and is an architectural consultant working on the design of theatre and music venues. He loves plants and we have a ton around the house. One Christmas I bought him a bonsai tree and he loved it so much he started raising bonsai trees as a hobby. Now we have at least 20! He also loves riding his motorcycle and making woodcrafts when he can. Highlights are a hand-made toy train for our nephew and a beautiful hutch in our kitchen.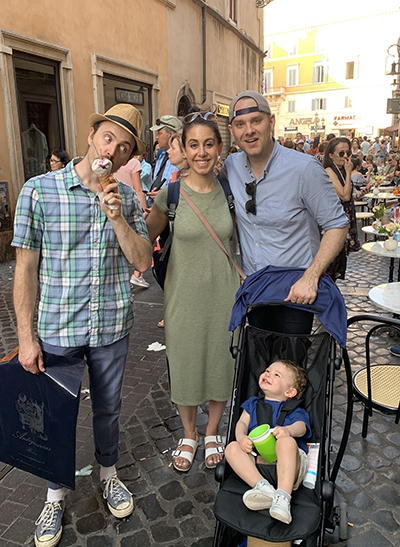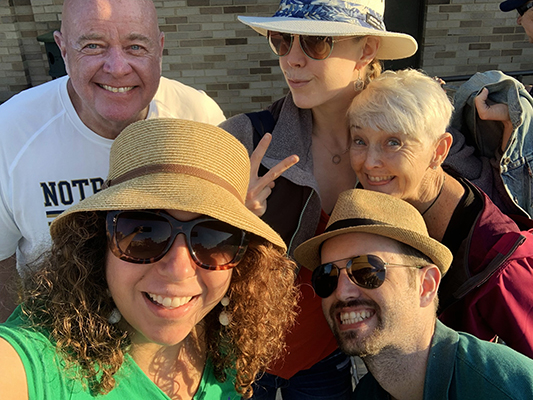 Our Families
Susaan has one younger sister and Joe has one older sister. We are spread out across the country, but we talk to each other a lot by phone and video and try to visit each other as often as we can. Our Families=Fun!
Susaan is from western Pennsylvania where her mom still lives, while her sister, brother-in-law, and our 3-year-old nephew and baby niece live in Washington DC. Her dad grew up in Iran and moved to the USA to practice medicine, where he fell in love with her mom, a nurse. Sadly, he passed away while Susaan was in college, but the warmth of his spirit is still present. Joe's family is in Kansas City and California and his sister travels the country choreographing for contemporary dance companies.
Everyone is very excited for us to be adopting, including Joe's aunt and uncle who adopted their two boys years ago. One of them just had a baby, and it's been such a joy to see our families grow in new ways.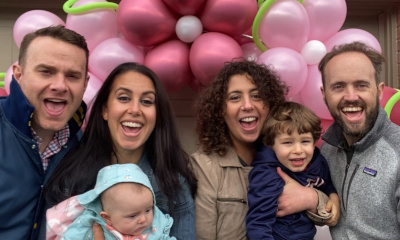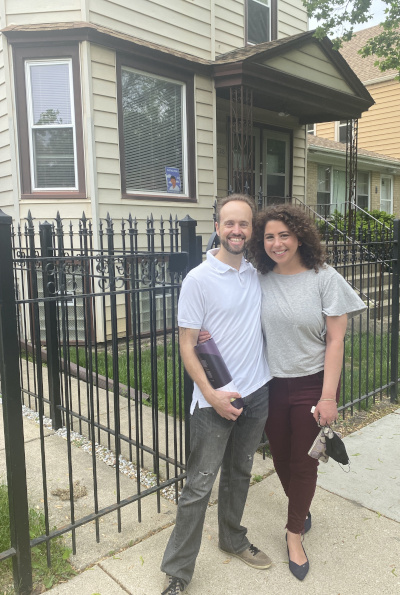 Our Community
We recently bought a house in Chicago and love the tight-knit multicultural community around us. We love having a yard and have easy access to parks, public transit and downtown. We have a very close group of friends in Chicago and beyond. Many have young children who will welcome a new playmate. Our friends are eager to be aunts and uncles to our child and we feel lucky to have such amazing support closeby.
We are also fortunate to be part of the Chicago theatre community which is spread throughout the city. It feels like its own small town full of people from many different backgrounds and experiences. We are always learning and growing from the varied perspectives of those around us and we believe anything is possible with a strong community.
Thank you
We feel blessed you are considering us to parent the child you'll bring into this world. We are so excited to grow our family and hope this short story inspires you to get in touch with us and learn more. We would love to meet you and hope that we can form a long-lasting relationship with you in whatever way makes us all happy.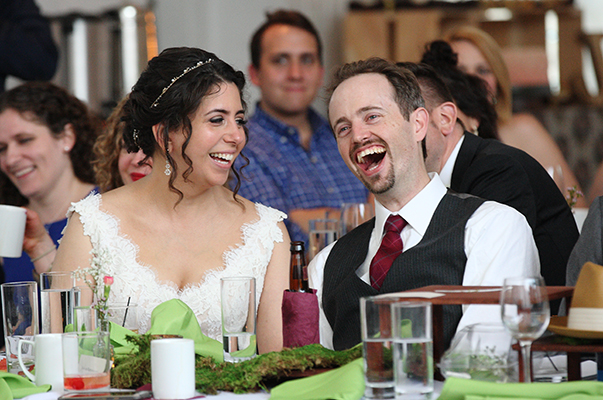 With Gratitude,
Susaan and Joe