Dear Expectant Mother,
We are Penni and Brian, ages 30 and 31, a loving, family-focused, financially secure couple. We're so excited to bring a baby into our family, that we already have a plan for Penni to reduce her work hours so she can spend lots of time at home with our child.
We admire and respect your selfless love, strength and courage for considering adoption. We cannot begin to imagine how difficult this decision is for you. If you choose to place your baby with us, we'll make sure that your child knows that your decision was made from a deep, unselfish love.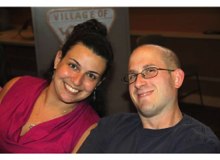 We're sure that you have many questions and concerns, and hope you'll get to know us so that you will see how much we will cherish your child. If you choose an open adoption, we would be happy to stay in contact with you through letters, pictures, phone calls and visits.
We are both confident that adoption is the right path for us and one that will make our dreams come true. If you decide that adoption is the right path for you, we hope you will take this journey with us. We'd love to hear from you. Please email or call us if you questions or just want to talk.
Penni.Brian.ACFB@gmail.com
800-869-1005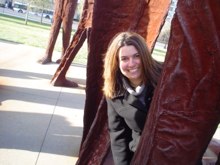 Meet Penni
profile1I'm the type of person who always looks for the best in everyone and every situation. I'm proud to work for a large, charitable organization that strives to improve our community. I already have a flexible work schedule, but plan to cutback my hours when our baby arrives. I volunteer as co-chair of a local summer carnival, and enjoy seeing the excitement on the kids faces as they enjoy the final weeks before returning to school. Our neighborhood is filled with young children and terrific playgrounds. On most days, I enjoy taking our cute, little lab mix, Pipsqueak for walks to the local playgrounds. I also enjoy painting and reading everything from novels to biographies.
I am so excited about being a mom! I look forward to encouraging our children to pursue their passions, and to pass on meaningful family traditions. For example, many years ago my grandmother started the tradition of sewing "bubby blankets" for every new baby in our family.. In recent years I have taken over the responsibility of making these soft blankets.
Meet Brian
I am an adventurous person who likes the outdoors; I especially enjoy roasting marshmallows over a camp fire and sleeping under the stars. I grew up in Maryland and spent a lot of summers camping, cooking outdoors and hiking in mountains. I also enjoy grilling on our deck, working out at the gym, playing sports (mostly soccer) and taking our dog on long walks through our neighborhood. I am a certified scuba diver, and my favorite place to dive is The Great Barrier Reef in Australia. I work for a multi-national corporation as an inventory analyst. My company offers lots of great benefits and opportunities for advancement.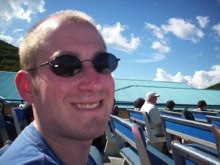 I cannot wait to be a dad! I am excited to share my passion for the outdoors, cooking and sports, coach soccer or simply cheer our child on in whatever activities he or she chooses to pursue (whether it is dance, baseball, soccer music, etc )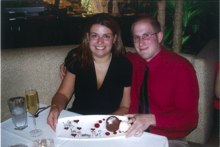 Our Story
We met on an online dating site in 2008. After sending e-mails and talking on the phone we decided to meet for dinner. We had an instant connection and were both excited to see where our relationship profile3would go. During the year we were dating, we went to Maryland to spend time with Brian's family, and took a vacation together. We knew that we wanted to spend the rest of our lives together and Brian planned a beautiful, romantic proposal. We spent the next year planning our wedding, and the rest of our lives. Brian's mom made a beautiful canopy that we were married under. Our wedding was truly a special time for us and our families. We've been married for almost 4 years. We purchased our home about a year ago, around the same time that Pipsqueak joined our family. Pipsqueak is a sweet dog and great at playing fetch with our young cousins and the neighborhood kids.
Our Families
Penni is the oldest of 3 siblings. Her younger brother, Raymond, and his wife, Anna, live in Chicago and we get to spend a lot of time with them. Her younger sister, Gail, lives in Iowa. Penni's parents live close to us and can't wait to be grandparents for the first time. .
profile4Brian is a middle child. His older sister, Yvonne, her husband, Jon, and their twin boys live in Maryland. Brian's younger brother, Steven, and his fiancée, Rebecca, live in Boston. We see Brians' siblings at least once a year, but thanks to Skype we are able to be an active part of our nephews' lives. Brian's parents live in Maryland and they are looking forward to having even more reasons to visit Chicago!
Most of our aunts, uncles and cousins live in the Chicagoland area. We often get together for BBQs, birthday celebrations and holidays. We are both have supportive families and know if we ever need a helping hand, a family member is just a phone call away.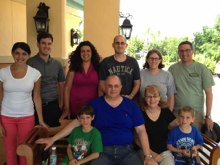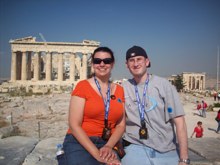 Our Community
We live in a single family home in a Northwest Suburb of Chicago. We have a lot of playgrounds in our neighborhood and are walking distance to our elementary school. The park district has won awards for its great array of activities and the schools are among the best in the state.
profile5We understand that you have an enormous decision to make, and we thank you for giving us the opportunity to introduce ourselves to you. We realize that you can't fully get to know us from this letter, but hope that you'll want to learn more about us. We are a stable and caring couple and we know that we can offer your baby a safe, happy home and a wonderful childhood. We understand how much love it takes to place your baby for adoption, and –if you choose us as the adoptive parents—we'll make sure that your child knows it, too.
If you would like to get to know us better, please email us at Penni.Brian.acfb@gmail.com. You can also contact Tobi Ehrenpreis, our adoption counselor at (800) 869-1005 or text her at 847-366-6351. We wish you peace of mind and all the happiness you deserve.
Warmly,
Penni and Brian