Hello! We are Nikki and Dre. We are excited to be parents and grow our family. We feel blessed you are willing to consider us for this privilege and look forward to the responsibility, challenges and joys of becoming parents. We've been married for over 11 years and friends for much longer. In that time we've worked hard to build a supportive and loving home. We have always had the capacity to love more than ourselves and are devoted to raising a child in a home that is filled with loads of love, happiness and joy.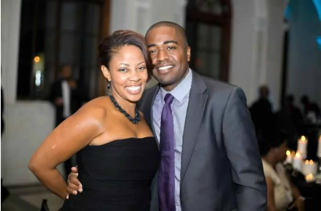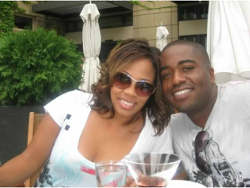 About Us – We met in college, became friends and discovered years later that we had so much in common including a love of travel, adventure, movies, food and music. As friends we became connected by our quick wit and sense of humor. It is the gift that keeps on giving and keeps us both upbeat and moving forward even through difficult times. When we married we wanted our wedding to not only be a celebration but also an experience that would amplify all of the excitement and joy we felt so we hosted a weekend in Las Vegas with over 200 of our closest family and friends.
We both work in the entertainment field. Dre works on the business side managing Legal and Business Affairs for a television production company. It is interesting work and the best part of the job is the excitement of working with celebrities and meeting the expectations of such a fast paced environment. Nikki manages the digital sales and marketing for a global entertainment media company. Responsible for building marketing packages for Fortune 500 companies, Nikki loves the entrepreneurial and creative culture of her position. The best part of the job is meeting new people and seeing her concepts and ideas activated on TV.
About Dre (by Nikki) – When I think about Dre I think of someone who is extremely intelligent, disciplined and supportive. He has a magnetic personality that brings ease and calm to any situation but his sense of humor is his secret weapon! What I love most about him is his ability to stay grounded in chaos. He has a great ability to bring a light and fun air to any situation. Family is important to Dre as he takes loving care of his maternal grandparents who also live in Chicago. He is very affectionately referred to as Uncle Dr. Dre by his six godchildren ages 2-14 years old. I know Uncle Dr. Dre will be an amazing father.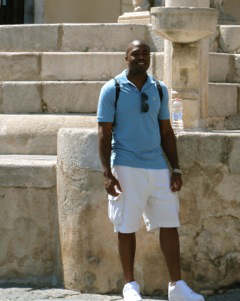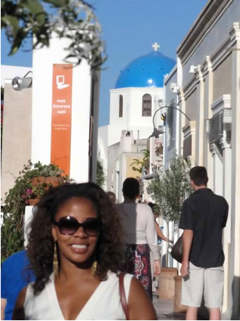 About Nikki (by Dre) – I am blessed to have such a smart, loving and supportive wife. I love Nikki's wit, sense of humor and adventurous spirit as she keeps our lives filled with joy, excitement and fun. She is a kind, generous person and her nurturing spirit will be a blessing to have as a parent. Nikki comes from a family of educators who have dedicated their lives to uplifting our youth. Her natural ability to connect with children is amazing and a joy to watch. Her glowing personality is infectious and brings positive energy into every room. We have been blessed with beautiful nieces, nephews and godchildren and we now look forward to having a family of our own. Nikki will be an incredible mother and I am looking forward to building a family together.
Our Home & Lives Together – We both are born and raised Chicagoans with love for our south side roots! Nikki went to school in Chicago attending Whitney Young high school and then Northwestern University. Dre went to primary school in Chicago and received an amazing opportunity to attend a private high school in Andover, Massachusetts, which is a school attended by many distinguished alumni including former Presidents, legendary movie stars and renowned scholars. We now live in Chicago in the home that Nikki spent most of her teenage years. We renovated the house to truly make it our home and this process was a major undertaking as we collaborated on every detail – a true testament to our desire to work together as a strong unit. We love our home and neighborhood because we are surrounded by great primary and high schools as well as the University of Chicago. Our home is just moments from the beach, museums and several children's parks.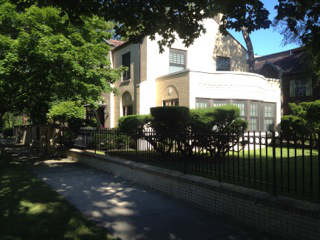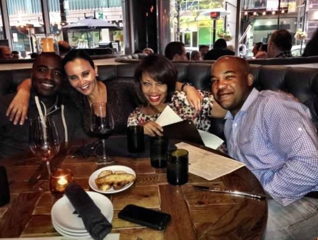 Our Faith & Family – We both have a strong faith in God and serving our community through mentoring and volunteering for youth based programs. We enjoy the sense of community we've built in Chicago. We are both from blended families and have learned to welcome change and accept people for who they are at a very young age. This connected us to each other and to our friends, an amazing group of people with whom we've shared many years growing and becoming better people along the way. We each have one sibling, Nicole a sister (Toni) and Dre, a brother (Daniel). We also have a host of stepsisters and brothers who live in Chicago, Washington DC and New York and tons of extended family including grandparents, aunts and uncles throughout Chicago. Through this community of friends and family we will provide a secure and encouraging environment filled with rich experiences, education and memories.
We have a commitment to making sure that everything we do works towards the improvement of our family and life together. We are big on growing through exposure to new cultural experiences and travel is our great escape. Dre's love of travel has been contagious and has landed us across the globe traveling to Turkey, Greece, Italy, Spain, Czech Republic, Mexico and several countries throughout South America and the Caribbean. We hope to share this passion with a son or daughter.
Our Commitment To You – We know your decision is not an easy one. It requires the utmost faith and resolve. The connection and bond we will have as birth parent and adoptive parent will be an important one. We hope we can strengthen our connection over time with great memories and the reassurance that we will love your child unconditionally. It is our hope that you can see that we have so much to give and as parents and that we are capable of providing a home filled with nothing but the best for your child.
In closing, if you would like to know more about us please send an email to dreandnikkiacfb@gmail.com. You may also contact our adoption counselor Maggie:
• By phone (800) 869-1005
• By text (847)366-6343 or
• By email Maggie@centerforfamily.com
Respectfully Yours,
Nikki and Dre