Dear Expectant Mother,
Hello, we are Melissa and John. We are so excited and honored that you have chosen to read our letter! We know you're making an extraordinarily difficult decision, and we appreciate that you're considering us as the adoptive parents for your baby. After much thought and prayer, we have embraced adoption as the way for us to become parents.
We hope that this letter is the beginning of a conversation with you that makes the choice easier for you. We promise to raise your child with warmth, honesty, energy and love.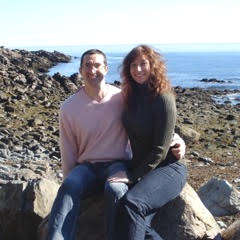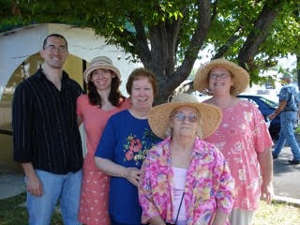 About Us.
We met through mutual friends at the Illinois State Fair over ten years ago and have been happily married for over five wonderful years. Although we don't go to the State Fair as often now, we know that when we're blessed with a child, we'll certainly be visiting the fair to enjoy the rides, shows, and funnel cakes!
We both come from loving families who live nearby. We visit our families frequently and they will be a huge part of our children's lives. They can't wait to welcome a little one to our family. John's mom lives on a farm that we call "the ridge" with three large dogs and other animals.
At one time or another, his mom has had horses, goats, llamas, and pot bellied pigs. The ridge is also a remarkable place for watching birds. We enjoy making a large breakfast over a campfire and the doing various farm chores while there. The ridge is a child's paradise!
John's dad and stepmother live in the house where John grew up. We visit them often and enjoy cookouts and pool parties at their home. We really love getting together in Melissa's mom's kitchen, sitting around the table talking, laughing and cooking. Melissa's family are all avid readers and they enjoy sharing stories and comparing notes on the newest books and local and world news.
Melissa's sister, Shelly, has two small, playful dogs and everyone spends time with them, either playing or going for a brisk walk in the surrounding community! As you can see, both of our families cherish animals and love spending time outdoors.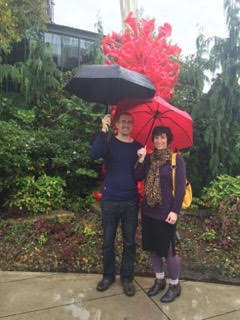 Home and Community
We live in a charming and historic neighborhood in central Illinois. Our house has a large yard with plenty of room for children to play. Our home is on a boulevard lined with beautiful trees and flowers. Our neighbors are wonderful and helpful, and they rarely move because they love the community so much. We regularly take evening walks, which is especially gorgeous in the fall when the leaves change. We always see other families out walking enjoying the day or lots of children playing games in their yards.
Within walking distance of our home there are several schools and churches and a lovely park with several ponds. We visit the park frequently. The park has fun holiday events, such as a Jack-o-Lantern festival, featuring hundreds of carved pumpkins, music, and food. We also enjoy the park's summer plays and concerts. Our city has a lot of historical sites and fun activities, such as art fairs and music festivals. We have a fabulous farmers' market downtown, where we do grocery shopping. In the summer (and even the winter!), we like to walk over to the nearby ice cream shop for a scoop or two. We also enjoy just relaxing in our family room with a hot chocolate throughout the fall and winter.
Many of our evenings are spent in the kitchen (the heart of our home!). We spend many hours cooking, reading or playing games in the sitting area of our kitchen. We love to read, and we are anxious to pass along our love of reading to a child. As you might imagine, we are both foodies and we foresee spending many hours in the kitchen teaching a child the art of cooking and the joys of baking.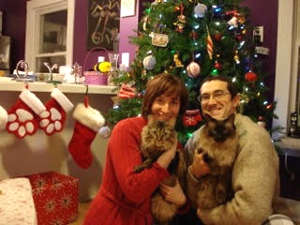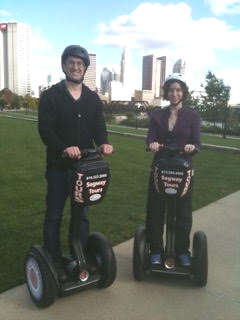 Work and Interests
Music and art will be an important part of our child's life. John usually has several guitars lying around, and we would love to see our child pick one up and just use his or her imagination. We enjoy many types of art and would encourage our child to have fun crafting or creating something from paper, fabric or any other material.
Both of us have flexible jobs. Melissa is a community health nurse and John is an attorney. In fact, John works during the week, and Melissa works part-time on weekends, so one (or both) of us can always be available at home. Melissa looks forward to being a stay at home mom. Fortunately, if we want to take an overnight trip and visit the zoo, a museum, or take in a music show, John is almost always able to take a few days off from work. We also enjoy typical weekend activities like field trips to parks and festivals.
We love animals and we have two pampered cats, Ginger and Cosmo. Ginger is very playful while Cosmo is a laid back lap cat. Animals are great companions for all age groups and caring for an animal can teach a child responsibility.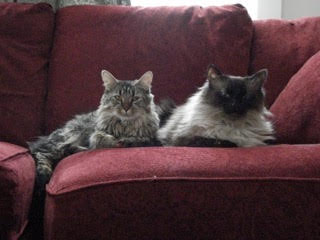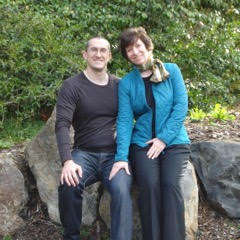 Our Promise
We promise to always be honest with your child and we will talk about adoption as early as possible. We believe that is important for children to know about their history. We look forward to sending letters and picture to you. We want to know your thoughts about keeping in touch and look forward to talking about it with you. We know you must be a very special person because you are making such an effort to search for a good family and a good life for your baby. We promise that our home will be filled with love, respect and patience. If you select us as adoptive parents, you would be giving us the greatest gift.
You can reach us directly through email MelissaandJohnACFB@gmail.com.
You can learn more about us through our adoption counselor, Maggie Benz, at: 800-869-1005 toll free 847-366-6343 (text) or email: maggie@centerforfamily.com
We look forward to meeting you!
Best wishes,
Melissa & John