Hi!
We are Matt and Owen and we are so excited to meet you! We've been together for eight years, married for four, and are ready to become parents. If you choose us as adoptive parents, we will raise our son or daughter with unconditional love and acceptance. We will also ensure that you are a part of the child's life and that he or she knows about you and your selfless reason for choosing adoption.
We are both in our mid-thirties and we live on a lovely tree lined street in the Ravenswood neighborhood of Chicago. Each morning we make the short commute downtown to go to the office. By chance, our offices are right by each other!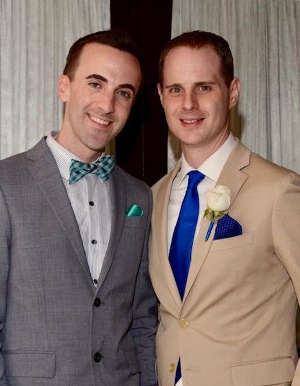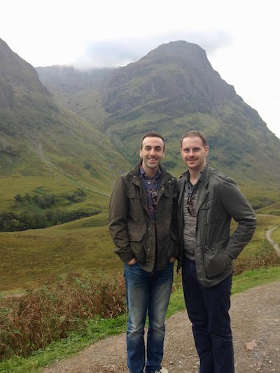 We are do-it-yourself types: Owen keeps himself busy with projects around the house (like painting and home repairs) while Matt loves to dig in the dirt and he plants our flowers every spring. We also both love to play board games and enjoy an active lifestyle. We are fortunate to live near the lake front path and spend time during the summer jogging along it. We are looking forward to taking our child to the playgrounds that line the lake front path!
We are both trained in creative fields (theater and stage production) and we often attend music concerts, museums and plays. We are excited to share our love for the arts with a child and we are confident that our son or daughter will be surrounded by color and artwork, and will learn to use art as a way to express themself. While we love our jobs, one of us will stay at home and be a full time parent.
About Matt (by Owen)
Matt is a very caring and loyal person. I'm amazed at his capacity to care for others. He is always putting others before himself. He has many friends, and is beloved by coworkers and pretty much anyone who meets him. He is a loyal person, and has had some of the same friends for almost twenty years!
Matt works for a large market research company that collects survey data on all sorts of topics. Matt works exclusively on healthcare related research, so he knows all about which insurance providers are the best and how patients feel about their hospital visits. Matt spends his day interpreting complex data sets and helping his clients understand their survey results. He also has been working at this company for over 12 years.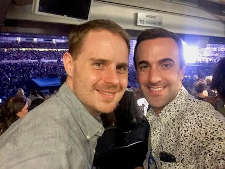 Matt loves animals. We recently rescued our second cat that was living outside and did not trust people. In under a year's time, and through Matt's patience and love, the cat now greets us at the door, allows us to pick him up and even cuddles when we are watching TV. Matt is a single child and grew up near Gurnee, Illinois, which is where Six Flags Great America is located. He spent many of his summers riding roller coasters!
About Owen (by Matt)
Owen spends much of his free time in the kitchen doing two of his favorite things: cooking and singing at the top of his lungs. Just in the past few years, Owen taught himself how to create some amazing dishes and he just keeps getting better. Unlike the cooking, Owen was trained in singing when he was younger and though he no longer dreams of being on a Broadway stage, he stills enjoys belting a few verses of his favorite pop songs while whipping up his newest recipe.
In both his work and personal life, Owen is driven by self-improvement. Owen works for a large manufacturing firm in the Human Resources department where he helps develop training courses and conducts them for employees. Owen loves to learn new things and is constantly challenged in his job to be creative and teach people new things.
Owen is very comical and seems to always be waiting to deliver a one-liner. He is also an avid reader and spends most Sundays reading the newspaper and sipping coffee. He grew up in Darien, Illinois. He is the oldest of three children.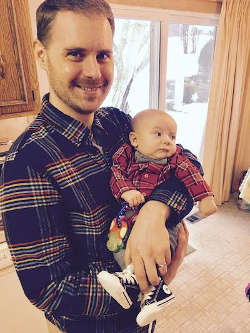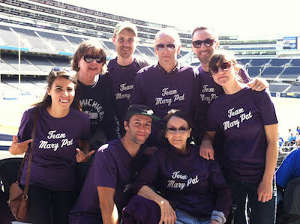 We are both very lucky to come from the families we did. Both of our families have loved and accepted us for who we are. Our families are thrilled about our adoption plans. Owen's brother and sister both live nearby in Chicago. Our first nephew was born in 2016 and we are excited to give him a baby cousin! Owen's Dad lives in the western suburbs. Matt's parents live in the nearby northern suburbs. Your child will be surrounded by a loving family that supports and cares for one another. We are lucky to have them close by and see them frequently. Where we live has many families with young children and we're a short walk to the park and the community pool. We love living in a diverse urban area, while still being able to live the quiet life.
2017 was a very hard year for our family, as Owen's Mom, Mary, passed away in March, after a long battle with ALS/Lou Gehrig's disease. Mary would be so thrilled to know that we plan to adopt. Mary was always hopeful that Owen would become a father, indeed she was always thinking of ways she could become a grandmother! Owen grew up with two adopted cousins that he was close in age to (and close with!) so adoption has always been a wonderful part of our family.
Thank you for reading about us — we hope to share even more with you soon. Please know that this child would be the center of our lives. We think that two dads will bring awesome possibilities to a child's life and we can't wait to start this journey. We hope you'll choose to take this journey with us!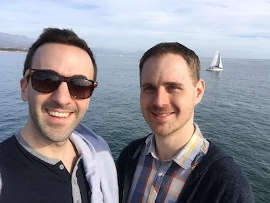 You can reach us directly through our email Matt.OwenACFB@gmail.com or contact our adoption counselor, Tobi Ehrenpreis who would be happy to answer your questions. You can reach Tobi by texting her at 847-366-6351 or calling 800-869-1005. Thank you again for considering our family in your adoption plan.
Matt and Owen