Matt and Kevin ( and Cameron)
"I've been asked, between my adoptive parents and my birthparents, which I felt were my real parents. I replied, 'Hey, they're both my real parents.'" – Anonymous
Hello!
We are Matt and Kevin. We wanted to share this quote with you because it sums up how important open adoption is to us. We are thankful that you have chosen to view our profile and for allowing us the opportunity to tell you more.
Our story
Our story began on a cold night in November. After instantly hitting it off, we took a long stroll where we talked about the usual things—where we were from, what we do for fun, our families, etc. As the walk progressed, we talked about marriage and family. It was during this walk that we learned how similar we were to each other. It has been quite an adventure to realize our dreams. From the marriage proposal at Buckingham Fountain to our Hawaiian wedding, building a home together, and welcoming our son, Cameron, we believe that our strengths and accomplishments have been built off our strong friendship.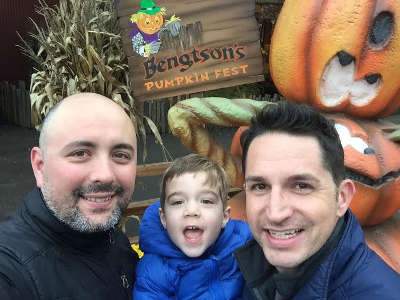 We also have a strong relationship with our families. Matt's parents and younger brother live close and Cameron visits with them often. Kevin's father also lives nearby, but sadly, Kevin's mother passed away in 2006. Kevin has two older sisters, a younger brother, and seven nieces and nephews.
Our precious son, Cameron, was born in July 2011. Cameron's adoption story is unique and it showed us that each adoption story is its own adventure. We look forward to another wonderful adventure as we grow our family.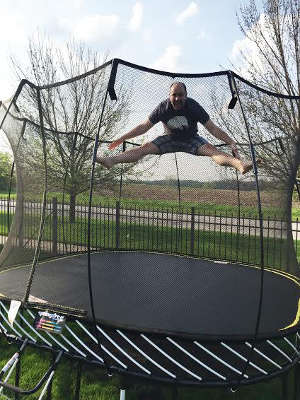 Matt writes about Kevin
Not a day goes by that I don't think about how lucky I am to share my life with Kevin; he is truly my best friend. Kevin is loving, compassionate, intelligent, and has a very witty sense of humor. I often get caught up planning and organizing, and his "live-and-love-every-moment" attitude toward life pulls me back into the here and now.
Kevin is the dad that doesn't just sit and watch kids play, he gets right in and joins the fun. Santa even brought an extra light sabre for Kevin last year (there have been some epic Star Wars battles in the living room). At family gatherings, Kevin is always playing with nieces and nephews—basketball, tag, and he even has some impressive trampoline moves!
Kevin is very creative—he taught himself to play piano and is a good singer—but he took it further by getting involved in community theater. Kevin has performed in a couple theaters in the Chicagoland area. During one show, when Kevin came on stage, Cameron lit up and said, "That's my dad!" Kevin sets a great example for our family to follow our dreams.
Kevin will always see the good in everything. He's the person you can't wait to hear what funny thing he will say next. And above all, he loves without limit.
Kevin writes about Matt
I knew early on that I wanted to spend the rest of my life with Matt. But what I didn't know then—what I could only imagine—is that he's as much an amazing father as he is a husband. He's very hard working and is successful in his career, which allows me to stay home and raise our family. Matt's job as a director for a global insurance company allows him to work from home, which is great that Cameron's dads are always close.
Matt's focused on his goals and always achieves them. He maintains a healthy lifestyle and has run two Chicago marathons. He's smart (but I'm smarter, heh!), outgoing, funny, and genuine. He's very musically inclined, which was a requirement for me. He's serious and proper, yet his running playlist is all Taylor Swift and Justin Bieber. He's definitely the one in the room you'd want to know.
Because Matt works from home, he's around for breakfast and lunch, which is always great for Cameron to have lots of time with his dads. Our evenings are filled with various activities—both inside and outside the house—but every once in a while it's Pizza and a Disney Movie night.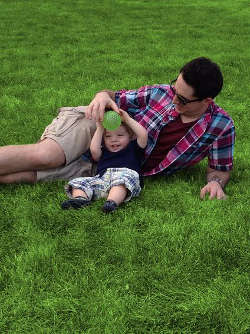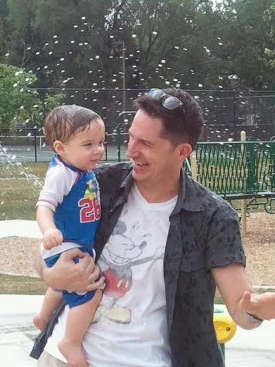 Meet Cameron
As the doting dads that we are, we could probably write an entire book on the story of Cameron! He was a very happy baby, grew into a very happy toddler, and has grown into a very happy (and independent) four-year-old "big boy."
He started preschool in September and has made several friends. He has always been interested in learning all that he could about something. As a stay-at-home dad, Kevin taught Cameron his ABCs, 123s, shapes, and colors—in English and Spanish.
Cameron has always been good at putting together puzzles and his new thing has been putting together Legos. (His next adventure may include putting together the next piece of IKEA furniture we buy; our fingers are crossed.) Cameron is very loving and enjoys people. He also loves telling jokes and making people laugh. He will be a great big brother.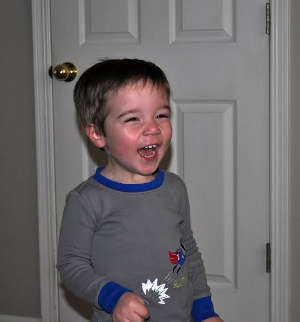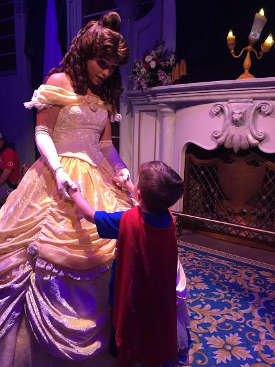 Our Community
We live in a southwest suburb of Chicago with a great school district. Our home has a huge yard for Cameron and our dogs, Phoebe and Houston, and of course, a trampoline. We have lots of shopping, restaurants, and culture in our town and we're also really close to forests, lakes, and bike trails. Our neighborhood is very diverse and everyone is warm and welcoming. The best part about our neighborhood is when we're sitting in the front yard on a summer evening listening to all the kids running around having fun.
Our Promise
While this is an exciting time for us, we know that raising a child is a life-long commitment. We value education and want to provide your child with every opportunity possible. We understand that you have much to consider; please know that we are committed to developing and maintaining a relationship with you, should that be your wish. We believe it's important for a child to have a connection to his/her birth family. That is why we're devoted to open adoption.