Magna and Aaron (and Arnau)
Hello,
Thank you for taking the time to get to learn more about our family. We hope you'll consider us as the adoptive family for your baby.
We can only imagine what you're feeling, but we do know the choice you're making is extremely brave and selfless. We hope you find peace in your decision, whatever you choose.
We were blessed with our son five years ago and would love to grow our family. We enjoy being parents so it has been sad knowing that we're unable to have another child ourselves.However, we believe that all things happen for a reason; that's why we strongly believe that adoption is the perfect path for us. We've written this letter to provide you with a snapshot of our lives together.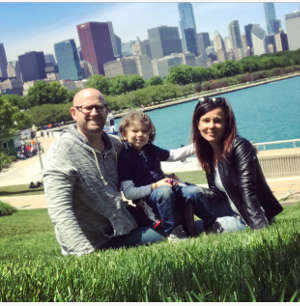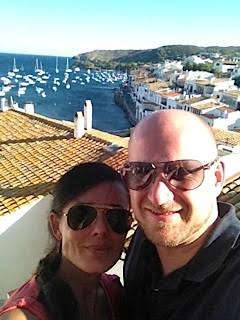 About Us
We recently celebrated 10 wonderful years of marriage. We met in 2003 through mutual friends and married 3 years later. At the beginning we were friends, but soon realized that we were meant for each other. We have a fun-loving, fully committed relationship and always try to respect each other's needs, wants and opinions. We understand that we must respect each other's views and always try to share a hug, kiss or a laugh after any little disagreement.
We love traveling and we spend every summer in Europe. We enjoy good food and if we're not hosting friends and family at home, we are outdoors, working out at the gym, and enjoying adventures in Chicago: great restaurants, parks, museums and the Chicago Cubs. Chilling at home playing cards and listening to music are some other favorite past times.
Our Family
Aaron's parents have been married for 33 years and they are a great example of a loving and caring relationship. They live down the street and they're always ready to lend a hand when needed.
Aaron has a brother who is married with two girls (5 years and 1 year) and they live in the next town over. Aaron is also close to his cousins, aunts and uncles. We get together with family to celebrate important occasions or just to hang out. Aaron's parents are ecstatic about having another grandchild to love and spoil!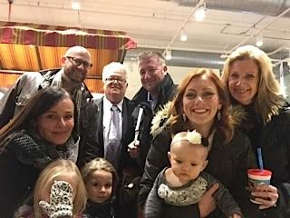 Magna's family lives in Spain. Magna's dad passed away when she was 13, but she holds the best memories of her early childhood. Although she doesn't have siblings herself, Magna's mom was the oldest of 10 kids so Magna has tons of cousins, aunts and uncles. Magna's mom spends 3 months each year with us in Chicago, and she's on top of the moon dreaming about another grandbaby. We feel very fortunate that Magna has been able to stay at home to raise our son and she can't wait to be home with the new baby, too.
Meet Magna (by Aaron)
Magna is one of the most loyal and passionate people you will meet. She will truly do anything for her family and friends. Although she doesn't have any siblings, she considers her best friends to be family and loves being "Auntie Magna" to their kids.
Magna was born and raised in Barcelona, Spain by two amazing parents. She has been interested in dance (ballet) since she was little and has continued to pursue her passion as a cheerleader; she even cheered for a former NFL Europe team.
After finishing her studies in International Trade, Magna moved to England where she became a flight attendant. She spent the next 12 years traveling the world and living in different countries. Since moving to Chicago in 2006, Magna has become a fitness instructor. She loves reading, photography, staying fit, yoga and languages (she speaks 4), and she hopes to learn to play piano one day. Magna also has a special place in her heart for animals. Julio is our playful, snuggly cat who we rescued 10 year ago. Magna refers to Julio as our 'hairy baby'.
Meet Aaron (by Magna)
Aaron is an amazing husband and father. He's very supportive and patient and always puts our family first. No matter the situation, Aaron's the guy who sees the glass as half full and brings out the best in everyone. Knowing how much I miss Spanish food, Aaron learned to cook "Paella" and "Fideuà" (two traditional Spanish dishes) and he enjoys cooking those dishes for friends and family, too.
Aaron grew up in the Chicago area and graduated from the University of Illinois . He has a successful career as a Global Sales Director, but says that "being a dad is the greatest job in the world". Aaron loves traveling, working out, cooking and reading books. His greatest passions are good food and music (he's still trying to learn the guitar), and he's crazy about sports. During the summer, he enjoys cheering on his favorite team, the Chicago Cubs.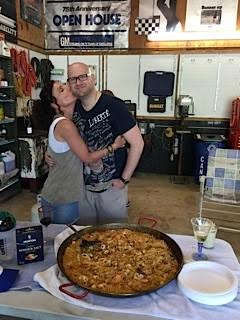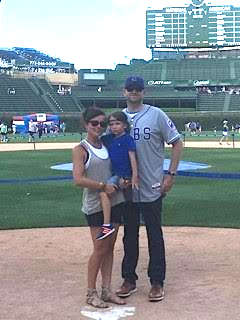 About Arnau
Arnau is a very happy and energetic 5-year-old boy. He loves to play with trains, cars and Legos. He is very social and enjoys school. Arnau also loves to play cards, soccer, ice hockey and read books with mom and dad before going to bed. He enjoys playtime with his cousins and friends and he's extremely excited to be a big brother!
Our Community
We live in the western suburbs of Chicago. Our house is surrounded by a big private yard that makes it very safe to play outside. Most of our neighbors are family and good friends. We live in a multicultural community with good public and private schools and lots of outdoor spaces for kids.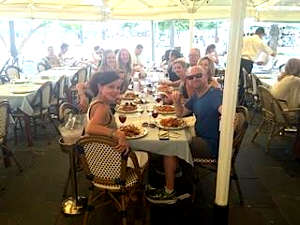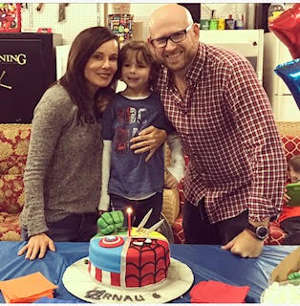 Our Promise to You
Should you choose us as the adoptive parents, your child will be a wonderful blessing and we promise to love him or her unconditionally with all our hearts. Our lives are built on family values, love and respect for others with a strong foundation in faith. We promise to make sure your child knows the selfless act of love you made in bringing us together. Also, we want you to know that you will hold a special place in our hearts. Open adoption works for us, if it feels right for you. We look forward to hearing from you and hopefully meeting you one day soon.
We wish you peace of mind and comfort as you consider your options. Feel free to contact us directly by email at magnaandaaronACFB@gmail.com, or you can contact our adoption counselor, Tobi Ehrenpreis at 800-869-1005; Text: 847-366-6351 or email tobi@centerforfamily.com.
Thinking of you,
Magna, Aaron & Arnau