Dear Expectant Mother,
We're Liz and Jon (ages 32 and 33), and we've been happily married for over six years! We're hoping to become adoptive parents and to meet someone incredible like you. As an expectant mother, we imagine that you are reading this because you're thinking about making one of the most important decisions of your life.
You may be reading this because you are looking for open, loving and trustworthy adoptive parents to raise your baby. We are writing to you because we want to assure you that we promise to give your baby a home filled with opportunities and surrounded by people who love him or her. As the first grandchild in both of our families, they will be the center of attention for years to come.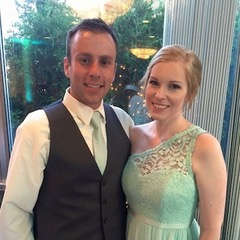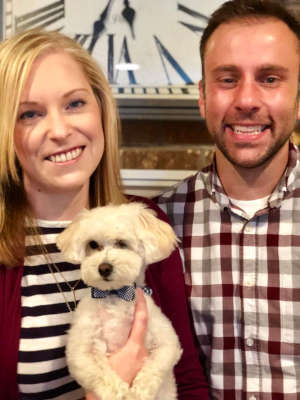 So, how did we get here?
Like many couples, when we decided to have children, we expected everything to go smoothly. After about a year of trying to conceive ourselves, we decided to pursue different types of fertility treatment. Even though we were unsuccessful with fertility treatment, our desire to be parents never dimmed. Adoption was always in our mind and we are excited to pursue this path. We are committed to being amazing parents.
A little bit more about us.
We were both in the high school marching band (Liz played the flute and Jon played the trombone). Yes, we were both band nerds! We started dating in 2004 after both of us graduated from high school. Our conversations started out on instant messenger, followed by frequent phone calls. Before long, we started dating and realized we were in a wonderful relationship.
One of our favorite shared experiences early in our relationship was our road trip to Yellowstone National Park and the Grand Tetons with a couple of close friends. That trip made a lasting impression on us and we cannot wait to give our future child a similar experience. More recently, we have traveled to Mexico, Puerto Rico, Hilton Head, South Carolina and Hawaii. We love the history of the places we visit and try all the local food wherever we go.
Hawaii is our favorite place and we dream about returning with our child. One of our shared interests is World War II history, so standing over the USS Arizona in Pearl Harbor touched both of us. Recently we traveled to Newport, Rhode Island for a friend's wedding and stayed in a charming bed and breakfast. There were buildings nearby that were used by generals in the Revolutionary War. Our memories include having a great lobster mac and cheese dinner!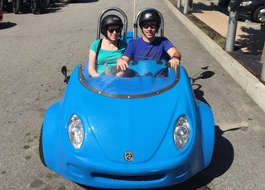 We love the outdoors and go camping with a large group of friends and family as often as we can. One of our traditions is canoeing on the Wisconsin River. Many of our friends have children so we see these delightful children develop from infants to toddlers to little kids. Every time we see them, our desire for children gets stronger.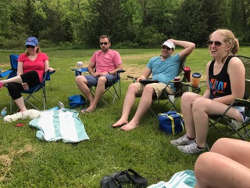 Our Home
We live in a friendly neighborhood in the northwest suburbs of Chicago. We live within 10 minutes of both of our parents. They are so very eager to welcome a new grandchild! The house itself is a three-bedroom ranch with plenty of room for kids to play. Our community is full of kids and there are always fun festivals to attend within walking distance throughout the spring, summer and fall.
Meet Jon (written by Liz)
Jon is the most honest, friendly and independent-minded guy there is. He enjoys subjects related to history and science fiction mostly. He is always on the look-out for new movies and the latest technology. In all, he owns over 100 movies that we watch (and re-watch) from time to time.
Jon is an only child but he is not the stereotypical only child. He is loyal to his loved ones and is always willing to look at what is best for both of us instead of just him. He has always been very mature, independent, and patient. He was born in Texas, lived in Indiana and then moved to the Chicago area with his parents while in junior high.
He loves his job in a nationwide retail store and is responsible for managing the inventory of his entire warehouse. You cannot find a more honest man and he will be a great role model for our child. He will always provide unconditional love that every child deserves. I am greatly looking forward to seeing him hold our future child for the first time.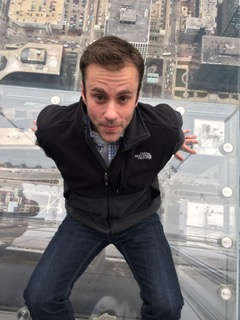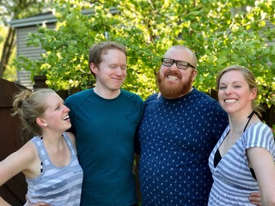 Meet Liz (written by Jon)
Liz is a great person because she is open, honest, committed and positive. She loves topics related to history and shows like Downton Abbey and Band of Brothers. She loves to laugh and have fun times with family and friends.
Liz is the oldest of four children and loves when they can all get together. She has a large extended family (Liz's dad is one of five children and Liz's mom is one of eight children). There are tons of cousins everywhere! Holidays are usually crowded but Liz wouldn't have it any other way. Her parents and two of her siblings live locally as well as many extended family members. Once you get to know Liz, it is obvious how much she cares about family and friends.
As a nurse, Liz is compassionate and cares about the well being of others. She established herself as a dependable person within her workplace. When Liz comes home from working at the hospital, I can always tell that she feels that being a nurse is very rewarding.
Our Dog Gibbs
In December of 2015, we added Gibbs to our family. He is a loving dog who has touched us in so many ways. Both of us grew up with dogs in our families and Gibbs is a great companion to have. He loves to cuddle and give kisses (even if you don't want them). He is eager to be a big brother to our new child!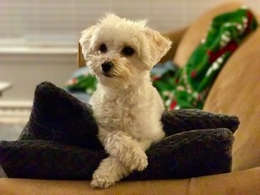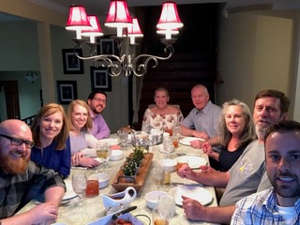 Our Commitment
We are committed to giving your child a wonderful, nurturing home, in which he/she will be cherished and surrounded by loving family members. Our main priority is putting the best interest of your child ahead of our own. We are also committed to an open relationship with you, if that is what you wish.
Ways to Contact Us
Please email us directly at jonandlizacfb@gmail.com
You can also reach us through our adoption counselor, Maggie Benz, at:
847-366-6343 (text)
800-869-1005 (toll free)
maggie@centerforfamily.com
Wishing you the very best!
Liz and Jon