Dear Expectant Mother:
Hello! We are Lisa (34), and Seeshil (35) and we're excited to introduce ourselves to you; we have the utmost respect for the courage and selflessness it takes for you to consider this extremely difficult decision. We respect that you have a long and hard path ahead of you and we pray that you find the right family for your child. If that journey leads to us, we would love for you to be a part of his or her life so that your child knows that this beautiful story began with you.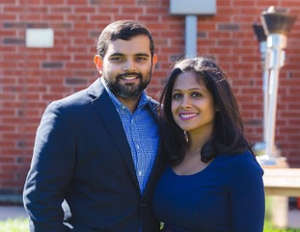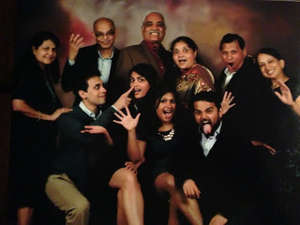 We are a happy, loving, family-oriented couple who have been blessed with supportive family and friends who have been our backbone through encouraging and challenging times.
Our families have instilled values in us that we will pass down to our future children. We promise a loving and nurturing environment, support for their endeavors, and help to be true to themselves. We also promise–with all our faith, love and relentless pursuit to start a family–that if you choose us, we will give your child a meaningful life and the absolute best from both of us.
About Us:
We met seven years ago on a dating website. After some phone conversations Lisa asked Seeshil out on their first date, and the rest is history! We married in August of 2012, surrounded by loved ones who graciously joined us for four full days of Indian wedding festivities.
We live in the NW Suburbs of Chicago in a home where we hope to grow our family. It is surrounded by a community of friendly neighbors and is adjacent to a gorgeous pond with trees and a long-paved path where we and other families take evening walks and morning bike rides. The path leads to our elementary school, gym, and water park. Our backyard is where we relax with a cup of tea or entertain friends for a barbeque.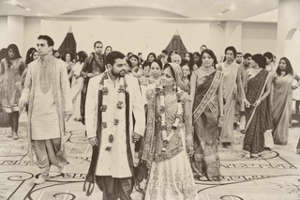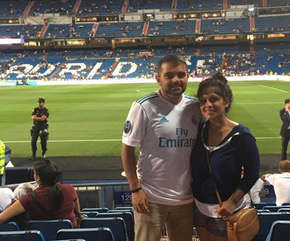 We place importance on leading a healthy life that includes exercise, healthy meals, and meditation to create balance and relaxation. We also enjoy travel. Immersing ourselves in other cultures and religions and seeing monuments that have shaped history has been a humbling and invaluable learning experience. Regardless of where we are it's always an adventure!
We are both so grateful for the loving, supportive, loud, and funny families that we have. Growing up, our parents put great focus on a strong family foundation. Both sets of hopeful grandparents live close by, allowing us to see them often. Although our siblings, niece, and extended family are a bit further away, we make it a priority to stay in close touch with facetime calls and frequent visits. Our family, especially our niece is excited for her new cousin!
Note from Lisa:
I was born and raised in the suburbs of Chicago and attended Marquette University to get my Doctorate in Physical Therapy. Currently I work with kiddos from two weeks old to adults. I love being a Physical Therapist and take a lot of pride in being able to help people achieve their goals.
Seeshil is smart, kind, understanding, goofy and motivated individual who pushes me to be my best self. He has embraced my family and friends. When my mom was ill, Seeshil would leave work to visit and make her laugh during treatment, helping her take her mind off things. He embraced tea time with my best friend's three-year-old daughter, dressed up as a bear for our friends' daughter's birthday because she loves "Brown Bear"; the list of selfless things Seeshil does for others is endless. He is determined to bring joy to any moment.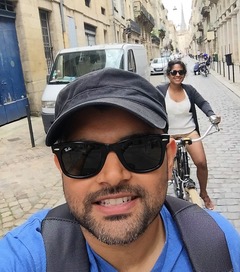 Seeshil has a creative side as well. I love to design and decorate our home and he loves to build (a perfect match!). He set up a workshop in our garage where he builds beautiful furniture for our home. He makes me feel loved and safe. I know that he will do the same for our child.
Fun Facts About Seeshil:
– Loves a good book, he has read 30 books in the past year.
– Loves Harry Potter.
– A techie and has made our home "Smart"-we can control many things from our phone.
– Loves everything soccer, you'll find him up at 6am to catch his favorite team Arsenal playing.
Note from Seeshil:
I also grew up in the suburbs of Chicago, and after high school I enlisted into the Marine Corps. After five years of service I returned to Chicago to complete my Undergraduate degree from DePaul University. I am a believer in education and have completed my MBA and MSF. I am currently a Financial Systems Manager and really enjoy the work I do.
Lisa is caring, generous, funny, and compassionate. She has a unique ability to make people feel safe and comfortable. I remember the first time she met my extended family, she effortlessly got along with everyone. After she left, all they could talk about is how amazing she is.
Traveling is a big part of our lives and while I book our flights and hotels, Lisa does an exceptional job organizing our daily activities and always finds the best places to eat. We make a wonderful team!
She loves to host and always has an amazing assortment of food waiting for our family and friends. She makes sure that we have something age appropriate for each child that comes over. For example, my cousins' kids like to cook so when they visit we will decorate aprons and make dessert. I know that her ability to make anyone feel welcome and cared for will make her an incredible mother when we are lucky enough to welcome a child to our home.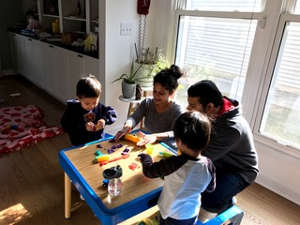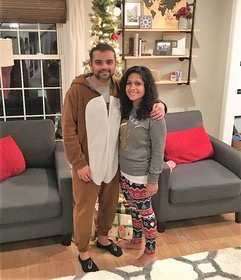 Fun Facts About Lisa:
– She is a Wish Granter through Make a Wish Foundation.
– Loves cooking and makes a mean pizza, risotto and the best chocolate chip cookies.
– Every summer grows a vegetable garden and adds a new vegetable. This year is zucchini!
Our Promise:
We both love each other dearly and know that we make a great team. Should you choose us to raise your baby, we promise to unconditionally love and support your child. He or she will know your difficult decision was made selflessly and out of love.
Please contact us anytime at: lisaandseeshilACFB@gmail.com.
You can also contact our adoption counselor, Maggie Benz at:
Tollfree 800-869-1005
Text 847-366-6343
Email maggie@centerforfamily.com
Warmly,
Lisa and Seeshil