Hello! We are Lindsey (age 27), Sean (30), Bennett (3), and Mira (2). We're a close-knit family who love having movie nights together. We met in college in 2004 and quickly found that we both shared a love for God, the Office, and evenings at home. We got married in 2008 and, if the size of our guest list is any indication (250!), we have a large, very close family. We are thrilled to adopt, and welcome a child of any race.
info@centerforfamily.com
800-869-1005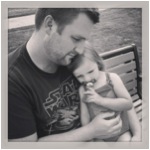 Lindsey on Sean
Sean is the most committed person I know. He always means what he says and follows through. I married Sean for his passion, intelligence, and warmth. He loves being a high school English teacher profile1and feels this is where he can make the most difference in the world. He believes a good education can open up all the doors in the world to a person. Sean never ceases to amaze me. He completed his master's degree when our son was just 6 months old. He taught during the day and then drove downtown for night classes. Sean loves to spend time with our family. He enjoys taking our children to movies, the park, and the zoo. He is incredibly hard-working and will give your child everything he can in life. Sean is thrilled to add a child to our family! Sean's two siblings are adopted and he knows firsthand the struggles and triumphs that come with adoption and the beautiful story it writes.
Sean on Lindsey
Lindsey is so passionate about life. She is such a loving wife and mom. In addition to being an active mom, who is constantly serving our family, Lindsey volunteers with our church to help local families in financial need. Currently, Lindsey is also studying social work. All of these other responsibilities come second to the time she spends with her family. Lindsey loves to take Bennett and Mira to the zoo and on play dates, or just read a book or play puzzles while cuddling on the floor. She is so excited to give her love to another precious little boy or girl!


Bennett
Bennett is 3 ½ years old: He's always finding the coolest bug, the fastest slide, or the highest surface to jump off. He has boundless energy and loves asking questions about life. He starts preschool soon and cannot wait. He wants to go to school "just like mommy and daddy." On any given day, you can find Bennett riding his bike, playing superheroes, or watching Jake and the Neverland Pirates. Bennett cannot wait to have another sibling and talks about it regularly. This kid will love on your child like you cannot believe. He will show your child all the adventure that life has to offer. He comes loaded with hugs, kisses, and all the love your child can handle from a sibling!
Mira
Mira is our sweet spirited two-year-old. She was practically born smiling! Mira is perfectly content playing alone (aka: taking all of her clothes out of her dresser!) or playing with others. She's sweet and profile4kind. She's always smiling, laughing, singing, and giving spontaneous hugs. When her cousin was born last year, we could see her almost exploding with love and excitement over this new baby. She constantly gives him kisses and tells him "I love you." Mira is quite the girly-girl. She loves purses, princesses, and anything sparkly! Do not be deceived, though. Mira also loves to dig in the dirt with her brother! Mira will love your child more than you know. She will show him/her life's beauty and joy all day long.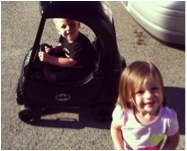 Our Home
We live in a small, diverse town about 45 miles South of Chicago. Our home has a large back yard–that backs up to a cornfield–and a park right across the street. Our town has lots to offer: parks, splash pads, libraries, a water park, etc. We also frequent Joliet–with all of the excitement of a city–for work and school and to take the kids to the libraries, mall, and baseball games. We have many friends in our neighborhood, as it is filled with young families. We are always playing at the park with neighbors and friends.
Our Faith
Our Christian faith is the foundation of our marriage, our parenting, and our life. We believe strongly in the teachings of Jesus Christ and teach our children these beliefs. We teach our kids to treat everyone with kindness, love, and respect. We believe in service and social justice, acceptance, and love. Our faith is what makes our family strong. We are actively involved in our church, hosting a Bible study, serving in the children's ministry, and Lindsey is on the church's service team helping community members in financial need.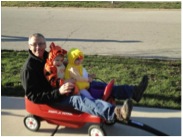 Our Families
Our families are very close to us. Sean's parents and brother live very close and visit regularly. Sean's sister lives an hour and a half away, but we still see her and our niece frequently. Lindsey's parents and profile5sister live just 25 minutes away. We see them on a weekly basis, as her mom hosts dinner every Wednesday for family and friends. Lindsey's brother lives in another state. We usually spend our vacations visiting him in whatever state he happens to be in at the time! Our family is extremely supportive of our decision to adopt. Sean's siblings are adopted and Lindsey has two family members who were adopted as well. Our parents are eager to love another grandchild–they have even changed one of their bedrooms into a play/sleepover room! Please know that your child will be deeply loved, doted on, supported and accepted into our family.
Some Final Thoughts
We know this must be an overwhelming process for you. We see adoption as your child AND you becoming a part of our family. We will love your child deeply and unconditionally. We will give your child a firm foundation of faith and family. We will give your child loving siblings, grandparents, aunts, uncles, cousins, friends, and a supportive community. We will never stop loving, supporting, and encouraging your child to meet their fullest potential and gain everything they dream. We welcome an open adoption plan, if that is your desire. And we can't wait to meet you!
Please contact our adoption counselor, Maggie Benz, at 1-800-869-1005 if you'd like to know more about us. You may also send Maggie a text message at 847-366-6343
With sincere admiration,
Lindsey and Sean