Lindsay, Dan, Isaac, Eli, Thea
Dear Expectant Parent,
Thank you for taking the time learn more about us. We look forward to getting to know you. Having been through adoption before, we know that this is not easy but can have a wonderful outcome for all involved. We have learned that every situation is unique, and we are happy to listen to your story and develop a relationship that feels comfortable to you.
We will offer your child every opportunity to become all that he or she is meant to be. As Christians, our goal for our children is to instill Christ's values of caring for those in need. As an engineer and a nurse, we strive to encourage learning and curiosity by reading to our kids, involving them in projects around the house, and exploring with them on vacation. As a couple we have overcome obstacles so we know the rewards of hard work and determination and promote these values as parents. Finally, and most importantly, we will give your child our unconditional love.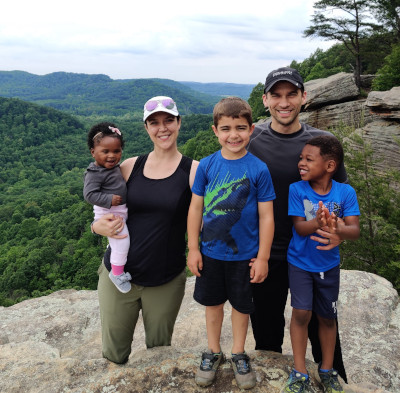 About us:
We met in college where we became best friends first, then boyfriend and girlfriend. We were inseparable and got married soon after. In the past thirteen years, we have built a strong marriage based on a foundation of love and friendship.
Dan (34 yr) is adventurous, active, hardworking and responsible. He works as a mechanical engineer for a company close to home. In his free time, he enjoys building things and playing games/sports.
Lindsay (35 yr) is thoughtful, organized, loyal and hardworking. She is a registered nurse but is currently enjoying the role of stay at home mom. She and the kids like getting together with other moms and kids, going to parks and the library, or just playing at home. She is interested in reading and cooking.
Isaac "Ike"(6 yr) is exuberant, high energy, and very motivated. He loves being active outside, playing sports, and playing with friends. Some of his favorite things include soccer, skiing, and pokemon.
Elijah "Eli" (4 ½ yr) is very outgoing, thoughtful, and friendly. He likes watching movies and quoting his favorite lines, playing superheroes, and loves helping mom and dad.
Thea (1 ½ yr) is sweet, loving, and easy-going. She likes playing with her sweet big brothers, following mom around the house helping with things, reading, playing babies, and loves all dogs. She is so nurturing and will make and excellent big sister.
Our adoption story:
We always felt called to be parents and knew early in our relationship that we would build our family through adoption. We adopted our son, Isaac, in 2015. We connected with his birth mom through social media, and we had the chance to get to know each other before he was born. We were able to be at the hospital and adopted him at birth. We have a great relationship with his birth mother. We send her updates regularly and visit with her once or twice a year.
We adopted our second son, Elijah, in 2017. We got a phone call from the agency that our son was 2 weeks old and his birth mom was making an adoption plan, so we got on a plane and flew to Nevada to meet him! We got to meet his birth mom a couple times. Per her wishes, we send her pictures and updates through the agency.
In 2020, we adopted our daughter, Thea. Once again we got a phone call from the agency about a birthmother who was making an adoption plan after baby's birth. We drove to Indiana and met our daughter in the hospital the day she was discharged home. We keep in touch with her birth mom through text messages and pictures multiple times per week.
We have learned that each adoption is unique. We are appreciative of the three wonderful adoptions we've been part of and hope to have another wonderful adoption story to share!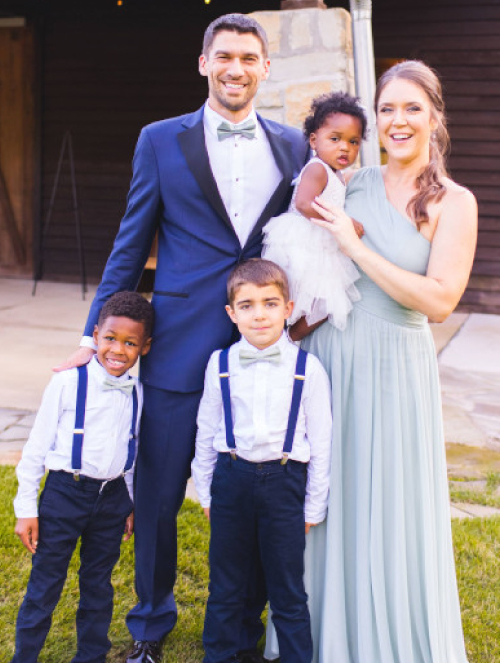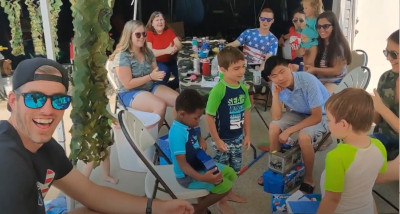 Our family:
We are both the oldest siblings of our families, and each have one brother and one sister. Lindsay's sister and Dan's brother both live nearby with their families. We have two nieces and one nephew all close in age to our kids. Dan's brother and sister-in-law are expecting a baby in August 2022! Lindsay's brother recently graduated college and lives in Florida. Dan's sister got married last fall and lives in Mississippi with her husband.  We are good friends with our siblings and love spending time with them any chance we get. It is fun watching the kids play with their cousins so close in age and it is wonderful that they get to grow up together.
Lindsay's mom and stepdad live downstate but visit often and love being grandparents. Dan's mom and extended family all live nearby and we get together for holidays, birthdays, or just to hang out. Our family and friends have been so supportive of us adopting and have lovingly welcomed our kids into the family. They are all looking forward to us adopting again, and we have no doubt that your child will also be cherished as another beautiful blessing to our family.
Our Home
We have lived in our community for ten years now but just moved to a new house last year. We live in a safe, friendly neighborhood just a block from a walking/biking trail and a couple blocks from the park and community pool. We also have our church, school, and a great library nearby. We have met many other young families through our church community and get together often to socialize and let the kids play.
Our house has four bedrooms and two and a half bathrooms with plenty of space as our family grows.  We have a fenced in backyard with a swing set, a basketball hoop and plenty of space for the kids to run around and play. A great part of our new house is living next door to our best friends. They have 5 kids all around our kids' ages and they play together most every day. 
We also have a dog, Samurai. Sam is almost ten years old now and is very gentle and patient with the kids and their friends. Our home is filled with love, laughter, and plenty of silliness and we can't wait to make many more great memories here as we grow our family with your help!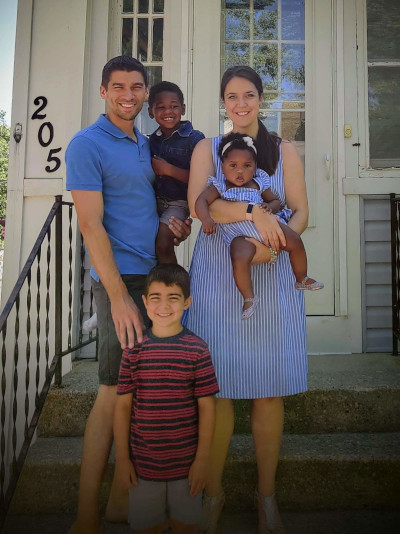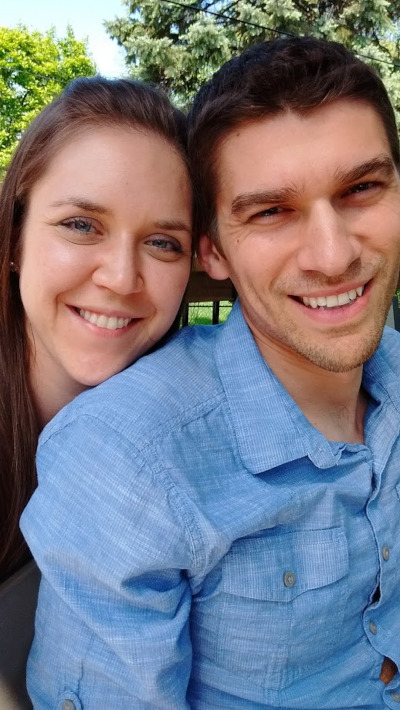 We are excited to start a new adoption journey, and we can't wait to add to our family. It has been our greatest joy to become parents, and we have so much love to share with another child. Thank you for considering us and for taking the time to get to know us.
We would love to hear from you. To learn more about us, you can email us directly at DanandLindsayACFB@gmail.com or call or text our adoption counselor, Linda, at 773-919-5702. You can also email her at Linda@centerforfamily.com. 
Thinking of you,
Dan, Lindsay, Isaac, Eli and Thea