Thank you for taking the time learn more about us. We look forward to getting to know you. Having been through adoption before, we know that this is not easy but can have a wonderful outcome for all involved. We have learned that every situation is unique, and we are happy to listen to your story and develop a relationship that feels comfortable to you.
We will offer your child every opportunity to become all that he or she is meant to be. As Christians, our goal for our children is to instill Christ's values of caring for those in need. As an engineer and a nurse, we strive to encourage learning and curiosity by reading to our kids, involving them in projects around the house, and exploring with them on vacation. As a couple we have overcome obstacles so we know the rewards of hard work and determination and we'll promote these values as parents. Finally, and most importantly, we will give your child our unconditional love.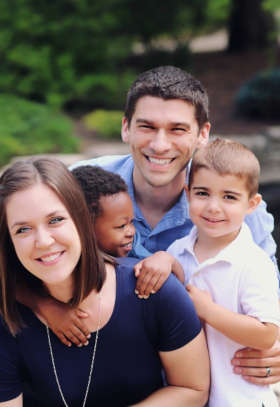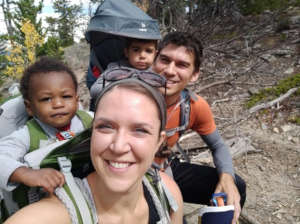 About us: We met in college where we became best friends first, then boyfriend and girlfriend. We were inseparable and got married soon after. In the past ten years, we have built a strong marriage based on a foundation of love and friendship. Dan (32 yr) is adventurous, active, hardworking and responsible. He works as a mechanical engineer for a company close to home. In his free time, he enjoys building things and playing games/sports. Lindsay (32 yr) is thoughtful, organized, loyal and hardworking. She is a registered nurse but is currently enjoying the role of stay at home mom. She and the boys like getting together with other moms and kids, going to parks and the library, or just playing at home. She is interested in reading and cooking.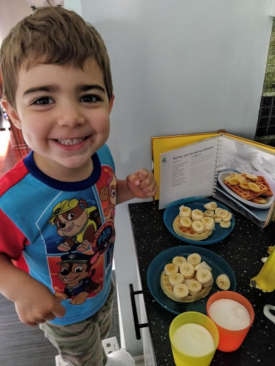 Isaac "Ike" (3 1/2 yr) is exuberant and high energy, very motivated and opinionated. He loves helping his dad with projects like building his new bunk bed. His favorite activity is playing sports. He loves being a big brother and is excited to have another brother or sister.
Elijah "Eli" (2 yr) is happy and easy going, observant and friendly. Eli likes pushing anything with wheels and loves to mow the lawn or vacuum. He is his big brother's shadow and eagerly follows him on all his crazy adventures. He is also very nurturing and will be a sweet big brother to the new baby.
As a family, we enjoy playing games, going on walks to get ice cream and watch trains, going to soccer or baseball games, camping, and hiking. We also enjoy renovating our home together. This year's big DIY project was refinishing our basement. Now the boys have a play area, and we have more room to entertain or have a family movie night. We make sure to relax and have fun on vacations. Last fall we went hiking in Estes Park, CO. The boys were great sports, and we had a blast seeing the mountains, elk, moose, and beautiful aspen trees.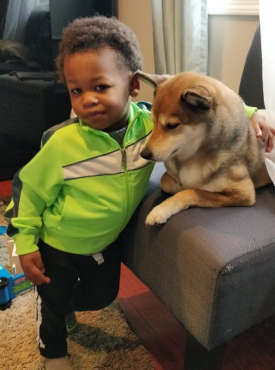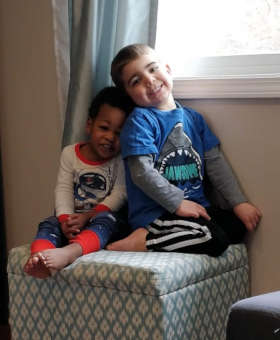 Our adoption story:
We always felt called to be parents and knew early in our relationship that we would build our family through adoption. We adopted our son, Isaac, in 2015. We connected with his birth mom through social media, and we had the chance to get to know each other before he was born. We were able to be at the hospital and adopted him at birth. We have a great relationship with his birth mother. We send her updates regularly and visit with her once or twice a year.
We adopted our second son, Elijah, in 2017. We got a phone call from the agency that our son was 2 weeks old and his birth mom was making an adoption plan, so we got on a plane and flew to Nevada to meet him! We got to meet his birth mom a couple times. Per her wishes, we send her pictures and updates through the agency.
We have learned that each adoption is unique. We are appreciative of the two wonderful adoptions we've been part of and hope to have another wonderful adoption story to share!
Our family:
We are both the oldest child and each have one brother and one sister. Lindsay's sister and Dan's brother both live nearby with their families. We have two nieces and one nephew all under 3 years old. Lindsay's brother is going to grad school in Florida, and Dan's sister lives in Milwaukee. We are good friends with all our siblings and love spending time with them any chance we get. It is fun watching the kids play with their cousins, and it's wonderful that they get to grow up together.
Lindsay's mom and stepdad live downstate but visit often and love being grandparents. Dan's mom and extended family all live nearby and we get together for holidays, birthdays, or just to hang out. Our family and friends have been so supportive of us adopting and have lovingly welcomed our sons into the family. They are all looking forward to us adopting again, and we have no doubt that your child will also be cherished as another beautiful blessing to our family.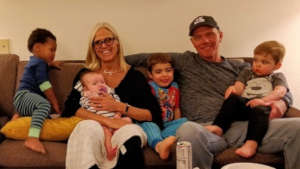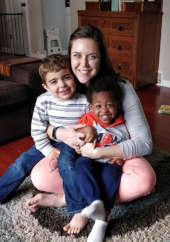 Our home:
We have lived in our house for seven years and really love our community. Our safe, friendly neighborhood is a block from a walking/biking trail and a couple blocks from the church and school. We also have several parks and a great library nearby.
Our house has three bedrooms and a beautiful fenced in backyard with a covered deck and plenty of area to play. We spend time outside no matter the season: playing in the sprinkler in summer, gathering leaves in fall, playing in the snow in winter, and splashing in the rain in spring. The kids love "cooking" in their play house, playing sports, and running with our dog, Samurai. Sam is very gentle and patient with kids. Our home is filled with love, laughter, and plenty of silliness, and we can't wait to make many more great memories here as we grow our family with your help!
We are excited to start a new adoption journey, and we can't wait to add to our family. It has been our greatest joy to become parents, and we have so much love to share with another child.
Thank you for considering us and for taking the time to get to know us. We would love to hear from you. Please email us directly at DanandLindsayACFB@gmail.com or call 800-869-1005 and ask to speak with Linda, our counselor.
Thinking of you,
Dan, Lindsay, Isaac and Eli