Hello,
We are Lauren (Ren) and Justin. We are grateful for your consideration and we hope you will find our letter helpful for the important decisions you are making about whether adoption is the right plan for you and your baby. We want to share with you about who we are and what kind of parents we will be. We hope that our letter will encourage you to contact us so we can get to know you too.
We have been married for 11 years and feel that we have a wonderful relationship. We believe that God wrote our love story by leading us to one another in college. We have both been interested in adoption, even before marriage. We sincerely desire to raise a child in our warm and loving home. Just as we were led to one another, we believe God will write another love story by leading us to a child we can cherish.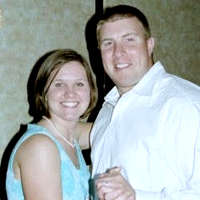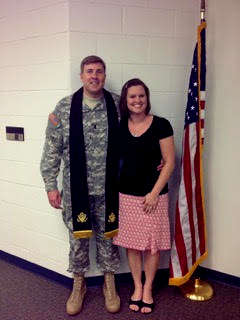 About Ren by Justin
Ren is a teacher at heart. She loves children and it shows when she teaches. Ren taught preschool for many years, and now teaches third grade at the school near our home. Many of her students still run up to her to hug her and tell her how they are doing. The parents in our community often request Ren to be their child's teacher. She is very involved in the school and community.
Ren is very fun and sociable. She has lots of friends who come over to play cards or sit outside and talk. In college, Ren was on a National Championship volleyball team, All American Athlete, and honor student. Ren continues to be involved with volleyball by coaching at local camps.
Ren is a phenomenal wife. She is caring and concerned about making sure her family is well taken care of. Ren spends time making our home beautiful. She loves to travel and talk about places we can visit. She is also an unsung hero because of her devotion to being an Army wife. It takes a great deal of courage and grace to be a military wife and she is one of the best.
About Justin by Ren
Justin works full-time for the Veterans' Center as a counselor and team leader. This profession suits him very well, as he has a very calm personality, is a great listener and problem solver.
Justin also serves as a Chaplain in the Army National Guard. This role has given him the opportunity to serve both God and country, which are important values for us. He builds positive relationships with soldiers and their families. Soldiers often seek him for advice and counsel.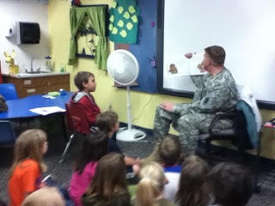 Although work keeps him busy, Justin balances work and family well. He makes room in his schedule for quality time with family and friends. He loves to host backyard barbeques. His cooking and entertaining are always the life of the party! Additionally, Justin is a very playful person. The kids in our neighborhood love to discuss the latest comics and superhero movies with him. He enjoys visiting my classroom dressed in his Army uniform to share a story. He is always a hit with my students!
Justin is a very supportive and patient husband. He makes spending time with me a priority. He is also very fun to be around! He often plans fun events for us to do together, such as, visits to Chicago at Christmastime, going to The Great Pumpkin Patch, vacations, and many other fun adventures.
Our Families
We enjoy spending time with our families. Both of our families live nearby and very supportive of our adoption plan. They can't wait to welcome another child to the family to love! We have two nephews, four -year old Paxton, and baby; Walker. We love spending time with our nephews, and taking them to do fun things. Paxton and Walker are very excited to have a new cousin to play with!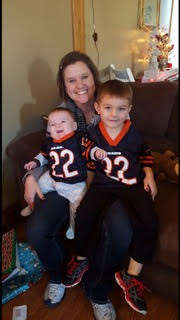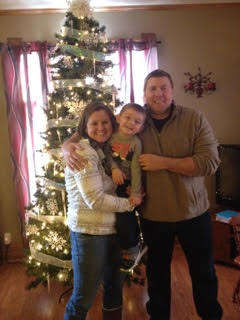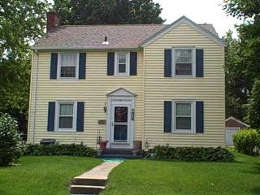 Our Home
We live in a small town in Central Illinois. We attended college here and never left. Our community is quite diverse for a small town, which we appreciate. We love the local festivals and hosting barbeques for friends and neighbors. Our neighborhood has lots of young families with children.
Our house is important to us for many reasons. When Ren was a kid she used to come to our town for volleyball camps. She passed our house and dreamed of living in it one day. Justin wanted to fulfill her dream! It is a beautiful home with a warm wood interior. We love sitting by the fireplace in the winter and watching movies. In the spring the tulips come up all around the house, and it looks amazing.
Our yard is great for kids, and the neighbor children often come over and play with our dog, Rueger. We love our home and community and are excited to share it with a child.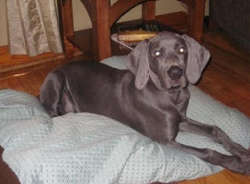 Our Values
Our faith is very important to us. Our church community is a place of strength and encouragement. Although Justin is an Army Chaplain, we feel that the decision to follow Christ is personal. When the time comes, we will discuss openly and honestly our faith with our child. From our faith stems a desire to show grace to others. Most people are doing the best they can with what they have. Grace can be hard to come by in our world, and it is an important value for us.
We also highly value education. We both went to college and graduate school and continue to educate ourselves. Our house is overflowing with books and we enjoy reading. We believe that education comes from travel and experiencing other cultures. One of the things we are looking forward to is reading and travelling with our child to share the world.
We hope that there is a special reason that our letter found its way to you. If you are interested in meeting us, or would like to learn more about us, please feel free to contact us directly at renandjustinacfb@gmail.com or contact our adoption counselor Maggie Benz at:
800-869-1005 toll free
847-366-6343 text
maggie@centerforfamily.com
Blessings,
Ren and Justin