Our names are Laura and Adam. We are a young (mid-30's), energetic, fun-loving couple and are hoping to adopt a baby. Words cannot express how appreciative we are for you and the courageous, loving, and difficult decision you are considering for your baby. We want to thank you for taking the time to get to know us and are very excited to get to know you through this process. We are open to developing a relationship that is comfortable for you, which can grow as the baby grows. We promise to provide a safe, loving, caring, and fun household for your precious baby.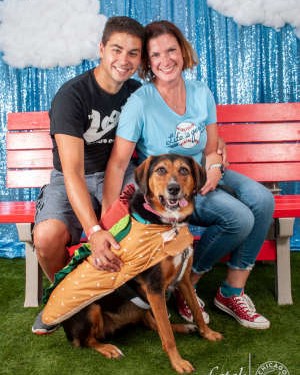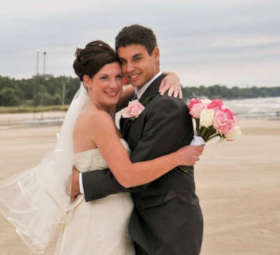 Who we are?
We met on match.com became best friends first, dated long distance for a while and have been together for seventeen years. Adam transferred to Laura's college during our Junior year and we've been inseparable since then. Adam proposed at sunrise on a beach in Florida, and we married surrounded by our closest family and friends in September of 2012. Cheers to ten years of a happy and supportive marriage!
Work and Interests?
Laura- I am a Registered Nurse and work in the NICU (neonatal intensive care unit). I love my job helping to care for the tiniest patients with the strongest will to fight. I work two days a week so I can be a mostly stay at home mom. In my free time I enjoy volunteering at the humane society, being crafty, making good use of my pink kitchen aid baking up a storm, training for the next race or triathlon, and going on new adventures with Adam and our dog Penny.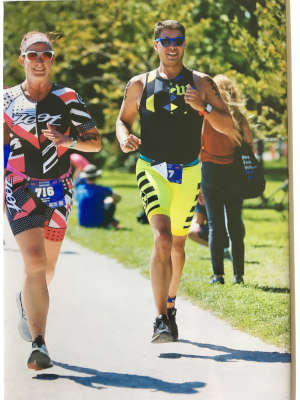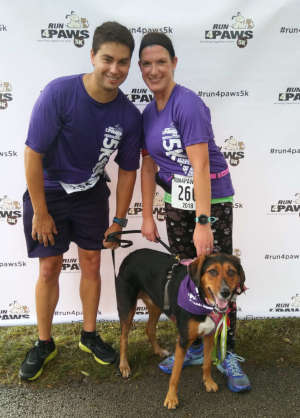 Adam-
I work in banking behind the scenes and am pretty tech savvy. I have the flexibility to work from home and I am eager to share that time with our child. I plan to be a very involved father. In my spare time I love spending time outside whether it be working in the yard, on one of my toys in the garage ( I love getting my hands dirty fixing up one of our antique cars, motorcycle, or pieces of lawn equipment) or training for the next triathlon or race. I like to have a project or two that I'm working on to keep busy and usually find a way to involve Laura or Penny.
Traditions
Being with family around the holidays is very important to us and we split time with both sides of our families to make sure the celebration is evenly spread. One of Laura's most favorite times of the year is during the Christmas season where she can share her love of baking with all of our close family and friends. We host a much anticipated cookie exchange every year and start decorating the house right after Thanksgiving. We also enjoy taking family road trips (Penny is always along for the ride!) to some of our favorite spots Galena, Michigan, and new found favorite white sandy beaches of Florida. We can't wait to share our love and our lives with our new child.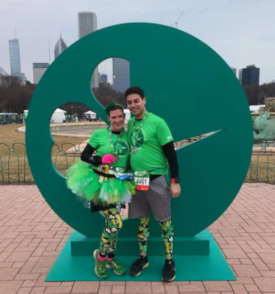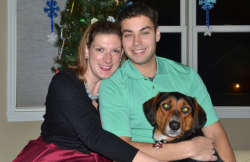 Our Family
We are both the eldest in our family and have one younger sister apiece. Our parents are very supportive of everything we do and are extremely excited to become grandparents. Laura's extended family is fairly large and there is never a dull moment with her 20+ cousins. Adam's family is smaller but live within blocks of our home and it makes family birthday dinners even more convenient.
Our Home
We live in the western suburbs of Chicago. The best parts are that we are close to family and will have access to great school districts for our children. Our brick house is on a tree lined street filled with friendly families and lots of dogs. Our home is our happy place and we always have a project we are working on together to make this our forever space. Our backyard is big and landscaped (thanks to Adam and his green thumb), fully fenced in with a fence we built together (with lots of help from family). We built our own fence in our backyard to keep Penny, our humane society adoptive mutt in. She is just shy of 10 years old and has been with us since she was four months old. We think she is a Coonhound mix as she has a ton of personality and a lot to say. Everywhere we go, she tags along (she's participated in a few 5ks, a baseball game, countless road trips and never turns down a day at the beach). She can't wait to be a big sister.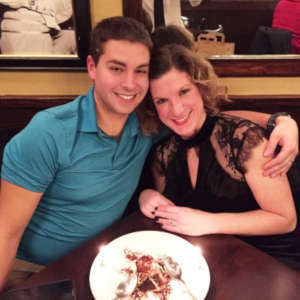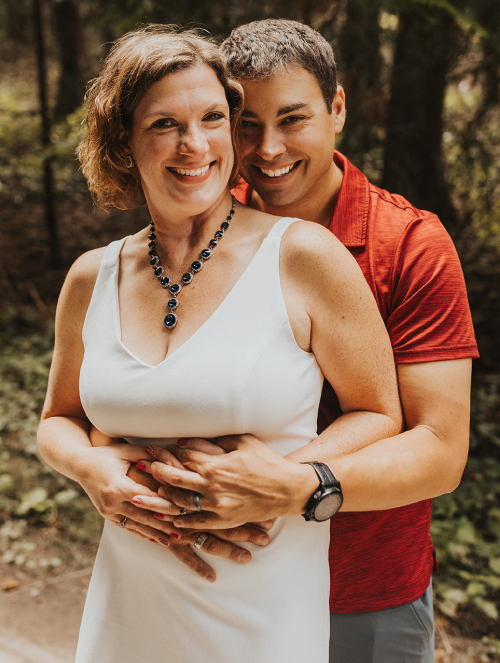 What we want you to know
We want you to know how thankful we are for you. If you choose us to be the adoptive parents, your baby will be the missing piece of our family that we've always dreamed of. We can't wait to add another member to our triathlon team, road tripping buddy, and make Penny a big sister! Your baby will be welcomed with loving arms and four paws, as well as by our excited family and friends. Our home will be a safe and happy place where we will be supportive parents in whatever path the world chooses for your child. Above and beyond all, we want to instill kindness. We value kindness to yourself, others, and the world around you.
Love always,
Laura and Adam