We are Tom and Kristin, a young, happily married couple in our early 30's hoping to adopt a baby. We are thrilled to have this opportunity to share a little about ourselves with you. We can imagine how difficult it must be to even consider placing your baby for adoption. We want you to know that your child will always know about you, and the loving, selfless decision that you made.
After our journey with infertility, we decided that adoption is the route our family was meant to take. We know that we can fulfil all of your wishes and dreams for your baby. If you choose us, you will certainly make our dream come true!
KristinandTomACFB@yahoo.com
800-869-1005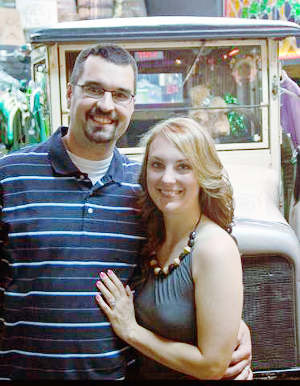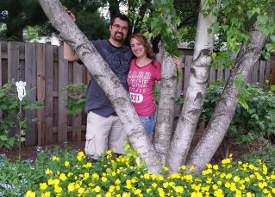 About Us
We've known each other for 16 years and have been married for 10 years. We first met our junior year in high school where we became friends. After high school we started dating.
We attended the same college, where we enjoyed concerts, hanging out with friends and annual road trips to an amusement park where we loved the roller coasters. A few days before Kristin's graduation, Tom surprised her by showing up at the horse barn where she worked; he got down on one knee and proposed. Together we planned the wedding and bought our first home in 2004.
In the time since we have been married we have added to our furry family by adopting 2 dogs from a local animal shelter, Lexie and Topper. We also have 2 cats, Quigley and Elwood, who have been with us since college. Our home is a cozy ranch with a nice fenced yard in the western suburbs of Chicago. We live in a friendly neighborhood with many young families and great school districts. In the summer, there are always kids on the playground behind our house shooting baskets or enjoying other fun activities.
Together we enjoy taking walks with our dogs, attending concerts, family events and taking road trips. We love travelling to Colorado, Nashville, Florida and to Michigan. We visit Colorado most frequently because Kristin's parents and brother live there. We both love the peacefulness of being in the mountains and enjoy skiing and site seeing. We also visit Michigan every summer where Tom's parents have a condo on a beautiful lake. We love going out on the boat or playing on the Jet Ski, and the dogs enjoy cooling off in the lake.
Meet Kristin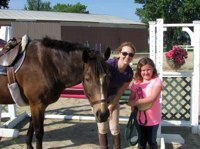 Ever since I can remember I have loved horses. When I was younger I took lessons and in college I was on the equestrian team. I currently ride a couple days a week and I also give riding lessons to kids. I mainly take on beginners, some of whom are as young as 5, and love the challenge of keeping them entertained and learning at the same time. A few months ago, one of my younger students asked me the difference between a boy horse and a girl horse. Her father and I looked at each other, laughed, and he told her it was a discussion for her mom to have with her. I found myself hoping one day I would be the one answering the hard questions. Currently I work part time at Beltone Hearing Center, but I look forward to being a stay at home mom after we adopt a baby.
In addition to my love for horses, I love to read and have recently taken up sewing. I have been working on quilts for my nieces and nephews.
Meet Tom
I am a mechanical engineer and love the challenge of designing products. I also tend to be a do-it-yourself-er and am always doing home improvement projects. My passion for building things started when I was young. I always loved math and science, and enjoyed taking apart and putting back together toys to figure out how they worked.
Aquariums are another interest of mine. I enjoy keeping many different species of fish but my favorites are clown fish or "Nemo's". I recently decided to take up photography and found that I enjoy taking pictures of, landscapes, lightning, concerts, family, and of course my fish. It is rare to find me without my camera in hand.
In addition to aquariums and photography I love listening to music and attending concerts. I am also a huge hockey fan and enjoy playing in my spare time.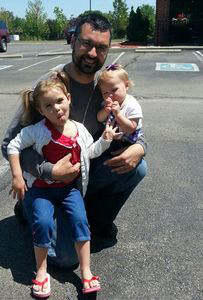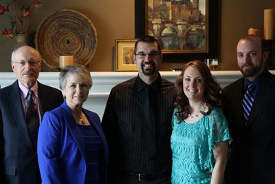 Meet The Family
Tom and I visit family in Colorado twice a year. My brother, Jason has become an avid snowboarder. He likes to send me picture messages of himself from the top of mountains. There are many beautiful sites to see in Colorado and Tom always has his camera nearby to capture the moment. My parents have always been my biggest supporters. While growing up, they were always there for me offering encouragement. The most important thing I learned from my parents was compassion. They are the kind of people that are always willing to help others.
Tom's family is very close and mostly lives in the Chicago area. He has two brothers (Jim and Dan) who are both married. Jim has two daughters who are 18 months and 3 years old. They live in Ohio and come back to Illinois frequently to visit family. Tom's parent's lake house in Michigan acts as a middle point so the family meets up in the summers to relax, go boating and spend time together. Tom's extended family also lives in the area so there are lots of family events and parties throughout the year. Tom's parents believe that family is extremely important and this is something that they passed onto him. Tom is always available to lend a helping hand or to celebrate family birthdays or special occasions.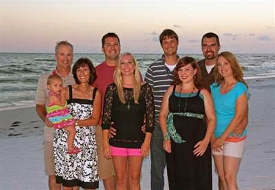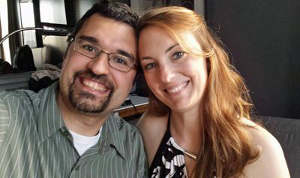 Our Future
We are excited to embrace the changes that come with being first time parents. We feel that it is important to raise your child with compassion, love, a sense of family and strong values. We will create opportunities for your child to have a happy, successful life. Your child will grow up knowing that your decision was made out of love and took a great deal of courage. Our entire family is excited about the possibility of having a new member to love.
Thank you for taking the time to read about us. We look forward to meeting and getting to know you, and we're happy to answer your questions.
We'd love to hear from you.Please send us an email: KristinandTomACFB@yahoo.com/ If you prefer, feel free to contact our adoption counselor, Tobi at 800-869-1005. You can also text Tobi at 847-366-6351