Hello,
profile1We are Kim and Robert and we are excited to introduce ourselves to you! We have been married for ten years and live on the North Side of Chicago. For a decade, we were both high school English teachers. Now, Robert is working on building an educational website and Kim is preparing our home and lives for the new baby that we are hoping to adopt. We have tried to have a baby for many years without success, but we have put our sadness behind us, and we are now excited to build our family through adoption. Kim can't wait to be a stay-at-home Mom!
info@centerforfamily.com
800-869-1005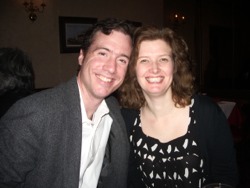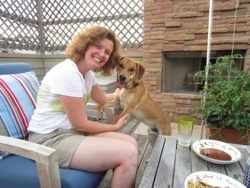 Our Day
Kim "retired" from teaching about a year ago and is now handling a variety of chores and home projects: decorating, shopping for groceries, working in the garden, exercising and keeping our lives happy and comfortable. Twice a day she walks Bailey. They go on different routes through the neighborhood and enjoy the different gardens they see and the neighbors they meet.
Robert's day consists of trying out new features on his website and talking to programmers to make sure they work just right. He heads home between five and six, sometimes after a workout at the nearby health club. On weekends, Robert helps out around the house, reads avidly, and lectors for his church.
When Robert arrives home, the two of us have fun making dinner together. Bailey is always at our feet while we are cooking, ready for anything to drop! Many of our dinners consist of favorites like pasta or bratwurst, but we also try to be adventurous, with unusual meals like frittatas, corn chowder, and rouladen, a great German recipe that Robert learned from his mother. We like to try new dishes and often use vegetables from our own garden. This year we grew zucchini, radishes, and tomatoes. Most evenings we are at home reading good books, playing a board game, watching our favorite TV shows, practicing our swing dancing, or taking Bailey on a long walk. We know our daily patterns will change when our baby comes along, but it's a change we both welcome.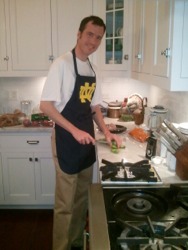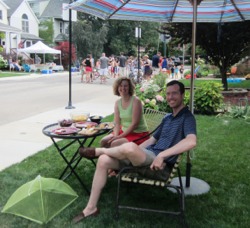 Home and Neighborhood
profile4We live in a newer home with plenty of room for children. It is within a ten minute drive of Kim's parents and both of Robert's sisters, so we visit with them frequently. We love our home and have taken the time to make it our own. Kim has put thought into decorating, and this year made a roman shade for the bathroom. It took quite a lot of effort but was well worth it – it looks great! She can't wait to put these skills to work on a nursery for the baby. She has also spent time creating gardens in our cozy front and back yards.
Our house is in a wonderful family neighborhood. The local schools are excellent, our parish is very active, and our neighbors are friendly and helpful. We enjoy talking to the young couple and their son next door, and sharing gardening tips with the elderly woman on the other side. The annual block party is always a great event. We set up a picnic on our front lawn to enjoy the spectacle and visit with all our neighbors. There are tons of kids on this quiet block, and they treat the street like it's their back yard. Our child will have lots of playmates nearby.
Family and Friends
We are tremendously lucky to have loving, supportive families. Kim sees her parents regularly. She loves to do projects with her mom and see foreign films with her dad. Robert enjoys talking with Kim's dad about everything from theology to computers. And Robert describes Kim's mother as one of the sweetest women he's ever met, and one of the most talented. She's always over at our house helping Kim with gardening and sewing projects. Like her husband, and like the two of us, she was also a teacher.
Robert's family is very different from Kim's: it's just as loving, but it's a huge Irish-Catholic clan. His mother, whom he meets for lunch every week, is an elegant woman and an instinctive mom – she's just about her grandson Henry's favorite person in the whole world. Robert's dad has a corny sense of humor and is kind and forgiving.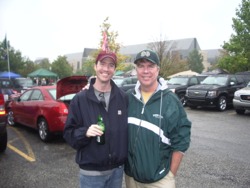 Robert works closely with him on their family business, and they love attending Notre Dame games together. Robert also has two sisters and a nephew who live close by, and we see them regularly.
Beyond the immediate family, Robert is one of 22 grandkids, and there are fourteen great-grandkids already, including our nephew Henry. Robert's sister Aimee also has twins on the way! Kim jokes that not a week goes by without a party, and we have a long tradition of games and songs at these family get-togethers. The amount of love and support from our parents, siblings, and cousins as we have waited for a child has been tremendous. Our children will have wonderful grandparents and a huge family to show them the way.
We are also blessed with friends who live both near and far. We see our friends regularly for dinner, the theater, or concerts. Many of our friends have young children. One couple is currently expecting a baby and we hope our kids will be playmates! We also have dear friends scattered across the country. We took our 10th anniversary trip to California to spend time with friends we don't get to see often. Robert keeps up with his college friends by attending Notre Dame football games with them. We're lucky to have this support network of good friends.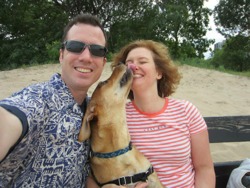 Our Thanks
Thank you so much for reading this letter. We understand that you are making an important, life-changing decision. We can offer your child our unconditional love, our lifelong support, a good education, and interesting life experiences. After ten years of teaching school, and many years watching other family members raise their children, we can't wait to be parents ourselves. We hope that you will want to know more about us, and we're eager to get to know you, too.
Thank you for considering us, and please feel free to email us at KimandRobertACFB@gmail.com, or contact our adoption counselor, Tobi Ehrenpreis, at 800-869-1005. You can also send Tobi a text message at 847-366-6351. Just let her know that you are interested in learning more about us.
With Warmest Wishes,
Kim and Robert