Dear Expectant Mother,
Before we help you get to know us, we want to tell you how brave and selfless we think you are for even considering adoption. Although we can't imagine the emotions you are experiencing, we appreciate how hard this decision must be. We are so excited to be on a journey to adoption and can't wait to welcome a child into our big, loud, fun, and loving family.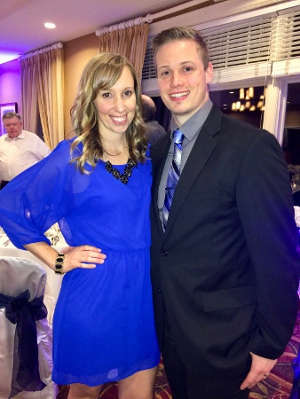 Our Journey:
We are Dan and Katie and we met 9 years ago. On our first date, we met for breakfast and we talked for hours. We have been together ever since.
We have now been married for 5 years and have had our share of challenges. The beauty of our relationship is that we are both so willing to work on it. We've been trying to get pregnant for 3 years and it has been disappointing. We've decided that pursuing infertility treatment is not part of our journey. Our hearts have led us to adoption. My sister-in-law placed a baby for adoption, so we are lucky to have her insights and experience to inform us about open adoption.
About Katie:
I am 31 years old and I grew up with my parents and three older brothers in a suburb of Chicago. I played softball through high school and I currently coach freshmen. I adore animals and have always had a dog. I enjoy horseback riding and to reading. I am a high school Family and Consumer Sciences teacher. I teach culinary, child development and preschool, which means I have the blessing of teaching both high schoolers and preschoolers. I feel fortunate that my job will allow me long breaks to be home with our child. It really is the best of both worlds.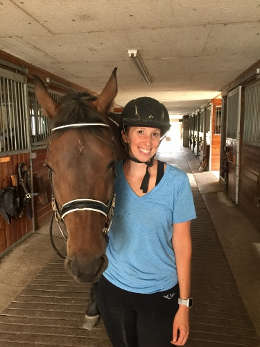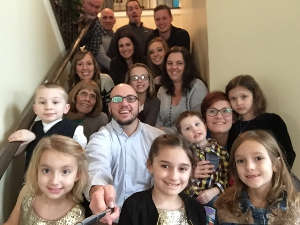 We live very close to my parents and 2 of my brothers. One is currently living in London with his family. We enjoy spending time together watching sporting events and sharing family dinners. We have 6 nieces and 2 nephews that we love to spend time with. My whole family is supportive of our plans to adopt and thrilled to welcome another baby into our growing family!
Dan About Katie
Katie is a great role model to her students. She is happiest when around children, and our nieces and nephews flock to her. Katie is selfless and loves unconditionally. If she loves you, she will bend over backwards to help you. She is supportive of her friends, and attends as many of her nieces' and nephews' events as possible. Katie supports me in my dreams and passions, and I know she will do the same for our child. There is no question in my mind that she will be a fantastic mother.
About Dan:
I grew up in a suburb of Chicago with my parents and younger sister. My grandparents, aunts, uncles, and cousins were only miles away, and we are still very close. I was involved in sports like baseball and volleyball, and I still keep up with the latest sports news. I am a huge Cubs fan and it was amazing to watch them win the World Series! I also like to play golf and cook.
I graduated from the University of Wisconsin-Milwaukee and I'm currently a senior project manager at a company within 10 minutes of home. I am lucky to have a flexible work schedule, so I will be able to spend lots of time with our child.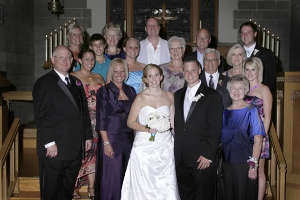 We live about 45 minutes from my family. This will be the first grandchild on my side and everyone is excited to love and spoil our future child! My family loves to play card games and share family dinners. Because we spend a lot of time with our families, we hope to instill the importance of family in our child.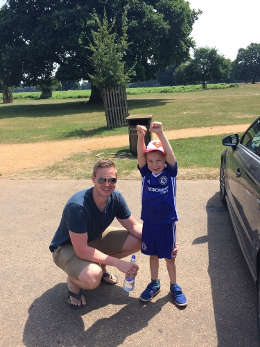 Katie About Dan
Dan is honestly the nicest person I know. He is funny, easygoing and always stays calm even when things feel chaotic. He tells me every day how beautiful I am and is never shy about showing how much he cares. There is no doubt in my mind what a wonderful father Dan will be. I know he will play with our child, share his love of sports and help with homework. More importantly, he will show our child how to be respectful, patient, and caring. I can't wait to see the joy on Dan's face when we meet our child.
Our home:
We live in an awesome suburb that is an hour west of Chicago and has a great school district. There is a park a block from our house and many more in the area. We have splash pads, mini-golf and bike trails within minutes of our home.
Our 4 bedroom split-level home has a finished basement and an above ground pool. We have a playroom with toys for the kids that come to play, and the perfect nursery just waiting for a beautiful baby.
Our Doggy Son – Charlie
We have a brindle boxer named Charlie. As a 9 year-old puppy (yes he will always be a puppy in Katie's mind), he still sleeps in the crook of her arm. He is the most snuggly, sweet, and patient dog. Charlie absolutely adores children. When our nieces and nephews are playing, Charlie lays right in the middle and watches them. He will make a great doggy brother!
What We Like To Do Together
We love to take Charlie on walks and cuddle with him to watch our favorite T.V. shows (anything from Chicago P.D. to Modern Family). It's important to us to eat healthy and enjoy homemade meals together each night. We love to go to country concerts and explore Chicago with our friends. Every year we go to a lake house in Wisconsin with a group of friends.
We have a passion for traveling and have been lucky enough to go to Europe twice. We hope to travel with our child to show them as many different cultures as we can.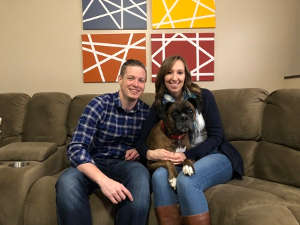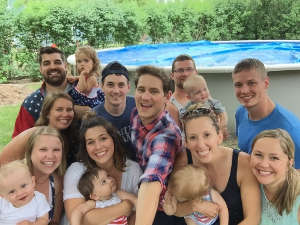 Thank you
Thank you for taking the time to read our profile. We can't explain how much we admire you for considering adoption. We promise that we'll love your child unconditionally, give them a safe home to grow up in, and a large, loving extended family to be a part of. We would love to have an open relationship with you if that's what you want. We will always speak of you with respect and gratitude.
How You Can Reach Us:
• Directly at katieanddanacfb@gmail.com
• Through our adoption counselor Tobi Ehrenpreis by calling or texting her at 847-366-6351 or emailing tobi@centerforfamily.com
Our Warmest Thoughts,
Katie and Dan