Dear Birth Mother,
We can't imagine what you are going through, but we understand that you are trying to make the best decision for yourself and your baby. If you choose adoption, we hope that you will find peace with your decision and know that your child will be loved and cherished and in good hands.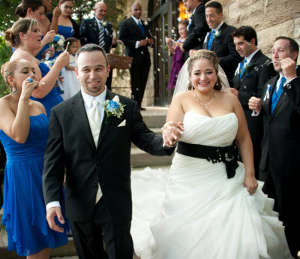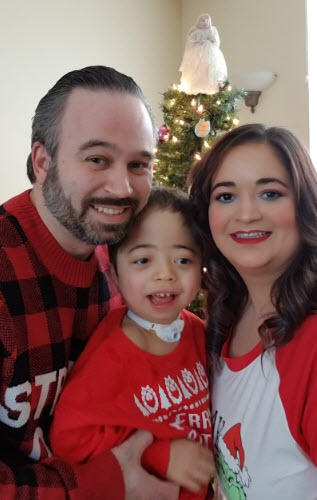 Our Story:
In 2006, we happened to meet at a work event. Since then we have been inseparable and have supported each other through good and bad times. After dating for only 6 months, we knew we had something special and moved in with each other. Then after 5 years of dating, we were married on July 29th, 2011.
Working on ourselves and our relationship has taught us the importance of love, team work and communication. We work together well because we listen, are honest, respect each other's ideas and always remember to have fun and be silly.
A few months later we decided we were ready to have a child and our son Jase was born on Dec 11th, 2012. Jase was born with a rare medical condition, requiring a trach and G-tube, that has created some challenges for our family. Through the help of great nurses and his experience in the NICU, we learned not only how to care for his specific medical needs but also so much about compassion, patience, enjoyment of the simple things and overcoming adversity.
We also have a great community of diverse families to enjoy activities and navigate these challenges. This condition is genetic, so we have decided that adoption is the best choice for us to grow our family. We always pictured having a bigger family and are looking forward to more play dates, cheering on all the Chicago sports teams, sharing our love, and Jase having a partner in crime.
About Kat:
From middle school choir to American Idol watch parties to karaoke nights, I love music and singing, although I am not sure others love hearing my off-pitch vocals. I come from a very close Puerto Rican family who play an important part of my life. I visit my parents, sister, nephew and niece at least every other week. There are so many birthday parties, holiday celebrations and get togethers happening, that I get to spend plenty of time with my aunts, uncles, cousins and their children, too. I love that we can reach out to each other whenever and are always there for each other, as well as all the yummy food my family makes.
I enjoy playing and teaching Jase and all the kids in my family new games, crafts and helping with homework. I consider myself to be passionate, empathetic, intelligent and fun. Besides randomly singing and dancing, I also love to play board games, card games and dice games, which goes along with my competitive spirit. I work in the Marketing department at a large computer company and am currently working on my YouTube channel, MessyMakeup Mommy, sharing my love of makeup. I can't wait to hug and kiss the new baby and plan a family trip to Disney World.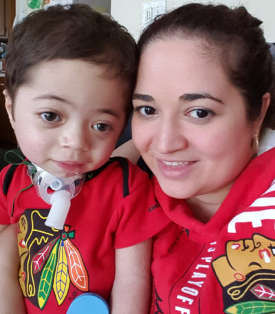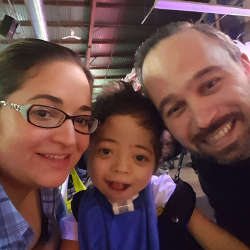 About Bryan:
Bowling is my biggest passion outside of spending time with my family.
I am very competitive within the two leagues that I am in, and average 200 in both. I also enjoy golfing, playing poker and reading.
Caddying was my first job starting when I was 13, and something I continued to enjoy doing for the next 10 years. I came to greatly appreciate the sport and enjoy playing the occasional 18 holes with friends. I've been reading for as long as I can remember. I enjoy reading fantasy novels with a focus in magic, like Harry Potter. I also enjoy the occasional poker game with the guys.
I like participating in family traditions such as the annual camping trip, family picnic and big family Christmas Eve party. I love spending time with children, playing and being silly with Jase, and our nieces, nephews and our cousins' children. I would describe myself as loyal, caring, dependable and kind-hearted. I am always trying to get people to laugh at my jokes. I am looking forward to continuing our family traditions and starting new ones, especially sports and introducing the kids to the World of Harry Potter. I work in an IT department that supports perinatal software, which captures fetal information throughout the pregnancy. I have been with the company for 5 years and enjoy the company's culture and my work.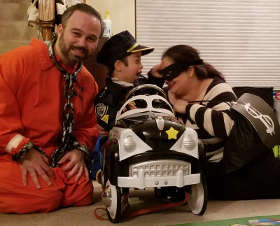 About Jase:
Jase loves Mickey Mouse and all things Disney Jr. He is 5 years old and is having a blast in preschool. He loves interacting with other kids and can never get enough of his family and friends. Jase enjoys listening to music and you can't spot him without his favorite toy, the maraca. Despite his developmental delays, he is happy, affectionate and full of laughter. He has the ability to make everyone he meets smile. Nothing feels better than Jase's delightful kisses and cuddles. He can't wait to meet his little brother or sister and laugh at their funny baby noises.
Our Family:
The three of us are so excited to bring another child into the family. Our new baby will be welcomed by 4 caring grandparents, 2 charismatic uncles, 1 loving aunt and 4 rambunctious cousins, as well as several family friends. Everyone is ready to spoil, love and teach the baby what it means to be a part of our large close-knit family.
Holidays are cherished times, with special foods, decorations and quality time. Our biggest holiday celebration is Christmas. Our Christmas starts with 2 large family parties, a visit from Santa, opening gifts at midnight, and waking up to family and stockings. We can't wait to share our traditions with another child, especially holidays. We are eager to create new family traditions, too.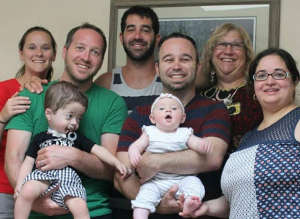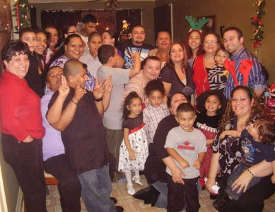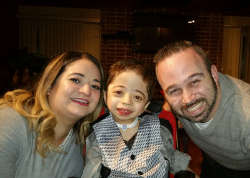 We vow to love, cherish, protect and encourage your child to grow up to be the best version of him or herself. We will provide your child with a loving family, playful environment and a safe and stable home.
We would like to take the opportunity to thank you for considering us as you plan your baby's future. We look forward to getting to know you and learning about your wishes for future contact. We understand that you may want to have an open adoption and we are eager to learn what that means to you.
Please email us at KatandBryanACFB@gmail.com or contact our adoption counselor, Tobi. Tobi's contact info: Email: tobi@centerforfamily.com;  800-869-1005; Text: 847-366-6351