Dear Expectant Mother,
Thank you for taking the time to learn about us and the life we can offer your child. We appreciate the enormity of the decision you are facing. As the adoptive parents of a young son, we have the utmost respect and admiration for birth parents, and we are grateful to them for making families like ours possible. We know that you want the best for your baby, and we would be honored if we could be part of your adoption journey.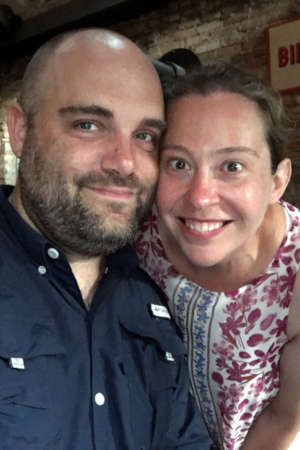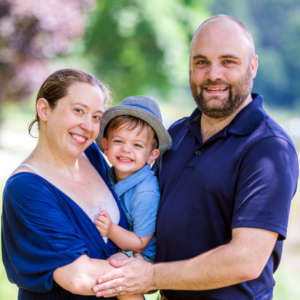 Our Family
We have been together for ten years and married for seven. Soon after we were married, we experienced several miscarriages and learned that we would not be able to have biological children. Adopting our son Samuel filled our hearts in ways that we never could have imagined. We are eager to share our lives and our love with another child. Samuel's aunts, uncles, cousins, and grandparents are excited to welcome another child into our family.
We love to spend time together outdoors, hiking, camping, going to the beach, and visiting water parks. Kasey likes to take Samuel for long runs in the jogging stroller, where he yells at her, "Faster, Mama, faster!" We also love to cook healthy meals together, using vegetables from our garden. Kasey likes trying new recipes, and Shon is a master of the grill and the smoker, and even cures his own bacon. We are active members of a local Lutheran church. The congregation there includes many young families, and Samuel wakes up on Sundays eager to go see his church buddies.
Shon
Shon grew up in rural Ohio, where most of his family still lives. Raised in a large and tight-knit Lutheran family, Shon values their love and closeness and appreciates the bounty of the outdoors. He loves being a goofy and affectionate uncle to his five nieces and nephews.
Although he is focused and serious when required, Shon is quick to joke and smile at every opportunity. He tries to find joy in all of life's moments—big and small, special and mundane. Shon has worked as the vice president of a small IT company for 17 years, and his co-workers have become like family. He works hard, but his job allows him flexibility in his schedule, which helps him to be a hands-on dad.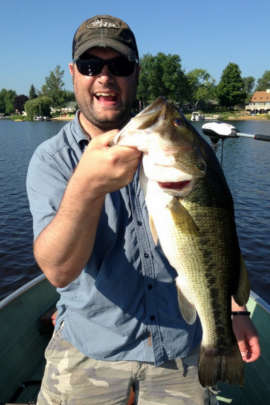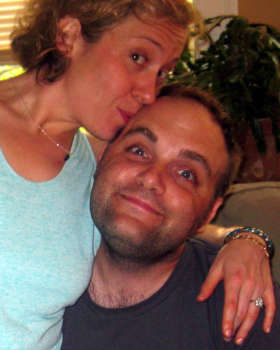 Kasey
Kasey is a professor at a university where she has worked since 2005. She loves her students and her colleagues, many of whom are among her closest friends. Her flexible schedule is perfect for a mom. Samuel's daycare is only blocks from her office.
A lifelong bookworm, Kasey loves to read, although parenting has meant trading long novels for Dr. Seuss! A distance runner, she has completed four marathons, but now prefers shorter runs with the stroller. She is close to her two parents and her two brothers, and we travel several times a year to visit them in New Hampshire and Washington, D.C.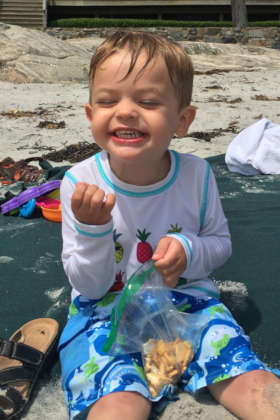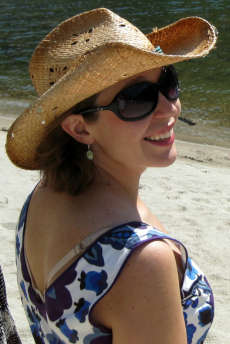 Samuel's Adoption Story
Samuel was born in November of 2015. His birthmother chose us to be Samuel's parents, and it is impossible to put into words our gratitude to her. She says she knew from the beginning of her pregnancy that Samuel was destined for something special, and we feel that our connection was meant to be. We have an open adoption with Samuel's birthmother and her family, including visits in our home and in theirs. The most important thing to us is that Samuel knows he was always loved, by his birth family and his adoptive family, and that he was very, very wanted. We would welcome another open adoption, and would love to work with you to find the kind of openness that is right for everyone.
Samuel is a loving and energetic little boy. His favorite things are trucks, music, swimming, and ice cream. (He was born in Wisconsin after all!) He loves to "help" around the house, cracking eggs for breakfast, sweeping up imaginary dirt, and pushing the vacuum into the furniture. We always encourage all of his efforts, even the less-than-perfect ones! Samuel is quick to smile and give out hugs. He especially likes when Mom and Dad read the sad parts in his storybooks so he can give us hugs to make us happy again.
Our Home
Our home in the north suburbs of Chicago is on a quiet street blocks from the local elementary and middle schools and a few doors down from the park. Samuel loves riding his cars, trucks, and bike around the block and saying hello to every dog we meet. We have a large yard with a garden, including grapes, black raspberries, strawberries, rhubarb, and asparagus. After taking care of outside chores, we love to play in the yard or just relax in the hammock. In the summers, we love to host outdoor barbecues for friends and family.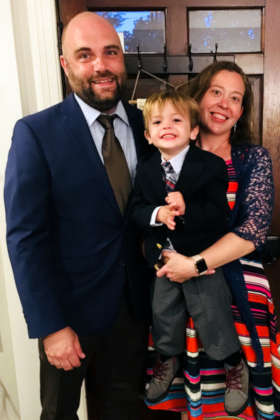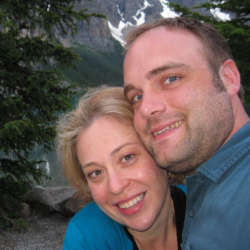 Our Promise to You
We promise to love your child completely and unconditionally. We would provide your child with a wonderful education, a warm and loving family, and a safe and stable environment. We would raise your child to be proud of his or her adoption story and of the selfless and loving choice you made. Above all, we would do everything in our power to help your child become a kind, loving, and thoughtful human being.
We hope we have given you a glimpse into who we are and what we can offer. We would be honored to hear from you and to get to know you. You can email us at KaseyandShonACFB@gmail.com or text our adoption counselor, Tobi Ehrenpreis, at 847-366-6351.