Dear Expectant Mother,
Your story is one of true strength, courage and love. We hope that you choose us and that we can travel down this path with you, learning about you and assuring you that we will provide a warm, safe, and loving home for your child. We will forever honor your difficult decision by providing a loving and nurturing home. We pledge to raise your child in a home filled with laughter, love and hugs. We are so grateful that you are considering us to be a part of your story and we anxiously await your call.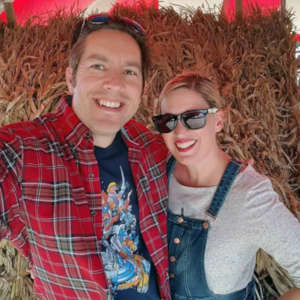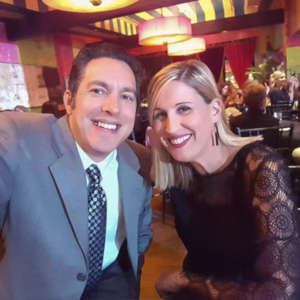 Our Story
We are Kara and Keith and we have been happily married for eight years. We always hoped to have children and have tried to conceive both naturally and with fertility treatments for five years without success. We know the best way to grow our family is through adoption.
We both graduated from Columbia College Chicago and Kara also graduated from Illinois State University. Kara is a Marketing Manager and Keith owns a Media Production Company and is Video Producer for a large corporation. We have a great work life balance. We love games, sports, outdoor activities and spending time with friends and family. We are always creating new and interesting projects. We both love Photoshop and one of our favorite projects is making themed calendars every year by inserting our family members into movie posters, famous paintings or historical events.
We love to make very elaborate Halloween costumes and we host a costume party every year We give prizes for the best costume and have social media decide the grand prize winner. We also enjoy making short comedy films, which have been shown at the Biograph and Music Box Theaters in Chicago. Our wedding in May of 2010 was an Old Hollywood themed party, complete with red carpet and Oscars awarded to the Maid of Honor and Best Man.
We want to offer a child every opportunity in life and we also want our child to know about their birth mother's courage. If you so choose, we would love to provide you with photographs and letters, since we both love writing and Keith is an expert photographer.
Keith on Kara
Kara and I met at work. We shared a cubicle wall and as it turned out, so much more. At the time, we were both producers writing and shooting television commercials. I fell in love with her wit, big heart and her ever-present smile. We dated for two years and then married in 2010. Kara just lights up a room with her positive energy and general interest in everyone around her. She has so much love in her heart.
Kara is unbelievable with children. Our friend's and family's children are always drawn to Kara. She loves playing games with them, holding them or just hearing about their day. Kara is very generous and kind. When we're invited to a child's Birthday party, Kara makes sure to bring a gift for the child's siblings as well. She gives of herself for others. She has volunteered as a Coach for Special Olympics and we both currently volunteer for The American Cancer Society's Relay for Life,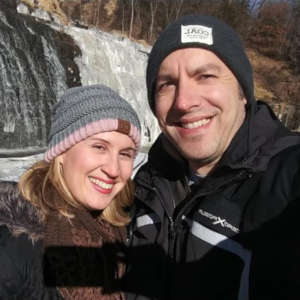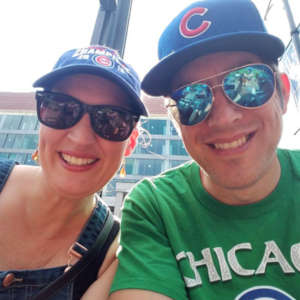 Kara on Keith
Keith is a smart, talented, creative and funny person. We have a very similar sense of humor. He makes me laugh in a different way, every day. He has been an inspiration and a motivator in my life. Keith has such a great connection with our friends' and family's children. He gets down on the floor to play with them. He's always creating original games keeping them entertained and you can see why he is dubbed their favorite uncle. One example had us babysitting for our friend's son, Sam. Keith set up an entire video shoot for Sam. He created a video turning Sam into a superhero and making him fly. What a thrill for Sam.
Keith isn't the type of person who likes to watch life; he likes to be a part of it. He would be an involved father, who would want to be immersed in every aspect of our child's life. If we meet you, expect to receive homemade cookies or cupcakes because Keith is a great cook and an amazing baker. He would love nothing more than to have a small Chef assist him in the kitchen.
Our Family
Family is of the utmost importance to us. Keith is the youngest of five children and Kara has one older sister. Keith's siblings all have children, many of whom live in the Chicagoland area so there is always a birthday or graduation party to attend surrounded by children. Kara's parents and sister live nearby; her parents are looking forward to their first grandchild. Kara's mom brings us together for regular Sunday dinners and has created a cookbook for the family with all of her recipes and each memory that went along with that meal. We golf with Kara's dad, who is very active and loves to be involved in family activities.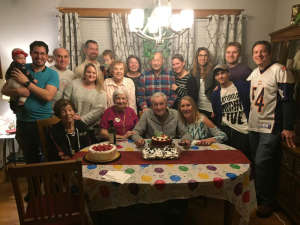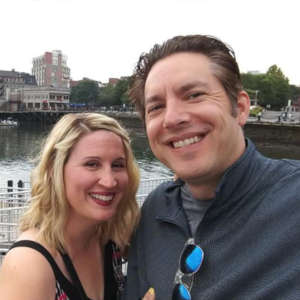 Home and Community
We live in a nice, quiet suburb of Chicago. We are close enough to the city where we take advantage of the opportunity to visit museums, zoos, events as well as visit family regularly. Our block has lots of children and our close friends that we have known for years live nearby as well. We have a large backyard, where we host many events with families and friends. We are known for the most creative backyard games like the Amazing Race with participation by the whole family big and small.
Your Child's Story
We are looking forward to filling the pages of our lives with new adventures and beautiful memories we can build with our family. We'll support your child and their dreams and give them a lifetime of opportunities to fill the pages of their story.