Dear Birth Mother,
We are a young couple, Kaitlin and Clint (age 34 and 35) and we couldn't be more excited to be given the chance to adopt your child. Thank you so much for letting us introduce ourselves and tell you about our family. We are grateful that you love your child so much that you are considering adoption. We hope you feel supported and loved no matter where your journey takes you.
We think that you are brave and selfless to even consider adoption. While we can't know exactly what you're going through, we can assure you we care about you more than you can possibly imagine. If you decide that adoption is the right decision, we promise to support you anyway we can. In addition, we will cherish and love your baby, providing a safe and happy home.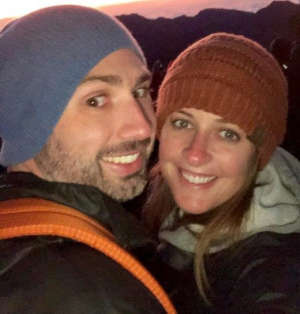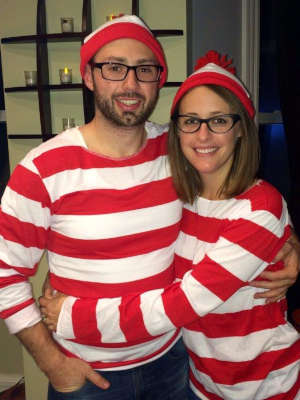 Our Story:
We met at work in 2010 and started off as fast friends, carpooling to work together every day. After spending hours in the car together, we realized how many similar interests and personal values we shared. Soon our relationship blossomed. Clint proposed in April of 2015 and we have been happily married since May of 2016.
We have a dog, Quenneville, who is a 5-year-old hound/lab mix. We adopted her from an animal shelter when she was just 9 weeks old. We love taking her on walks through the forest preserve and spending time at the dog park and beach near our home. She's very sweet and is great with children. She loves cuddling with us on our couch watching television or curling up near our feet while working from home.
We enjoy family gatherings, date nights and sporting events. Our favorite thing to do together is travel. We have been lucky to travel together all over the world. We've spent time in the Caribbean, Hawaii, Mexico and even honeymooned in South America. We live in Chicago and enjoy everything the city has to offer, including the diversity of people, events and activities. Our favorite museum is Shedd Aquarium; Kaitlin loves the otters and Clint always looks forward to the interactions among the penguin colony.
Adoption has always been in our hearts. We talked about adopting a baby before we were married. We struggled with fertility for a year and decided that adoption is the best path to expand our family. We can't wait to be parents and provide a child with a wonderful life.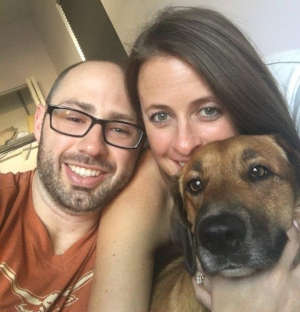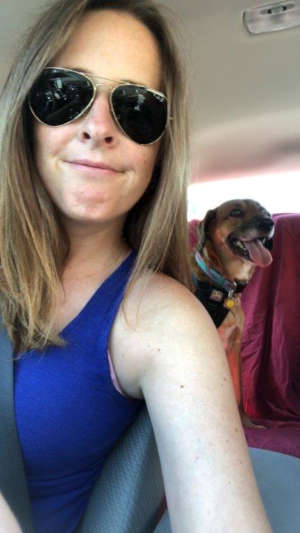 Meet Kaitlin:
I was raised in the west suburbs of Chicago. I am the oldest of 4 with two sisters and one brother. Aly is a speech pathologist, Michael works in finance, and Lauren is a hospital social worker. I am not only close in age with my siblings, but we share a tight bond. This bond started at a young age and was made possible by our amazing parents. My mom, Mary, is a retired special ed teacher and my dad, Mike, has worked in the steel industry his entire career. He is about to retire, and they have already started to enjoy their retirement life together. They just returned from a trip to France.
We grew up chasing each other and our dog around the house and making home-made movies. One of my favorite childhood memories were yearly vacations to Michigan with close family friends. I was always playing sports including basketball, track, volleyball, gymnastics, swim team and soccer. I also played the clarinet and piano.
My love for the city and the people always drew me back to Chicago. I studied Communications in college and my path, by chance, brought me into the insurance industry. I was recently promoted to a unit manager. When I'm not working, I spend my time hanging out with friends and family, volunteering for the American Cancer Society and enjoying life with my family.
Clint and I have been through a lot in our short marriage, but it has only made us stronger. Less than a year after we were married, I learned I carried the BRCA1 gene. After seeing my mom struggling with cancer, I decided I could not take the risk of having that happen to my kids. I chose to have a mastectomy a few years ago. Clint really had to nurse me back to health and was so wonderfully supportive. This experience only made us stronger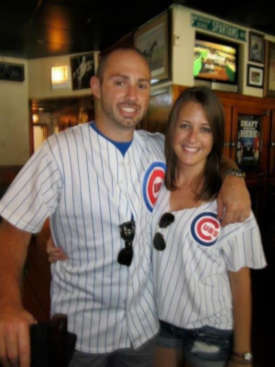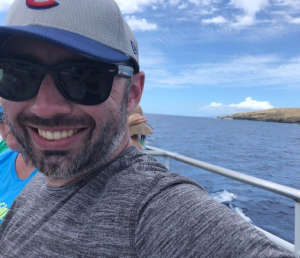 Meet Clint:
I was raised in a small farm town in east central Illinois to two of the greatest people I know. My mother, Patty, is a retired high school math teacher and my father, Ron, works in warranty claims for a farm machinery company. My folks were high school sweethearts and recently celebrated their 40th wedding anniversary. They celebrated by taking their children to Hawaii for a wonderful family vacation. I have two younger brothers, Chris and Cary, and enjoy a close relationship with each of them. Chris have been dating Emily for a few years now. Cary and his wife, Jordan, are expecting their first child in March. We thoroughly enjoy spending time together as a family every chance we have.
After graduating from college with a bachelor's degree in Business Management, I realized the small town/rural life wasn't for me. I was able to find a job in the Chicagoland area and made the move north. I work in the insurance industry, which has provided me with many wonderful opportunities (including meeting Kaitlin).
I enjoy staying active, participating in recreational softball, basketball and volleyball leagues. Kaitlin's siblings are part of these leagues, too. I also enjoy playing golf during the summer and watching football, basketball and golf on television.
Our Promise:
We promise to love and support your child with everything we have. We promise to support our child to become the person he or she was meant to be. We will offer your child non-stop encouragement so that he or she will blossom and thrive. We will give this child the opportunity to see the world and grow to understand different cultures and lifestyles. We promise to give your child every opportunity to be successful in life and support them each step of the way.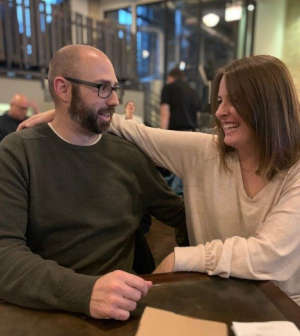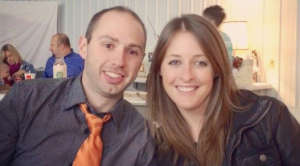 We know that you must have questions, and we would be happy to answer them. You can reach us directly by emailing ClintAndKaitlinACFB@gmail.com or contact our adoption counselor, Linda Fiore. She would be happy to answer your questions, too.

Text/Phone: 773-919-5702
Email: Linda@centerforfamily.com.
We cannot wait to hear from you.
Gratefully,
Kaitlin and Clint