Hi,
We believe that your decision to consider adoption is made out of love and takes enormous cour-age, and we will always ensure that our children realize this. We invite you to get to know us and we look forward to getting to know you. We are Julie and Tom, a truly happily married couple longing to expand our family. We eagerly anticipate the smiles and laughter of another child in our home. We believe that, whether it is through birth or adoption, love creates family bonds. The child we're fortunate enough to adopt will be raised in a home filled with love, laughter, encouragement, learning, and discovery. We hope that we'll be the family that you want for your child.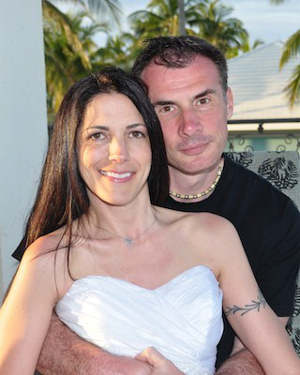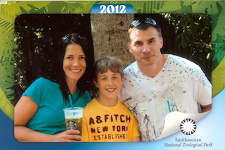 Our Story
We've been married for over four years, but our love for each other has an eternal feeling. We believe that we were always meant to be together. On our first date we just clicked and there has not been a day since that we have not shared. As we got to know each other, we discovered that we grew up within a few miles of each other, walked many of the same streets and went to many of the same places. We had a feeling that we've always been close, and these discoveries just made our bond stronger.
We have already shared a lifetime of fun and experiences! We were married in the Bahamas, went snorkeling with sea turtles in the Pacific Ocean, watched whales in Hawaii and saw the sunrise over the Pacific from a volcano.
We have been trying to have children ourselves through several years of trying, multiple miscarriages and many tears. We have not been able to fulfill our desire to expand our family and now embrace adoption as the best way to raise children together. Tom has a son from a previous marriage, James, age 12. Tom is a devoted father. Because James is with us half time, the baby we adopt will have all of the attention of being an only child but also have an older brother too! It's the best of both worlds!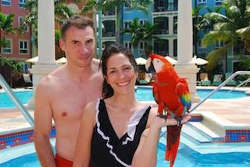 Meet Julie
I'm from Chicago, the youngest of two and always enjoyed being physically active. In fifth grade I started playing basketball and continued playing into high school. My parents were very supportive and attended most games. I still enjoy shooting baskets with Tom and James!
I am a registered nurse and currently the acting heart failure coordinator for a large hospital. However, before I was a nurse, I worked in various technology and consulting roles, but I always felt like my calling was to take care of others. After traveling to El Salvador as a volunteer, where I absolutely loved the country and people, I decided to pursue a nursing career. I am very passionate about life and taking care of myself, spiritually, emotionally and physically. I enjoy reading and expanding my understanding of the world. I also practice living a healthy lifestyle by being physically active and taking care of my family. I'm the luckiest girl in the world to have met and married Tom! He has it all. His commitment to career and especially family is admirable and demonstrated by helping with household chores or practicing Ultimate Frisbee with James. My heart melts when he goes to extraordinary measures to save the baby birds and bunnies we often discover in our yard.
Meet Tom
I am the youngest of three and born in Chicago with a love for the outdoors. By age five I was fishing, swimming, biking; anything that kept me outdoors. I continue to explore the outdoors with Julie and James through our family bike riding and hiking excursions. I work in the computer industry as an information security professional, and love the challenges of protecting and securing technologies. I enjoy fixing things and problem solving, and try to find ways to repair problems that home ownership, or even life, throw my way. I love computer games, which is what originally got me interested in working with computers.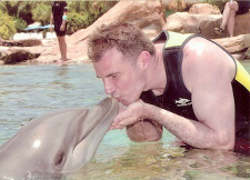 I served in the United States Marine Corps, and served in Desert Storm. I am proud of our country and all it does to make the world a better place. I know first hand that we truly live in the best country in the world!
I enjoy doing landscaping and yard work in the warm months, which is a challenge with two dogs that like to help undo everything I just completed. Taking walks and just escaping to nature are also things I really enjoy doing. I like working out and staying in shape, something I picked up while I was in the Marine Corps. Julie motivates me if I get distracted. I am also a huge hockey fan – Go Blackhawks!
Julie is the love of my life. She loves generously, and is very kind and caring. Julie truly inspires our family and maintains our family balance by reminding us about the importance of respecting, caring, helping all living things.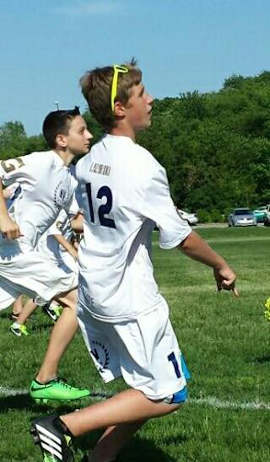 Meet James
James is a loving, happy natured 12-year-old boy. He has such a good nature that we often hear him laughing in his sleep! He enjoys children and hopes for a brother or sister. He's as excited as we are to expand our family! James loves playing Ultimate Frisbee. James has already planned where his new sibling will sit at the dinner table and has helped prepare their bedroom!
James About Dad & Mom – "My parents are really supportive of me and are always encouraging me to try new things. Mom is very caring, and her being a nurse is just really cool. Dad is always spending time with me practicing and is always there to make sure I'm doing my best at what ever I'm doing."
Our Home and Community
We live in the western suburbs of Chicago and share our home with two German Shepherds, Max and Faith. They are wonderful with children. Our home is warm and cozy with a nice fenced yard. Great parks and schools are all within a mile. Our friendly neighborhood is filled with many young families. In the summer, there are always kids in the parks enjoying fun activities.
Together we enjoy taking walks with our puppies and sharing family time by going to the movies, bike riding, and outings to Starved Rock, Brookfield Zoo, Great America, Renaissance Fair, and Cubs and Blackhawks games.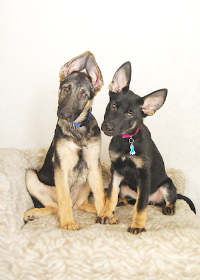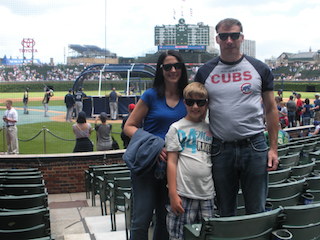 Our Future
We are excited about growing our family through adoption. We feel that it is important to raise our children with compassion, love and strong values. We want to create opportunities for them to have a happy, successful and caring life. We have worked hard to give James love, stability and security. We have much love in our hearts to provide the same to your baby. We would be forever grateful to you for the opportunity to be your child's adoptive parents.
Please contact us directly at JulieandTomACFB@gmail.com. Or you can reach us through our adoption counselor, Maggie Benz, at maggie@centerforfamily.com, 800-869-1005 (toll free) or 847-366-6343 (text).
We wish the best for you and your child.
Warmly,
Julie and Tom