Dear Birth Mother,
We are Jessica, age 32, Owen, age 33 and Clark, nearly 2 years old. We adopted Clark at birth and are forever grateful to his courageous birth mother. It is impossible for us to know or understand what you are going through during this decision but we know first-hand that any individual considering placing a child for adoption is strong, loving, and brave. We welcome a child of any race and the child we adopt will be unconditionally loved, supported, and cared for all their lives. We are happy that you are considering us as the adoptive family for your precious baby.
info@centerforfamily.com
800-869-1005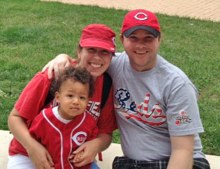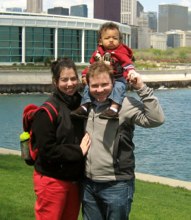 Our Family
Although originally from Dayton, Ohio we moved to Chicago eight years ago and fell in love with the city. Clark joined our family through an open adoption in January 2012 and as the first grandchild on both sides of the family. We live on the north side of the city in a condo courtyard building. We have always known that we would build our family via adoption as I (Jessica) was born with a birth defect which prevents me from having children. We love animals and have a tiny dog named Sophie, along with a horse named Mikey. Our interests and hobbies vary from going on vacations all over the world to going to all kinds of sporting events (we are trying to visit every baseball stadium in the country. Clark has already been to five!) to theater.
How We Met
We met over fifteen years ago when Jessica was working for Owen's dad! We didn't start dating immediately as the timing was not good, Owen was away at college and Jessica was at another college. We saw each other here and there and five years later we ran into each other at a baseball game and the rest is history. Four years later we were married and now get to spend every day with each other's best friend!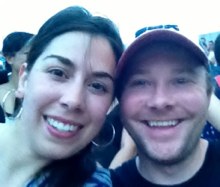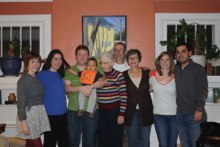 Owen!
I have really enjoyed being a dad the last couple of years. It is so much fun to play ball with Clark and see him learn new skills like reading. I can't wait to raise another child. I come from a family of five with two younger sisters. One sister lives in St. Louis and the other in London, England which is great because we get to go visit them. My parents are still living in Dayton but we all see each other a couple of times a year at least and we make sure to be together on all major holidays like Christmas. I come from a family of small business owners and love all aspects of running a business. I am currently building a small consulting firm with my dad which allows me to spend more time with my family.
Jessica!
Being a mom is everything I thought it would be and more. I love getting kisses from Clark and taking him to the zoo. I can picture our next child joining us on our adventures. Like Owen I also grew up in profile4Dayton, Ohio in a family of four and my entire family still lives there. It is great when we go back to Ohio because we are able to visit both my entire family and Owen's. My brother and I are very close because when I was a kid my parents worked and so I would follow him around all the time. I am delighted that he is back in Ohio fairly close as he was a Marine which transported him all over the world. When I was 14, I saved my money and purchased a horse and have been riding ever since. I still own this horse and he lives on a farm in the northern suburbs of Chicago. Having Mikey taught me how to care for others at a young age and how to save money.(He was expensive!) My other hobbies include exploring the city and traveling. Currently I work as an administrative assistant for a not for profit company.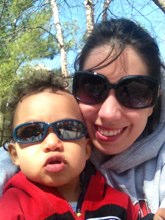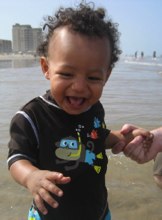 Clark!
Clark is amazing! We are so blessed to be his parents. We both watching him grow and discover new things every day. Our doctor says he is an 18 month old going on 3 years of age. He learned to walk at 9 months old and is a bit of a charmer with a full head of curly hair. He likes trains, buses, baseball and the beach. He is very active just like us, and likes to go to museums, festivals and to travel (he has already been to 7 states). He will be so loving to a younger brother or sister. We really want our children to be educated in many ways, from school to learning about other people, by seeing, hearing and being in other cultures.
Home
We live in a wonderful area of Chicago. It is a very diverse community with lots of parks and a beach we can walk to. The neighborhood is also known for the arts and has theaters with children's programs. We also live a few blocks from the train so we regularly go to all the Chicago museums, zoos and everything else the city has to offer.
Vacations
Vacations are a big part of our life and we try to take one big one and two smaller ones every single year. We recently have been to Aruba, South Padre Island, Seattle and Northern Wisconsin. We can't wait to give our children the opportunity to see the world and learn from all the great places we visit.
In Closing
We hope this letter provides you with a glimpse into our lives, but most importantly, hope that you see we are so excited to provide another child with a life of adventure, excitement, education and above all love! As you make plans for your child's future, we wish you the best and hope you feel peace with whatever decision you make.
If you wish to speak to us or meet us we are available at anytime. We may be reached at jessicaandowenacfb@gmail.com or toll free at 888-329-8167. Maggie Benz, our adoption counselor, is also available at 800-869-1005.
Warmly,
Jessica, Owen, and Clark