Dear Birth Mother,
introOur names are Irma and Sergio and we want to grow our family through adoption. Almost two years ago, we were blessed with our precious son, Antonio, through adoption. We are eternally grateful to Antonio's birth mother who trusted us to love and care for him, and to give him a lifetime of opportunities. We are also eternally grateful to her for giving us the opportunity to experience the tremendous love that we share with our son, and that we know we will have for another child.
We know that this is a very difficult time in your life. You are most likely struggling with how to best care for your unborn baby. Perhaps after reading this letter, you will have a sense of who we are as a family and as individuals.
info@centerforfamily.com
800-869-1005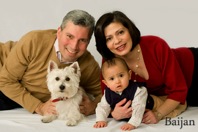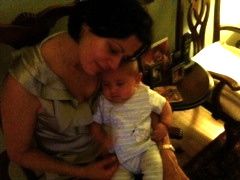 ABOUT IRMA
irmaI was born in Los Angeles, California. My twin sister, who is my best friend, lives in Oak Park, Illinois with her husband and our 21 month old niece. My niece and Antonio love playing together and we spend a lot of time together on the weekends.
My father passed away when my sister and I were eight months old and my mother raised us as a single parent. We moved to Chicago to be closer to my mother's family. I am Mexican-American with lots of extended family. Together, with my mother, they provided me with the love and support I needed to grow up to be a stable, happy, and compassionate woman.
ABOUT SERGIO
sergioI was born and raised in Chicago, close to my mother's and father's families and spent my childhood surrounded by aunts, uncles, 10 cousins and my grandparents. I have a brother who lives in Naples, Florida with his wife and 21 month old niece. (Yes, we, as well as both our siblings, have children all born within a month and half from each other!) We see my brother, wife and niece several times a year, which is always a great time.
I come from a big Italian family which helped give me a strong appreciation of family, and, to this day, I am still very close to my brother and all of my cousins. My parents were excellent role models for a healthy relationship, as they were married for more than 40 years. Sadly, my father passed away five years ago.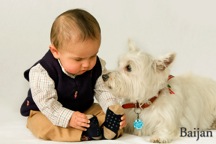 ABOUT ANTONIO
antonioI was born in April 2011 and I love my home and playing with my little dog, Oliver. I have grandparents, aunts, uncles and cousins who shower me with love. I go to the park every day and enjoy going to the beach in the summer. I have lots of play dates with cousins and friends. My home is filled with lots of toys so when it's too cold outside, I have plenty to play with at home. I am very excited about being a big brother! I can't wait!
ABOUT US
We will soon be celebrating our 15th anniversary – and our time together during these years has been wonderful! We work well together. We have many similar interests but, most importantly, we have many shared values.
We love food – eating out, cooking it at home and sharing it with friends and family. We think this comes from our Mexican/Italian roots! We enjoy living in the city and all that Chicago has to offer. We enjoy taking our son to the Children's museum and on play dates. Five years ago, we adopted a rescue dog named Oliver from a local shelter. Oliver and Antonio love playing together. Oliver is very loving and plays well with Antonio. We are healthy and enjoy keeping in shape. We are also godparents to our niece and two of our cousin's children and enjoy spending time with our godchildren.
HOME & COMMUNITY
We live in a townhouse in Chicago's Lincoln Park neighborhood, which is surrounded by parks, good schools and many families with small children. We spend a lot of time in our kitchen preparing meals for ourselves as well as for family and friends and in the summer spend a lot of time outside playing at the park with Antonio and Oliver and enjoying the beautiful weather.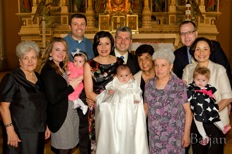 FAMILY
christeningFamily is extremely important to both of us. It is, without a doubt, our #1 priority! From our earliest memories, our parents provided strong examples of the importance of family, demonstrated by the love they showed for us, their parents and one another.
We are both very close to our parents. We couldn't have imagined growing closer with our families; but, the birth of our son Antonio as well as our nieces has brought our families even closer than we already were. Our parents adore our son and their grandchildren. Every night Antonio speaks with his Abuelita and Nonna (grandmothers) over the telephone before going to bed.
EDUCATION
Irma's mother came to the United States when she was 13, to help support her family back in Mexico. Irma's grandmother had six small children and no means of support. Sergio's parents immigrated to the U.S. from Italy in search of a better life.
While neither of our parents had an opportunity to complete much education, they understood and valued the importance of a good education. Irma has a college degree and a master's degree in business administration. She works for CNA Insurance in the human resources area. Irma enjoys helping people and her work gives her the opportunity to do that every day. Sergio received his college degree and a master's degree in business administration. He works at the Boeing Company in the accounting area. Sergio enjoys working with numbers and financial information … no wonder he likes accounting!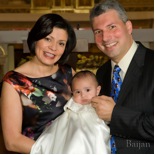 SPIRITUALITY
We grew up with the same religious beliefs. Today, we are practicing Roman Catholics. We believe that moral principles are what counts, not necessarily the religion you practice. We provide Antonio with a religious foundation and a religious home life.
OUR VIEW ON OPEN ADOPTION
What we have not yet talked about, and what may be the most important to you, is why we are interested in adopting another child. We have always wanted to have children – we planned on having children ourselves, as well as adopting.
When we attempted to become pregnant, we found out we were unable to conceive. Although this was a very difficult experience, rather than go through the various infertility treatments available, we immediately embraced adoption. We feel incredibly fortunate to have adopted our first child and are hopeful to adopt again.
We hope this letter has given you an insight into who we are, the importance of family and the life we promise to provide for your child. We want to be more than strangers to you. If you select us as adoptive parents for your child, you can be assured your child will grow up in a safe, loving and nurturing home with a mother and father who will devote their life to your child as our parents devoted their lives to us. Please be assured that we will give your child our love, patience and complete attention. Your child will know that we were joined as a family through adoption because of your courage and love.
To learn more about us, please contact our adoption counselor, Maggie Benz at 1-800-869-1005 or send her a text message: 847-366-6343. You may also send us an email to info@centerforfamily.com
Warmly,
Irma and Sergio