Our names are Imelda (age 35) and Jared (age 33) and we hope to adopt a child. As excited as we are to grow our family, we want to acknowledge the courage, love, and struggles that you are going through as you consider this tough decision. We know the road is still long and hard but we hope that we can help ease the way for you. We would like to share with you a little bit about our life and our family. If you choose us as the adoptive family for your baby, we promise to provide a safe, loving, and stable home full of laughter and compassion.
Choosing Adoption:
Adoption was something we always considered. We actually talked about it before getting married. After having infertility problems and researching fertility options, we felt adoption was the right path for us. After seeing the overwhelming support and joy from family and friends it really reinforced the decision for us. We feel that we have a lot to share and give by growing our family through adoption.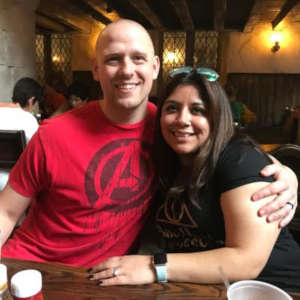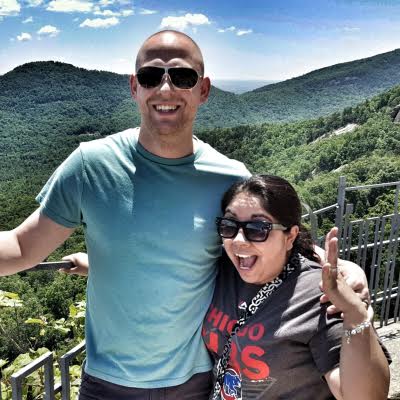 About Us:
We are a biracial couple in our mid 30's. We met in 2009 while working for the same company. On our two-year anniversary Jared proposed at Navy Pier in Chicago, and we married in October of 2012. On our wedding day, we were surrounded by our loving family and friends. We live in a town west of Chicago in a small, family friendly community. We live near the elementary school, public library and local parks. There are plenty of walking trails and open fields.
Our house has three bedrooms and a large backyard. We like to grill and have a small bonfire where we can sit and enjoy the evenings. We have a chocolate lab mix dog named Effie and a cat named Tessa who actually get along! Our dog loves to run around the yard and play with neighboring dogs. Tessa is more of a homebody who loves her blanket. Even though we do not live in the city we do enjoy going to visit the museums and other parks and attractions. We enjoy traveling and have many plans for future family vacations both in the US and abroad.
About Our Family:
Jared is an only child who has both his parents and a large extended family consisting of aunts, uncles, and cousins in Pennsylvania. Imelda has two younger brothers in their early 30's and both of her parents. She also has a large extended family consisting of aunts, uncles, and cousins who live all over the US and in Mexico.
Both our families get along wonderfully which makes holidays and family functions even more enjoyable. There is always plenty of food and laughter to go around. Both of our families are very excited and supportive of our adoption journey. Each of them is already envisioning themselves a part of this baby's life. We also have a lot of close friends who are like family and have also shown their love and support during this journey.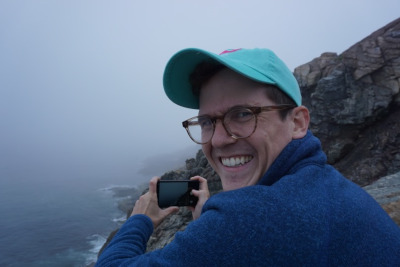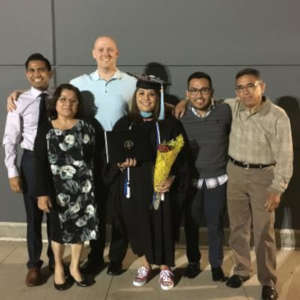 About Imelda:
I was born in Mexico City and moved to Illinois when I was seven. I consider myself Mexican-American, and am fluent in both English and Spanish. I obtained a Master's degree in Counseling and work with college age students in a community college setting.
I'm very close to my family and my Mexican roots. I enjoy reading and love books so much that I was very involved in volunteering for the local public library for over 15 years. I love watching sports, especially soccer and baseball, Go Cubs! I've also done many 5K runs as an adult and was involved in track, soccer, and volleyball while in school.
Jared has a great sense of humor and is always making people laugh. I don't think a day ever goes by that he doesn't make me laugh! He enjoys mentoring people who reach out to him for help. At family and friend gatherings he often finds himself the human jungle gym when around little kids. He is very much a kid at heart.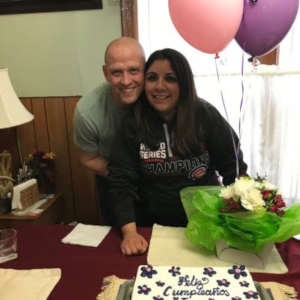 About Jared:
I was born in Allentown, Pennsylvania and moved to Illinois when I was 12. I would describe myself as a fun-loving nerd who enjoys doing martial arts. I'm very physically active and love tending to the yard and walking our dog Effie. I've joined Imelda in a few 5K runs as well. I recently got my Master's in Business Administration and work for a local utility company as a business analyst. I am a big-time movie lover, especially superhero and action movies. I also enjoy reading about martial arts and the stock market. Imelda is an amazing person who has the special gift of easily relating to people of all ages. She is also a kid at heart and kids love talking to her and I find her safe and fun to be around and enjoy every day with her.
Our Promise:
As we go on this journey together we want to let you know that we promise to provide a loving, nurturing home where your child can feel free to express their passions and interests. We are very open minded and want to instill the values of love, empathy, and caring.
Your child will grow up in a biracial, bicultural, and bilingual home but will always know where they came from. They will learn about the world as they travel with us. We know there will be challenges but with the help of our supportive family and community we will overcome them and learn from them. We hope you will consider giving us a chance to fulfill these promises.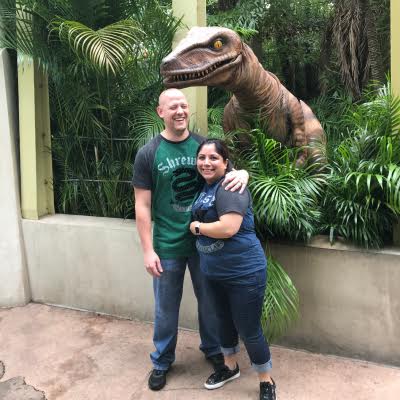 Sincerely,
Imelda and Jared