Hi! We are Heidi and Casey and we are so happy and thankful that you are reading our letter as you make this very emotional decision. We pray this letter finds you well. We are grateful for your unselfish decision to consider an adoption plan for your child. We hope that this short letter can begin to demonstrate the type of couple we are and how much love we have to give to a child. We would love to hear your hopes and dreams for your child and would be honored to share ours with you. We promise you a relationship based on respect. We promise love, support and family to your child.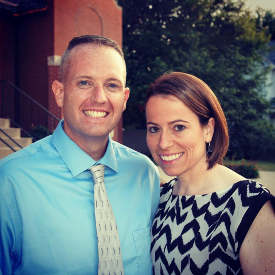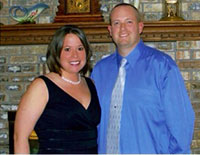 Our Story
Although we grew up in the same small town in southern Illinois, we did not begin dating until we were in our 20's. A mutual friend thought we would be great together and set us up on a date. We hit it off immediately! We have now been married for nearly eight years. We hoped and prayed to have a child ourselves since we were married. Adopting a child would be a dream come true! Family is very important to us as we both come from very close families.
We love to go to the movies, sporting events and travel. We are big St Louis Cardinals and Blues fans! We go to as many games as we can and have been lucky enough to attend the World Series to watch the Cardinals. On Sundays you may find us riding our bikes on the many miles of paved trails near us, hitting a tennis ball around or even tossing the football in the front yard. We look forward to vacations and in recent years we have visited Boston, Hawaii, Washington DC, and California just to name a few. Some day we hope to visit Disney World with our children. We truly are best friends and do almost everything together. We own our own home, are financially secure and have both been with our employers for almost 13 years.
About Heidi
I'm the youngest of three girls. My sisters are my best friends. We are always calling and texting each other! Although we live in different states, we see each other as often as possible. I enjoy spoiling my nieces and nephews.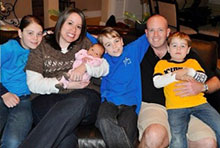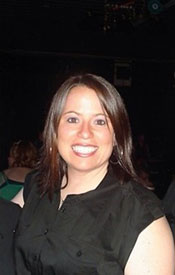 My parents have been happily married for 46 years. They eagerly look forward to having a grandchild near them to shower with attention. I grew up playing every sport I could and I loved to be outside. Some of my favorite memories are being at the lake boating and skiing as a kid. I continued playing volleyball in high school and community college. I received my Bachelors in Radiologic Science and I am currently the ultrasound charge tech in one of the top ten hospitals in America. I love working in a hospital that is cutting edge and one of the top in our field. I love to laugh and no one is better at making me laugh than Casey. He is so thoughtful, generous and caring. Casey is the guy that buys me flowers just because. He is everything I ever wanted in a husband and more.
About Casey
I'm the older of two boys. My brother and I have always been close. My parents have also been married for many (43) years. They are very excited for their first grandchild! I grew up playing sports and became a hard worker at a young age mowing lawns. I continued playing tennis thru high school. I taught Sunday school to preschool children while attending community college. Others tell me I'm always a favorite with kids because I love to get on the floor or go outside and play with them. I've always loved the outdoors and I take pride in having a nice yard. For the last several years it has become a tradition to go on a fishing trip with my dad and brother. I have my Bachelors in work force education and I'm currently a bank operations manager. I love my job because I get the opportunity to research and solve problems for our corporate clients. I love to spend time with Heidi. She is always there to care for me and love me unconditionally. Her quick wit always makes laugh!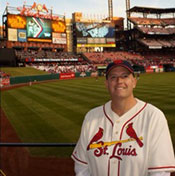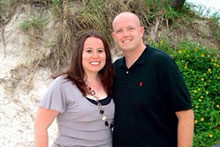 Our Home and Community
We live in southern Illinois, not far from where we were raised. Our home is a cozy three bedroom house waiting to be filled with children. We spend most of our time in our open living room and kitchen area. We can't wait to add a swing set to our back yard! We live in the kind of neighborhood you dream about raising a family in. It is a fairly new neighborhood with mostly young families. There are always children out playing and riding their bikes.
We also have a great park in our town. It has several different play areas for different ages, walking trails, a large pond to fish and feed the ducks, and even a small petting zoo. Although we live in a small town of around 10,000 we are only 20 minutes away from a big city which we love. We can raise our children in a small town where you know almost everyone yet be close to the city to go to the zoo, children's museum, major sporting events or amusement park. We get the best of both worlds!
The Future
We will raise your child in a loving, stable, Christian home and provide a lifetime of support. Aunts, uncles, cousins, and four adoring grandparents wait with us to give your child unconditional love and a happy fun filled childhood. We know that getting to know someone can be very difficult and we would love a chance to talk or to meet with you. We are very down to earth and easy to talk to.
If you would like to know more about us, you can reach us by calling, texting or emailing our adoption counselor, Maggie:
1-800-869-1005 (Toll free)
Maggie@centerforfamily.com
847-366-6343 (Text)
Or if you prefer you can email us directly at:
heidiandcaseyacfb@yahoo.com
We wish you all the best in your journey to discover the family that is meant for your precious child.
With sincere admiration,
Heidi and Casey