Hello!
We're Gina and Josh, a young couple (both 30) living in Northwest Indiana. Thank you for taking the time to learn about us as you make some very difficult choices. We want to tell you about the love we have for each other, our families, and our dream of adopting a child.
Although we haven't met, we have so much respect and admiration for you already. We can only imagine how difficult this decision is for you. Please know that we are thinking of you and the strength and courage it must take to journey through this process. We know that you want what is best for your baby and hope that we're the family you're looking for!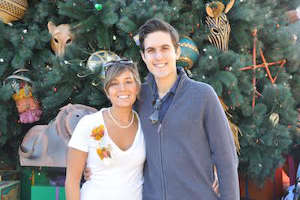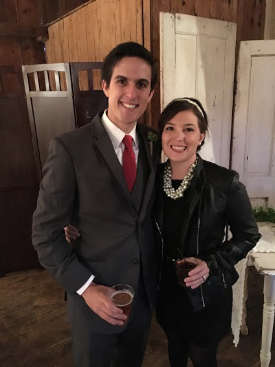 Our Story
We met 10 years ago during our first year of college. Josh went to the University of Notre Dame and Gina went to Saint Mary's College. We dated for 3 years and then in 2008 Josh proposed. We were married a year later and have been living our "happily ever after" ever since.
About Gina
Gina was born and raised on the south side of Chicago and has lived in the Chicagoland area her entire life. She is a first grade teacher who enjoys creating activities, decorations, and crafts for her students. Gina loves spending time with kids; whether she's hosting a movie night at school or playing with her cousins' kids, she always shines when there are children around.
During summer breaks, Gina enjoys swimming, reading, baking (cupcakes and cookies mostly), taking the dogs for walks, and running in the park. She is excited to have a work schedule that will allow her to be home with her children most of the time.
About Josh
Josh is from Southeastern Ohio and grew up in a blue-collar town along the Ohio River. He moved to Northwest Indiana when we became engaged. Josh is a consultant and loves working with numbers and figuring out solutions to problems. You can find him reading (he enjoys the classics), cooking, playing with our dogs, and watching sports in his spare time. Josh can't wait to be a dad, taking our son or daughter to sporting events, on long walks with the dogs and teaching them some of his favorite recipes, like chicken parmesan.
Our Life Together
We are an active couple who love to travel. We enjoy traveling the world and can't wait to share our love for adventure with a child. Some of our favorite destinations have included beach vacations like Hawaii and Cancun, Europe, and Disney World (our families LOVE Disney and we go almost every year). We also enjoy taking long walks in the park, and cheering on our favorite sports teams. We go to Notre Dame football games every fall, White Sox games every spring/summer, and hockey games in the winter! On weekends, we spend our time together going to restaurants, movies, and playing board games. Monopoly can get intense in our house!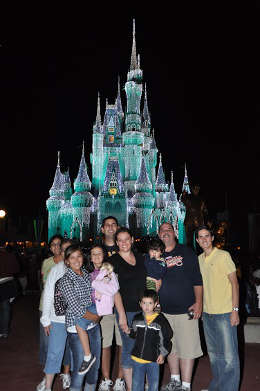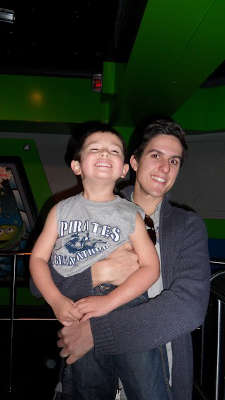 What Gina has to say about Josh:
Josh will be the perfect dad! He's always up for adventure and making life fun. Whether we're cooking, singing, dancing, or watching TV, there is always joy and laughter in our home. I know Josh is going to be a playful, hands-on dad: reading bedtime stories, coaching, playing games, bike riding and helping with homework. He loves playing chess with our little cousin, Eli and reading to our niece, Lynzee!
Josh was my rock during our journey through infertility. Although our struggles with infertility have been difficult, it has only brought us closer together and confirmed our commitment to one another. We are both so excited to finally be parents.
As much as Josh has made our lives together fun, he's made it even more loving. He has a huge heart and tons of close friends and family to prove it. He picks me up in tough times and supports my every challenge. Whether it's cheering me on at 5am during my half marathon or helping cut out games for my first grade class, Josh is always there for me. He will be there for our child, too, because family is his # 1 priority!
What Josh has to say about Gina:
Gina's my best friend and my companion, as we happily travel through life together. She's there to laugh with me, be my dance partner, and listen when I need someone to talk to.
I met Gina during my freshman year of college. As she stood next to me, I was immediately taken with her beauty and knew I had to start a conversation. After a few conversations, late night movies, and trips to dances, I realized that she was also smart, funny, and a general hoot to be around. We began dating in 2005 and have been by each other's side ever since. I couldn't imagine life where she wasn't there to light up each and every day.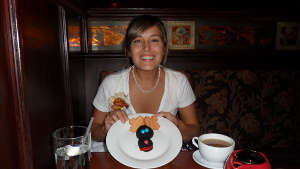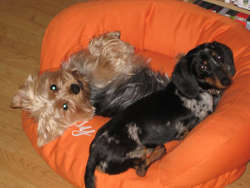 Meet Our Pets
We have two dogs, Wembley and Rockne. Wembley is a seven-year-old Dachshund who enjoys sleeping and sunbathing on our deck. Rockne is an eight-year-old Yorkie who enjoys running in our yard and going for walks in the park. Both enjoy playing with young kids.
We also have three cats, Drake, Sully, and Chanel. Drake and Sully are six-year-old tabby brothers we rescued from the shelter. They enjoy playing with their toys and cuddling, especially with each other. Chanel is a nine-year-old calico we rescued off the street at three weeks old. She enjoys sleeping and being brushed. I guess It's pretty obvious that we both love animals!
Our Families
Gina's mom and dad live nearby in Northwest Indiana and we see them often. Even though she is an only child, Gina has a large extended family including eight cousins, all of whom have children themselves. So our child will have lots of cousins to play with at family birthday parties, holiday celebrations, and barbeques. Everyone in the family is supportive of our decision to adopt a baby, and Gina's folks are excited to be first time grandparents. Gina's mom is Mexican, so Gina was raised with many wonderful traditions, like having the family together to make tamales for Christmas.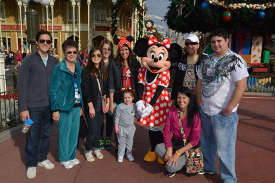 Josh's family includes his dad, mom, younger sister, younger brother, granny, and four-year-old niece Lynzee. Even though they live in Ohio they are still a large part of his life. He talks and texts with them constantly, we visit them on holidays, and enjoy yearly family vacations together. Whenever we're all together, whether sitting around the dinner table, swimming in Mexico, or going to Notre Dame games, we always enjoy each other's company. Josh's entire family is supportive of our decision to adopt, and his parent's can't wait to love and spoil another grandchild!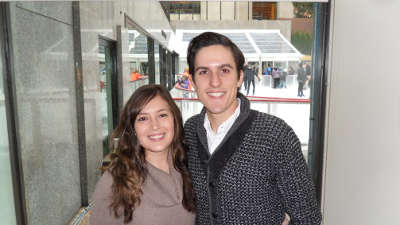 Our Promise To You
More than anything, we want you to know that we will love your child unconditionally. We want your child to know where he or she came from and hope you will want to have an ongoing role in our lives. We plan to talk with our son (or daughter) about adoption and the loving selfless, decision you made. We'll devote our lives to giving our child all the opportunities, security, and happiness we can possibly offer. Thank you so much for considering us as you plan for your child's future.
If you'd like to connect with us, please email us at ginajosh.acfb@gmail.com. You can also call our adoption counselor Tobi Ehrenpreis at 800-869-1005, text her at 847-366-6351, or email tobi@centerforfamily.com to learn more about us.
Best Wishes,
Gina and Josh