We are so honored that you are choosing to view our profile. We recognize that the decision you are considering is no small undertaking, and we hope to meet you and thank you for your courage and selflessness. We believe that we can honor the wishes you have for your child to grow up in a loving home.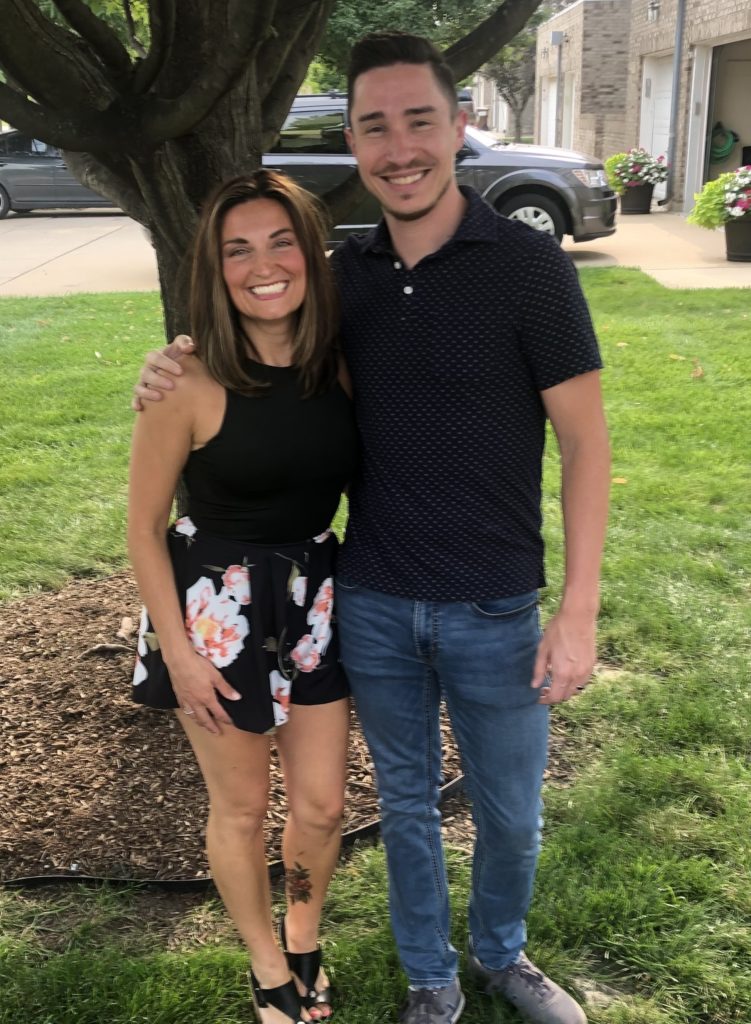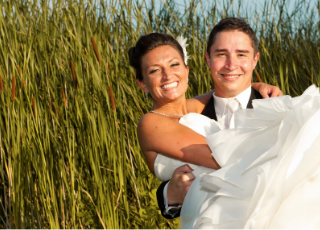 We are a young couple (33 & 35). We've been preparing for parenthood for over 4 years. Adoption has always been in our plan; we knew our ability to have a biological child was going to be challenging and our treatment options were limited. We tried our hardest, enduring heartbreak after heartbreak through miscarriages & failed fertility treatment. Somehow, with each setback, we only came out more reassured that we wanted to PARENT.
Joe: I've known Gia for 11 years. I was impressed with her from the get-go as she was pursuing her Master's degree in Education. She had just started her career as a high school English teacher in the town where I worked. We met up after work to avoid rush-hour and soon set an official first date. Over the next few years, Gia was a bridesmaid in all of her friend's weddings. Finally, it was my turn to spend time with her at a wedding! I asked her to marry me one night in March 2012.
Gia: We clicked right away- no setups, no pressure. We shared similar values and our personalities felt perfectly balanced. Joe was the guy my family had been waiting for.
My mother and grandmother loved having someone new to spoil. When he wanted to propose, he snuck a dinner date with my mom and grandma; he took them to our favorite restaurant and asked if they would dote on him for the rest of our lives! That is, until our future child arrives!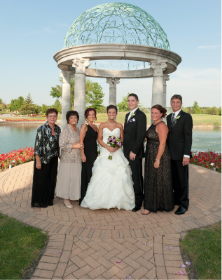 Meet Gia (by Joe)
I know Gia will take the best qualities of her mom and infuse her "teacher style" into parenting. Gia was raised by strong women (her mom & two grandmas) and her grandfather. They taught her compassion, resilience, and the importance of tradition. She gets her love of animals from her grandpa who owned and cared for his own horses. Her mom taught her that no celebration should be small and no plate should be less than overflowing. When we bought our first home, we made it a point to find a place within 10 minutes of both grandmas and her mother.
Her favorite thing about being a teacher is watching her "kids" grow and take on the "real world." I'm glad one of us will be ready for the teenage years! Many of her students become family to us following graduation. Her ability to create and nurture connections with people is amazing.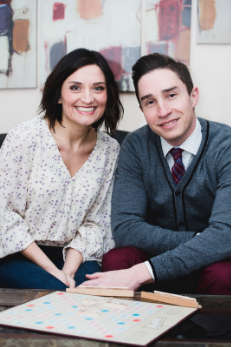 Meet Joe (by Gia)
When I imagine Joe as a dad, I envision backyard baseball, "dad jokes," and helping with math homework. Most importantly, I look forward to navigating parenthood together and watching Joe grow into a role he is meant for. I know he will share his love of sports, video games, and all things technology with our child.
His parents were happily married for 25 years. They shared household responsibilities, much like we do now. His mom was creative and received recognition in the automotive industry. She was proud of being successful in an industry saturated with men. This, in my opinion, has made Joe such an amazing partner to me; he is supportive of everything I do in my career. Sadly, we lost Kathy right before our wedding. It pains me that she will not be here to watch Joe become a dad, but I know she would be so proud of him.
Joe is the most artistically talented person I know. I cannot even imagine what he's going to come up with to document our child's early years! He is a data-analyst for an IT company in his day job.
Our Dog
We rescued our 5 year old lab mix, Lily, at 10 months old. She immediately fell in love with Joe and rolled over for a belly rub when we met her. We have kept her active ever since – she's a natural on the agility course! We know she will be the best big sister & protector.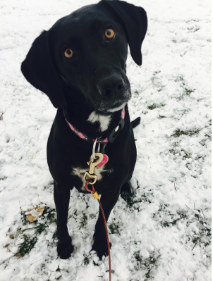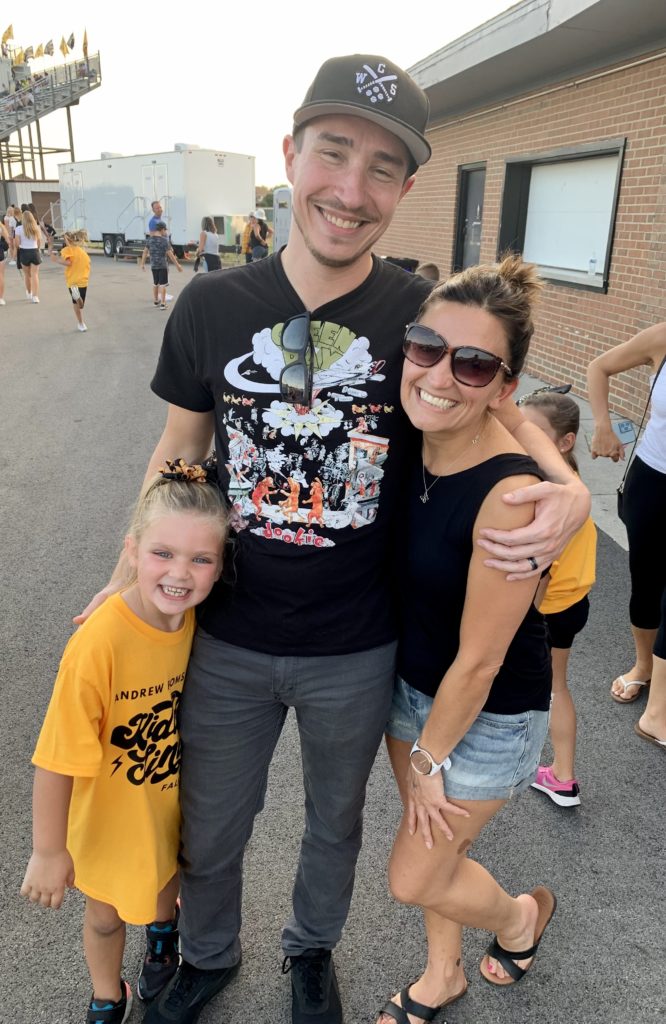 Our Home
We live in a Southwest suburb of Chicago. We have wonderful friends on our block who are eagerly awaiting their newest neighbor. We love our nights on the back deck with friends, snacks, and a good playlist. The neighborhood is loaded with children of all ages and cultures, and we are in walking distance from some of our best friends, parks, and our favorite ice cream spot.
We are outdoors nonstop in the summer, making up silly pool games with our niece and nephew and attending outdoor concerts at a nearby venue. Gia's coworkers have Kids' Calendar meetups once a week all over the area (zoo, parks, museums, someone's pool, etc.)
Traditions:
We take Halloween pretty seriously, and we host an annual pumpkin-painting night for our friends' kids. We also host an annual Christmas party! A favorite summer tradition is celebrating Joe's birthday in conjunction with our town's fireworks and live music festival. We can see and hear everything from our yard.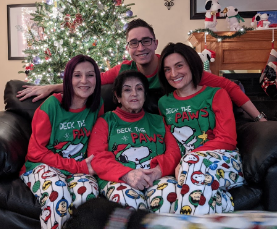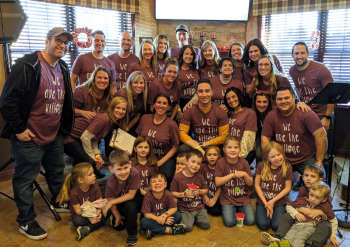 The Village
Our family and friends have given us endless support as we prepare to welcome a child. We want you to know that not only will our village support our future child, but they will become YOUR village. Our hearts are open to celebrating you, your culture, and your traditions. We welcome the opportunity to exchange photos and visits at your comfort level.
We promise to provide your child with safety, stability, and most of all, unconditional love. We eagerly await meeting you and learning all about you!
With Love and Support,
Gia and Joe