Dear Expectant Parent(s),
introWe are Erica, Darren and Jack. We are both in our 30's and we recently celebrated 12 wonderful years together. Three years ago we were blessed with our son, Jack, when his birthparents lovingly placed him in our arms. We are filled with hope and excitement about the possibility of adopting a second child. We're writing this letter asking for the privilege of being considered as the adoptive family for your child.
How do you write a letter to someone you don't know, asking them for the privilege of raising their unborn child? We're sure you never thought you would be facing some of the decisions you are bravely considering and somehow our paths have crossed. We think about you all the time…. who you are, what you might be thinking and what you are facing. We imagine that you're agonizing over how to best care for your unborn baby, while we are trying to build the family we've dreamed of all our lives.
info@centerforfamily.com
800-869-1005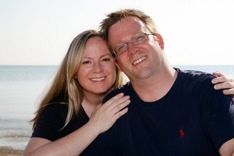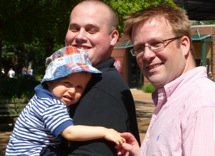 OPEN ADOPTION The adoption of Jack has been an amazing experience. We agreed to an open adoption and have a great relationship with Jack's birthfamily. We truly believe in open adoption and respect any relationship you wish to have with an adoptive family. birthfatherFrom someone who's been down the road you're on, for whatever reason, you've chosen to give your child a better chance at life, which deciding is more than half the battle.
For me, and my situation, Darren and Erica have been a blessing from day one. The knowledge they have proven to show time and time again, in parenting, comforts me and reaffirms the decision I made all that time ago.
Erica is a great mother and a very genuine person. She is passionate about life and her job as a teacher. Darren is the ideal father; very well educated, and also very genuine. Both of them are no nonsense types of people; they're not oblivious at all to the world around them.
I hope this helps you in your decision making process. I see my son about once a month and it's a blessing every time. Whether you decide to have an open or closed adoption; may God guide you gently.
-Bill, Jack's Birthfather
ERICA ON DARREN
When I first met Darren, I knew he was a special person. He was always surrounded by very loyal, old friends, which showed me that he was a very genuine person. He always sees the good in people. He is the kind of person who is quiet, calm and reserved, even in a crisis.
wrigleyAs his wife, he is my rock and compass. Throughout good times and bad, he is my cheerleader, the one who keeps me going, constantly picking me up, encouraging me. He is the kind of man who will drop everything for a friend.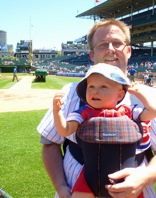 Darren is a wonderful father. He has always wanted a big family and it is joyful to watch Darren and Jack laugh and play together; they have a wonderful bond.
He is a leader in his field and in his personal life. Darren loves his sports teams. He has joined his family's long history of being a loyal Cub's fan. He is also an avid Blackhawk fan. Darren also enjoys taking many family vacations skiing and looks forward to teaching our children how to ski. He also loves hiking and canoeing in the foothills of Colorado.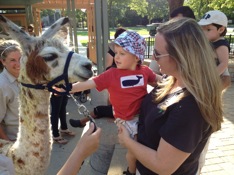 DARREN ON ERICA
Erica is the most loving and patient person I have ever met. I have never met anyone who has as much compassion for all living things as Erica. She has been an avid equestrian for the past 20 years. Her love of animals is so strong that she has rescued both dogs and cats from some of Chicago's worst neighborhoods.
llamaShe is driven to perfection with a casual, approachable attitude and warm open heart. Sometimes to her detriment, she wears her heart on her sleeve. I am always in awe of the fact that there is nothing that she can't do.
Erica is an amazing mother; she is very patient and kind. She has an uncanny knack for meeting Jack's every need and always knows exactly what to do if he is upset. She loves all children so much; she has devoted her education and entire career to them.
In Erica's first career, she devoted her time to caring for underprivileged children, many who were in the foster care system. For the last six years, she's enjoyed teaching 7th grade Science and Social Studies. Her dream of course is to be a stay at home mom and pour all her love and devotion into raising our children.
ERICA AND DARREN ON JACK
JackJack spends his days playing with cars and trains, jumping on the bed, playing chase, snuggling with his two big Labradors, watching his favorite cartoons or playing on his iPad. He is involved with two different play groups, Sunday school at church, horseback riding, swimming and music.
He is starting preschool soon and as he becomes a big boy, he can't wait to become a big brother and share a life of laughter and love.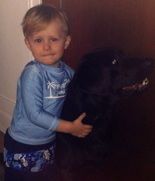 OUR PROMISE
We dream of the day we hear oodles of children laughing and running through our home. We will love and cherish your child and provide him/her love and a lifetime of opportunities. We realize that you are struggling with a very difficult choice and we want to do what we can to help you. We hope you find peace and comfort in whatever decision you make.
We would welcome the chance to talk with you and to meet you. Our adoption counselor, Maggie Benz, would be happy to put you touch with us or answer your questions. Please feel free to contact her at maggie@centerforfamily.com or 800-869-1005 or send Maggie a text message at 847-366-6343.
If you feel we are the right family for your baby, we would forever be grateful to you.
Warmly,
Darren, Erica and Jack