Dear Expectant Mother,
We are Eric (34) and Adam (31) and as we begin our journey to grow our family with the blessing of a child, we cannot guess what journey you are taking. What we do know is that it takes a selfless and loving woman to consider adoption. We could never imagine living a complete life without the love and joy of raising a child. As our relationship grew, we looked to adoption to further build our family. In 2013, we adopted our precious son Sawyer through open adoption.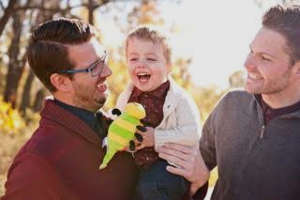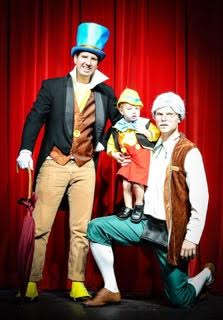 And now we are excited to continue to grow our family! We are here to go through this experience with you and provide your child a loving home while respecting an open adoption. We both know the love we have for another child, and we hope that you will consider us as the adoptive parents for your child.
Our family might look unique to some, but we are nothing more than two loving fathers who will dedicate their lives to our children. We hope to provide a glimpse of our love for each other and our son and our strong desire to raise another child. Even though we are two dads, we will nurture your child and shower him or her with love and support, always offering him or her stability, a home, and a loving family.
OUR STORY
Eric first met Adam on a blind date set up by mutual friends. Flash forward over 10 years and here we are today. During that time we got married and adopted our two year-old son, Sawyer We currently live in the diverse community of Crown Point, Indiana. Our home is in a new subdivision located behind the high school, only blocks from the historic courthouse where there are many family-friendly festivals, a park, and the middle/elementary schools. Our newly built home has four bedrooms and a very large fenced-in yard with plenty of toys and a swing set with lots of room for our growing family!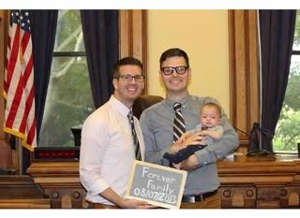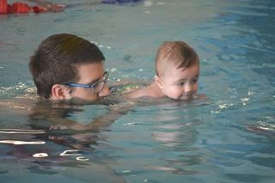 ADAM SHARES ABOUT ERIC
From the moment I met Eric I saw how special he was. Raised in southern Illinois, Eric is the youngest of three kids. I would describe Eric as charismatic, intelligent, and loving. One special talent that Eric has is the ability to alm down even the fussiest of babies. He is known as the 'Baby Whisperer' because of this supernatural ability! Watching Eric play with our son, nieces, and nephews, I know he is an amazing father. He is incredible with Sawyer and will continue to be with our next child.
Eric strives to be the best spouse, father, brother, son, godfather, and uncle he can. In his spare time, he enjoys to read, cook, garden, and volunteer. Eric holds a Bachelors and Masters in Communication and Certificate in Non-Profit Management. He serves as the Director of Prevention Services, including running a youth leadership program and working with youth to develop their leadership skills and equip them with the skills to make positive life decisions.
ERIC SHARES ABOUT ADAM
It was Adam's love of life, creativity, and ambition that made me know that I wanted to spend the rest of my life with him. Born and raised in northwest Indiana, Adam grew up as part of a family of four. His parents divorced in his teens and his small family grew into two loving units. Upon graduating from the University of Illinois, majoring in Theatre, Adam obtained a second degree in English secondary education. During college, Adam ran after school youth programs at local high schools and worked as a preschool teacher with a class of 3-5 year olds. He recently completed his Master's degree in Educational Administration.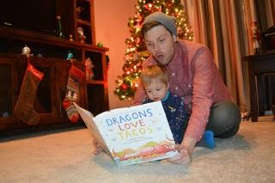 Adam's job as the Dean of Students at a local high school provides him with many opportunities that are wonderful assets for raising a child, including summers off! Adam absolutely glows when he is around children. He is my best friend and makes me and everyone around him a better person. Adam is completely devoted to our son Sawyer and is eager to raise another child.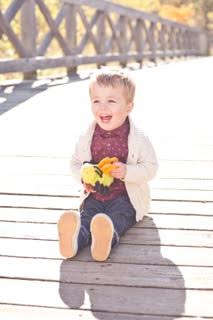 OUR SON, SAWYER
Our family was blessed in 2013 by the selfless and loving act of a birthmother with the birth of our son, Sawyer. Now an energetic and inquisitive little boy, Sawyer loves to play with his two dogs, push around cars and trains as well as read and color. We are taking every opportunity to create lasting memories from taking father-son swim lessons to music class and family trips. We have started numerous family traditions including family Halloween costumes and our 24 days of books leading up to Christmas day. Sawyer brings joy, love and laughter everywhere he goes. From playing ball with his older cousins, reading a book with nena and papa, singing and dancing with grandma and grandpa, Sawyer's playful and sweet personality always shines through. We know in our hearts that he will make the best big brother in the world!
FAMILY
Adam's family includes his sister, brother-in-law, two nieces, mother, step-father, and three step siblings. Living only 20 minutes away, we are able to enjoy a lot of family time. Adam's entire family cannot wait to welcome our child into their lives and their hearts. Eric's extended family is HUGE! His mom is one of eight children and he has 20 first cousins. His immediate family includes his parents, two older sisters, their husbands, two nephews and three nieces. Eric's sister and brother-in-law adopted their youngest son Eli from China. Eli is truly a blessing to our family and we embrace the cultural diversity he brings. Eric's entire family is anxiously waiting the moment when they get to welcome another little one into the family.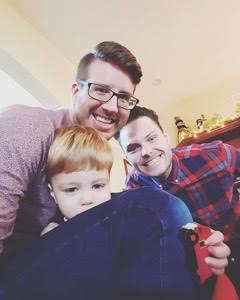 OUR COMMITMENT TO YOU
Our commitment to you is to be the best dads we can be, to shower your child with love, to provide as many opportunities to grow and discover, and to always remind him or her of you and your loving decision. We know that it takes a very special person to choose adoption, and our hope is that we can be a part of this journey with you.
Feel free to email us directly at: EricandAdamACFB@hotmail.com. Or you can contact us through our adoption counselor Maggie Benz by phone: 800-869-1005, by text: 847-366-6343, or by email: Maggie@centerforfamily.com.
Being your child's adoptive parents would mean more than words can describe. We wish you a lifetime of happiness and blessings,
Eric, Adam, and Sawyer