Dear Birth Mother,
We are Mike and Emily, a young, fun loving, happily married couple who surround ourselves with friends, family, laughter and love. We are thankful for this opportunity to share with you a glimpse into our lives, and hope that you will want to get to know us.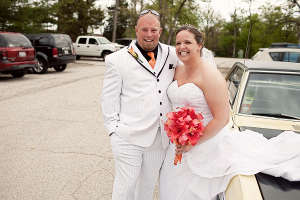 Our Story:
We met on a blind date setup by mutual friends. When we first talked on the phone, we believed we were only going to be friends. Well it didn't take long to realize there was something more than just friendship. We were engaged after 9 months, and married after a year and a half. We have been married for 7 years.
Children have always been in our plans, though after 5 years of infertility we had to change course. Though life didn't work out exactly as planned, we are happy to be on the adoption path. We have two close friends — both birth mothers — who have showed us the joy of open adoption. Additionally Mike's Uncle and Cousin are both adopted.
We live in a small town in central Illinois. Our town has only 600 people, and we love the simplicity of it. We have a 3 bedroom home, on a double lot with a big back yard and a large garden. We live 1 block from a park that has playground equipment, a basketball court, a baseball field and a walking trail. Emily works as a physical therapist in a nearby town. Her job is across the street from the grade school, and very close to the junior high and high school. Additionally, we live only 20 minutes from Emily's parents who still live in the house she grew up in.
About Mike:
Mike grew up close to where we live now. After high school he attended Northern Illinois University with a major in engineering. After 2 years he decided a desk job wasn't for him, and he attended trade school. Mike spent several years working as a bricklayer in the Chicago area, before moving back to this area in 2007. Mike then began establishing himself here, working for a local contractor and eventually worked his way up the ranks. Mike always had the dream of owning his own business, and in 2014 his dream was realized when he began his own masonry contracting business (bricklaying). Mike has been quite successful and he absolutely loves what he does, and takes much pride in his work.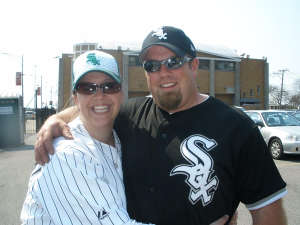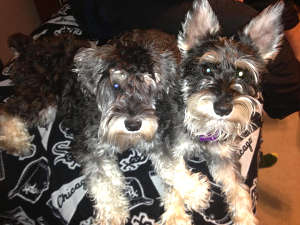 About Emily
Emily grew up 20 minutes from where we currently reside. After high school, Emily attended Illinois State University. After college, to do something different, she moved to Florida for 2 ½ years. Florida is where Emily became interested in health care. In 2007, Emily moved back to Illinois to attend graduate school (which is when she met Mike). She attended Bradley University and graduated with her doctorate in Physical Therapy. She now works at a nursing home and absolutely loves her job, and her little grey haired friends!!
Our wonderful pets:
We have 4 pets, all named after the Chicago White Sox. White Sox and Comiskey are our two loveable cats; and Jaxie "Southpaw" and Buehrle are our two adorable miniature schnauzers. They are all very sweet and love to cuddle.
What we enjoy as a couple:
We are both very social, and have a large friend group. Our friends are split between the Chicago suburbs and central IL, so we spend a lot of time traveling back and forth. We love grilling out, going on road trips and attending White Sox games. We also enjoy taking short trips to Wisconsin; Lake-O-Lakes, and Green Lake. Every summer we have a large cookout in our back yard and invite all of our friends and family. It is the highlight of our summer.
Hobbies:
Mike loves staying busy, and often has several repair projects going on at once. His absolute favorite pastime is fishing. He loves everything fishing, including reading fishing articles, and watching fishing videos. He recently bought a bass boat, and has been spending every moment he can boating on the lake. Mike also loves Chicago sports: White Sox, Blackhawks and Bears; as well as classic rock (especially the Rolling Stones).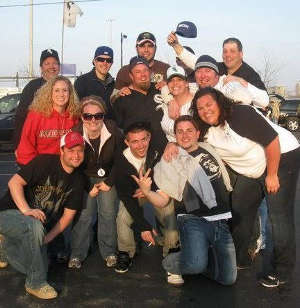 Emily's hobbies are really eclectic. Our friends own a martial arts gym and Emily began taking private lessons back in October, which she absolutely adores! Emily also enjoys being part of a local yoga group, and attends yoga conferences around the state. She enjoys music, and is totally that person rocking out around the house while cooking or cleaning. Her music tastes range all over the board; her favorite being 90's R&B. Emily also loves books, especially audiobooks and often has several books she's reading at the same time.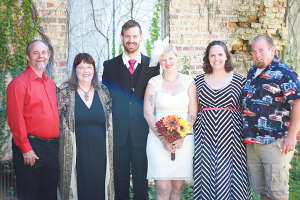 Our families:
Emily has a small but close knit family, that includes her mom, dad and younger brother, two sets of aunts and uncles and 3 cousins. Emily's mom is a retired nurse. Her dad is a retired computer programmer. In his retired life, Emily's dad has taken up videography and has worked on music videos for Eddie Money's drummer, Glenn Symmonds.
Andy, Emily's brother and his wife Katy live in New York and own a bakery. Both of Mike's parents are teachers. Mike's dad is a retired special education teacher, and cross country and track coach. His mom teaches at an alternative school, and is an exercise instructor. Mike has two siblings; Britt who is a lawyer in Chicago and Seth who is a steam fitter in Washington DC. Mike has a large family, with lots of aunts, uncles, cousins, and his very active and independent 83 year old grandmother. His family is amazing and always includes Emily's family in all holidays.
Our Promise:
We promise to respect your feelings and consider your wishes as we go through this process together. We want our child to know their birthparents, and know how much he/she is loved and valued by all of us. If you choose us as adoptive parents, we promise we will love your baby with all our hearts, and surround this child with love, laughter, fun and family. We'll always be there to listen, keep an open-mind and show them respect. We will stand beside our child, supporting his or her dreams, and do our very best to be the most loving parents possible.
We would love to get to know you. To reach us: Contact us directly at: mikeandemilyacfb@gmail.com
Contact our Adoption Counselor- Tobi Ehrenpreis: Toll Free: (800) 869-1005 or Text: (847) 366-6351
Wishing you the best,
Emily and Mike