We are writing to you from the coffee shop where we met, where we wrote our wedding vows together, where we go to prepare for the biggest events in our lives. We know that you are also in the midst of one of the biggest moments of your life, and we support you as you decide what's best for you and your child. We offer you both love, whatever the outcome.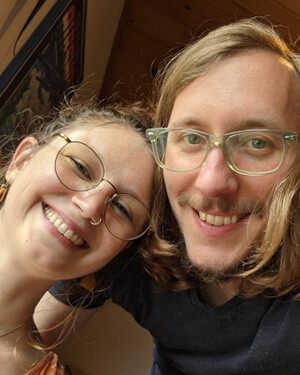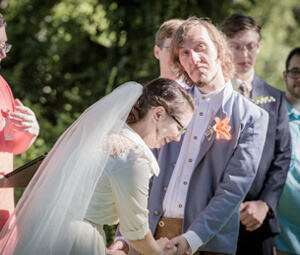 We found each other on the internet, busy grad students with temporary jobs and big dreams. A few short months after we met in person, our dreams expanded and intertwined. Each choice we have made in the seven years since has been made together, and though we have struggled through significant trials and losses in that time, we have also managed to build a solid life that we can be proud of.
Our life is filled with love and laughter, which sounds totally cliché but is nevertheless true. When we're not having in-depth discussions about education or whatever else is on our minds, we're cracking each other up with goofy inside jokes. We love traveling, both to explore new landscapes and to visit old friends. We walk, a lot. We put on music and cook together while our cat sits on her chair in the kitchen with us, and we are excited to include our child in this ritual as well.
Most weeks we go to Sunday dinner with Justin's parents who live about 10 minutes away. Justin's brother and sister-in-law live about an hour away, so we get to see them fairly often, and although Emily's mom still lives in Ohio we see her a few times a year. Because Emily is an only child, she has a group of friends who are nearly as close as siblings; they are scattered around the U.S. and try to have "family" reunions once a year. We also have a solid group of friends nearby that we see pretty frequently, and other loved ones in various states and countries that help form our amazing global support network. Everyone is very excited to welcome a new member to our family– especially our moms, who can't wait for their first grandbaby!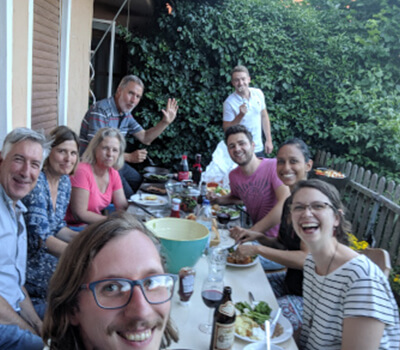 Our home, though small, is everything we could have wanted. We live in a small town in Northwest Indiana and are able to walk to parks, shops, restaurants, and the library. We have a nice backyard that is enclosed by hedges and trees, a small garden that Emily tries to tend but is often overrun by herbs, and flower beds that burst to life in the spring and keep a show going all summer long. We're also fairly close to Chicago and even closer to Lake Michigan and its beautiful beaches, so we have plenty of opportunities to enjoy both nature and all the city has to offer.
About Justin (written by Emily)
Justin is incredible, but he will tell you otherwise. His heart is enormous, and he will do anything for the people he loves. It's nearly impossible to reduce him to a series of words.
He is my best friend, my favorite person in the world. I have been able to count on him since the day we met, and he has held me up through everything that life has thrown at me in the past seven years. He is constantly making me think, making me laugh, and making me the best version of myself.
It is wonderful to be with someone who gets to live his passion every day; as a high school German teacher, Justin is able to blend his love of learning, his love of performing, and his love of exploring other cultures with his desire to make this world a better place. He strives to reach each and every one of his students, especially those not keen on school, and to provide them with a safe and fun place to be. His care for those kids has literally saved lives.
One of my favorite memories: We had recently moved to a new place, and I had just finished planting my first garden there. A bee buzzed by and I exclaimed, "How will the bees know how to get to the new garden?" Bees communicate directions through dance, so Justin immediately hopped up and began shimmying and shaking to show the bees the way.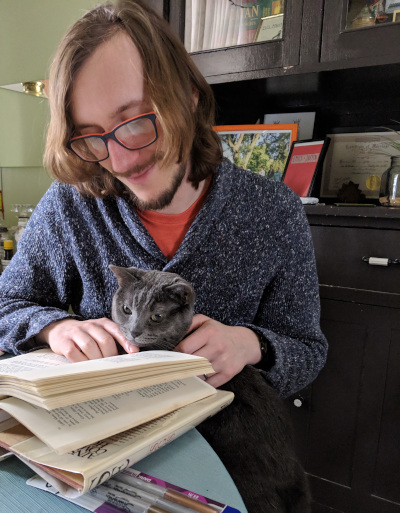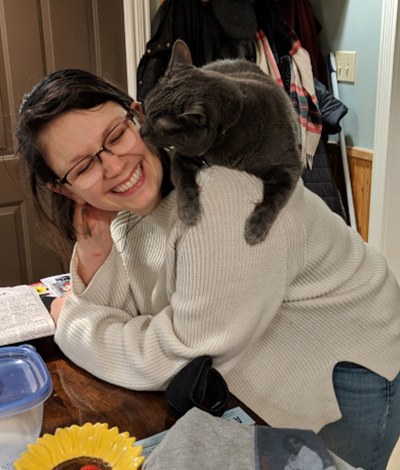 About Emily (written by Justin)
Emily is a capable, intelligent, genuine, and thoughtful individual who is committed to making a positive impact in our world each day. She makes me proud to be her husband. I am always astonished and impressed by her ability to excel at so many things. From creative projects to gardening to hot water heater repairs, I sometimes wonder if there's anything Emily cannot do. She's open to learning and she is an astute observer, and I can't think of anyone in my life who I'd rather have on my team.
She's well-read, introspective and she has an intuition about people and the ways of the universe. And although Emily is wise beyond her years, she is also just fun to be around and hasn't forgotten how to be a child—she savors life's sweet, simple moments. She has dragged me out into the pouring rain on a summer day just to run crazily about and enjoys a vine-fresh tomato to its fullest. Each and every day, we love to laugh together by making up funny quotes and voices. It's just what we do together!
Emily so easily fits her role as librarian and a teacher at our high school, and there are so many students who trust her as a mentor, coming to her for comfort and counsel in their lives. She is a natural listener and a patient, caring educator. Her personal value of inclusion and selflessness are inspiring, and I have no doubt she would make the best mother, as well.
Emily is open with her feelings and opinions, and she is steadfast in her values. She is a loyal friend, she is loving, and solidly my dearest person. I love her more than anyone I have ever known.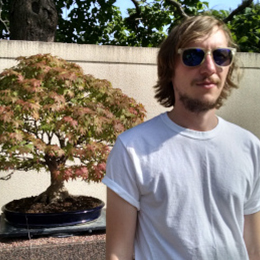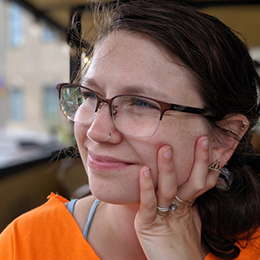 Our Promise
First and foremost, we promise love. If you are reading this, we already love you and your child, and if you select us that love will only continue to grow. In our care, your child will be empowered to embrace their curiosity, to treat themselves and others with kindness, and to face the world with courage and joy.
Sincerely,
Emily and Justin