Dear Expectant Mother,
You might be surprised that a single woman would want to be a parent, but to be perfectly honest, I'm glad I'm doing this "on my own!" It was always obvious to those around me that my greatest desire, my truest calling, was to be a mother. In high school, my friends' nickname for me was "Mom", because I was always the caregiver of the group: making sure they wore their scarves in winter and didn't leave anything behind at lunch.
My doing this as a single woman means that my child will truly be the center of my (and my family's) universe—my companion on adventures, my heart's fulfillment, the person to whom I devote my time and attention. Nothing excites me more than the thought of helping a tiny human grow and develop, to watch their personality blossom and guide them toward becoming a compassionate, thoughtful, open-minded, and open-hearted person.
I want my child to have pride in their personal heritage and to always understand that the life they live is one rooted in the love of family—both family of origin and family through adoption.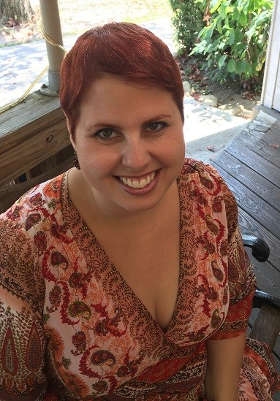 Family
I have a close family for whom I'm grateful every single day. It was always understood in our home that we never hung up the phone or went to bed without saying "I love you," and my parents have continued to demonstrate the true meaning of unconditional love—they're still very much like smitten teenagers! My mother loves working in her gardens and looks forward to planting flowers with her grandchild, and my father is a talented builder who is already creating plans to build a backyard playhouse. My sister Kim is eight years younger than me and is my very best friend. She's a talented graphic designer who's always wanted to be an aunt; she can't wait to teach her niece or nephew how to ride her horse Berry.
I have a huge extended family of aunts, uncles, and cousins scattered all over the country and world. One of my aunts is a birth mother herself from the days of closed adoption; she was reunited with her birth daughter ten years ago. Through her, I have gained a deep understanding of the powerful decision you're making and an unshakeable belief in the importance of open adoption.
Meaningful Work
I'm a university writing instructor in central Indiana and have the privilege of working with first-year students, which means I get to help them during their transition to college and be a supportive presence on campus. As a hopeful parent, my favorite benefit is getting summers and winter holidays off; the flexibility and independence of my schedule mean that my job is the perfect fit for raising a child. I look forward to sharing many summer road-trip adventures with my child and spending holidays enjoying family.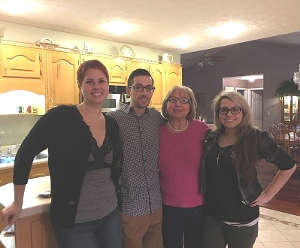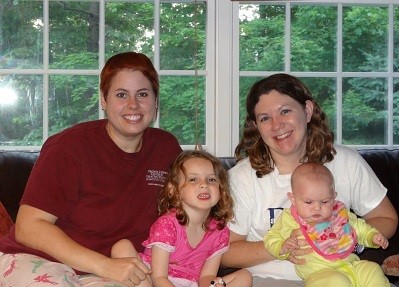 The Blessings of Friendship
My three best friends from college and I have always called ourselves "The Golden Girls of Knox College," because our favorite thing to do was knit while watching reruns of The Golden Girls (our favorite show). Alana was also my college roommate; we met freshman year in a literature class and bonded over our shared love of Tori Amos's music. We decided to live together and remained roommates until we graduated.
Every Sunday night, a few of us get together at my friend Michael's house to watch new episodes of shows we enjoy. He has such a generous, gentle nature and will be a wonderful honorary uncle.
I have the privilege of being "Aunt Lainey" to my friends' children, which means that my child will have many "cousins" to have fun with! Whenever I get together with my friends and their children, I'm always the one who ends up on the floor playing with the kids. All of my friends have been a huge support in my journey to motherhood; they're already making plans to throw me a baby shower.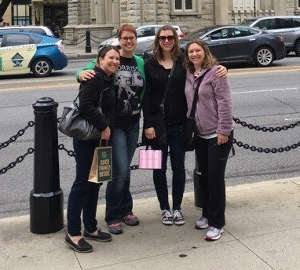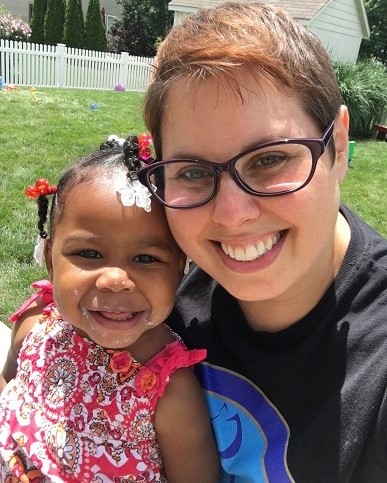 My Adoption Community
When I began my adoption journey, I was welcomed into a wonderful group of single-mom adoptive families. We get together every month, and I cherish the time I spend with the kids in the group. I'm so glad that my child will grow up with many friends who were adopted by single women, so we will know families who look just like ours.
Home Sweet Home
I love my neighborhood! It's filled with historic homes on lovely tree-lined streets. I can't wait to take my child for long walks to the spectacular natural park and playground, where we can play on the castle jungle gym or go swimming in the pool. The local elementary school is very diverse, providing opportunities to know all kinds of people, perspectives, and beliefs. Creating an open-minded, accepting environment and teaching the value of all people is central to my philosophy of parenting.
My adorable bungalow is perfect for me and a child—I've already started working on the nursery and have even begun sewing and crocheting for the baby. I painted the nursery myself in a cheerful yellow and am on the search for the perfect rocking chair.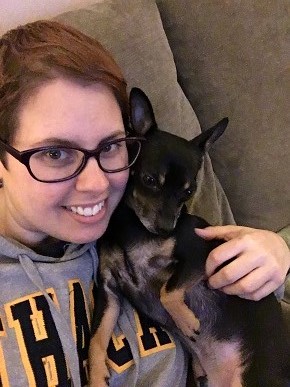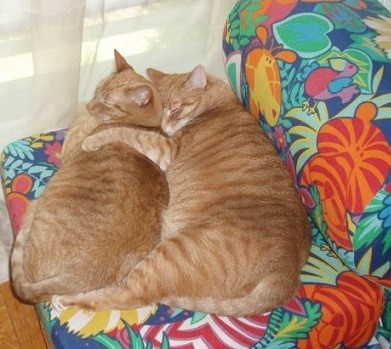 Meet Abigail, Finnegan, and Emmett
My cats Abigail and Finnegan, and my little dog Emmett, truly make my house a home—their favorite activity is snuggling! My love of animals led me to become vegan a few years ago, and I hope to share a great respect for animals with my child.
Thank you for thinking of me!
I understand the challenging decision ahead of you; I hope I've been able to give you a glimpse into the life I can offer your child. I know you love your baby very much, and if you choose me to parent your baby, I promise that this little one will always know that you worked hard to find a good home and did so out of love.
Your child will know the selfless love you embody, have a strong sense of where they come from, and always be proud of you. I will share pictures and accomplishments as often as you'd like, and I look forward to planning visits as well. But whatever you decide, I wish you and your baby the blessings of health, happiness, and peace.