Dear Precious Birthmother,
We are Christine and Allen. We want to thank and commend you for considering the difficult and emotional decision to place your child for adoption. We fully understand that this is not easy and that a tremendous amount of thought and prayer goes into this decision. We want you to know we will make every effort possible for you to get to know us and our family so that in the end you will know that your child will be welcomed into and be a part of a very loving, caring and safe environment.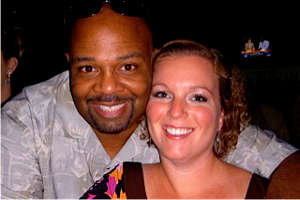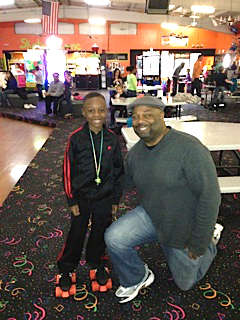 Allen
Raised in Chicago, I'm the youngest of four. I have two older brothers and one older sister. I also have one niece (Ciara) and one nephew (Eric). I am very close with my family and often see them for BBQs and other gatherings. After high school I joined the United States Army and Illinois National Guard and proudly served for 10 years. My time in the military allowed me to travel the world, learn about different cultures and make many new friends. Currently, I am a volunteer big brother to a wonderful nine-year-old boy (Billy). We have been together for over two years and it truly has been a rewarding experience. We go to ball games and amusement parks and really enjoy each other's company. I also help him with his homework and attend his football and basketball games.
I am a sales and marketing representative and I really like my job because I get to meet with my clients and make personal connections with them. I also like the fact that my work hours are flexible which allows me more time with my family.
The moment I met Christine I knew that we were destined to be together. She has a loving nature and caring heart. She puts others' needs ahead of her own. Christine has a natural maternal personality that will make her an excellent mother. She is very nurturing toward our young niece and nephew as well as our friend's children. She has been preparing to be a mom for many years and is eager for that special child to enter into our lives.
Christine
I was raised in Bolingbrook, Illinois. I am close to my younger brother who lives with his family nearby. I also have a very close relationship with my parents. I have many fond childhood memories of family picnics, vacations, and outings. Holidays are very special to my family and we have many traditions that we still practice today such as, annual holiday outings, cookie baking, and "Collins Christmas" which is a celebration with my aunts, uncles and 18 first cousins. I look forward to family traditions with Allen and our children. I love to bake and spend time with my nephew, Ryan (age 2) and my niece, Haley (age 8 months), as well as friends and family.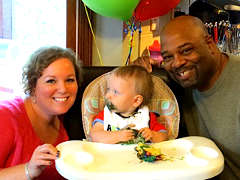 I am currently working as a Family Nurse Practitioner. Prior to becoming a nurse practitioner, I was a travel nurse working all over the world. I have gone on mission trips to Mexico with different church organizations. My job is flexible with the days I work, which will be helpful when raising children.
The minute I met Allen, I knew he was a sweet man with a huge heart. I also knew he would be an amazing father. He was never scared to hold or feed babies; he would actually seek it out! He has even babysat for our niece and nephew (age 2 and 8 months) on his own with no problems! He's a great "Unc" as they call him and I know he will be a loving, encouraging, and supportive dad.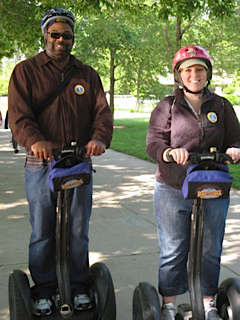 About us
We initially met on an online dating site, which makes us smile because through wonders of modern technology we now may meet our potential first child and his or her birth mother through the same process! We dated for three years and married on the beautiful sunny day of 9-10-11. Our love continues to grow and mature. We share the same Christian beliefs and values on life. We have traveled and shared some wonderful experiences together such as, cruising to the Caribbean and Alaska, college football games, trips to different cities to visit friends, and volunteer activities.
We are filled with such excitement and cannot wait to be blessed with our first child. We have known from the beginning of our relationship that adoption was right for us. We are now more than ready to begin to build a family and include children in our lives.
Our Family and Friends
Both of us come from very close tight knit families whom we love dearly. We also have a very close group of friends with whom we spend a lot of time. Many of our friends have small children so your child will have a lot of friends and play dates. All of our friends and family have been very supportive throughout our adoption process and are excited as we wait for that special child to arrive.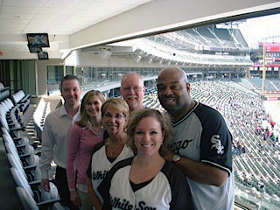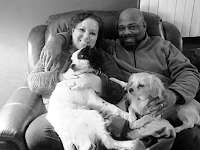 Our Home and Neighborhood
We love our home and neighborhood in a southwest suburb of Chicago. We share our home with our two dogs, Buddy and Daisy. It is an excellent community to raise a family. There's a large park about 100 yards from us. The schools are all highly rated in the state and are within a short walk. The neighborhood is very culturally diverse and everyone is extremely friendly. We have many neighborhood activities such as annual block parties and Easter egg hunts for the
kids. Our home is very spacious with a fenced in backyard, finished basement, and a playroom that will give our children plenty of room to grow and play.
In Closing
We are honored that you have taken the time to read our profile and hope we can get to know each other better. We want you to know that your child will be safe in a loving home surrounded by parents who will love him or her to the fullest of our hearts at all times. Your child will have many opportunities. We promise to love your child unconditionally and to raise him or her with traditional Christian values.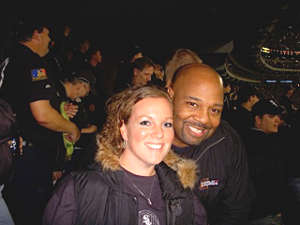 You may learn more about us by contacting our adoption counselor, Maggie Benz at:
Phone: (800) 869-1005
Email: Maggie@centerforfamily.com
Text: (847) 366-6343
We would be very happy to talk to you at any time. You can reach us directly at: ChristineandAllenACFB@yahoo.com
Thank you and God bless.
Christine and Allen