Hello!
We would like to thank you for taking the time to learn a little bit about us and our lives. We admire your courage as you make this very difficult and loving decision for your baby. We are not strangers to adoption (two of Dale's siblings are adopted). We have seen through family and friends what joy a child can bring to a family.
We would be honored to have you consider us as the adoptive parents for your child. As you make your decisions, we hope this letter will help you to know a little more about us, our family life and our hopes and our dreams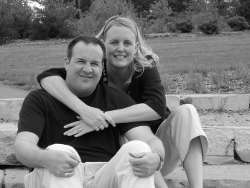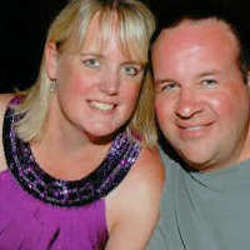 About Us
We met in 2003 after connecting on Match.com. We met for drinks at a local restaurant, and despite the fact that Cherie came with absolutely no way to pay for her part of the evening (breaking one of her own cardinal rules), Dale asked her for a second date which Cherie paid for. We happily dated for several years, and got engaged in February 2007. Even though we had been talking about getting married, Dale still managed to surprise Cherie with the proposal after a volleyball game she competed in. She was still sweaty when Dale got down on bended knee to pop the question!
We got married in June of 2008 surrounded by some of our favorite people on the planet. While it was a day of weather extremes, it was a peaceful day that was relaxed and full of love. We loved surprising our guests with a movie-themed wedding reception. We truly are each other's favorite people and the loves of each other's lives.
Shortly after we got married, we decided to start trying for a family. After years of failed fertility treatments and a miscarriage, we decided to close that chapter and pursue adoption as the way to build our family. Since two of Dale's siblings are adopted and both of us have several friends with adopted children, the idea of using adoption to build our family felt right for us. We both feel that adoption is a wonderful way to grow our family and cannot wait to give all the love we have to a baby!
We have lots of things in common with each other. We both love movies, traveling, trying new restaurants, doing do-it-yourself projects, hosting parties for our friends and family, and many more things. We both would choose to spend our leisure time in an activity with one another rather than by ourselves.
Family is the most important thing to both of us! We both are very close with our parents and siblings (and their families). Whether it is celebrating holidays – we celebrate both Jewish holidays and Christian holidays – or hosting parties (we have an annual summer neighborhood/friends/family party), we truly value and enjoy the time we get to spend with them. We are truly blessed to have such a wonderful group of people as our family and friends. We cannot wait to bring a child into the love that is waiting for him/her.
Our Home and Community
We live in a nice home in a northern suburb of Chicago with our loveable six-year old German Shepherd, Yoda (yes, we're Star Wars fans). It's a three-bedroom home with a large backyard, perfect for family get-togethers and playing around. Our neighborhood has a pool and park within walking distance. We are so ready to be parents with all the joys and challenges it entails.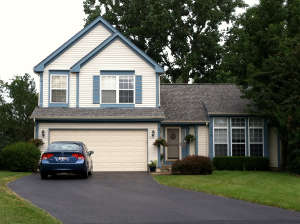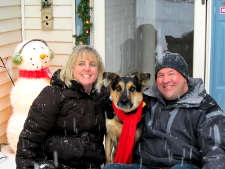 About Dale
I am a production manager at a family-owned magazine publishing company that publishes sports and travel publications. I have been with the company for over 20 years and enjoy it a lot. I am also a managing partner which means I am able to have flexible hours when needed.
Friends describe me as caring, honest, likeable, and compassionate. I can be a bit quiet at first when you meet me, but once I am comfortable I am easy-going and talkative. I love to build our circle of friends by introducing new friends to our old friends. I really like to understand how things work and like to fix things. If there is ever a need to fix something, I like to try it myself before calling in the professionals. I am a big car enthusiast and enjoy going to movies, reading about history, bike rides, fishing, swimming, and playing with our dog.
About Cherie
I am a middle school teacher. I have been teaching for over 20 years in the middle grades. This fall I am starting a new position as a math specialist at the school I've been in for the last 13 years. Over the years I have taught all subjects, but I love math most of all! I find teaching and learning to be extremely rewarding. Seeing students embrace a new concept or enjoy a subject for the first time is amazing. Teaching enables me to have some time off throughout the year, which is perfect for raising children. I highly value education and have earned 2 Master's Degrees, and I will encourage my child to follow their own dreams.
Friends describe me as organized, creative and honest, loyal, compassionate, loving, and fun. I have a lot of interests and hobbies, and if I could, that's all I would do! In particular, I love to bake and decorate cakes & cupcakes and garden (we made our own pickles for the first time from the cucumbers we grew this past summer). I also enjoy going to the movies (with Dale, of course), reading, traveling, scrapbooking, and walking our dog.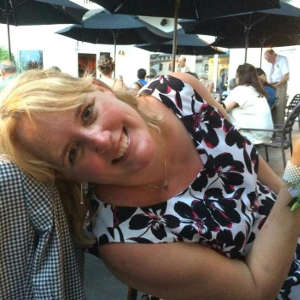 Our Promise to You
We have thought a lot about the kind of parents we want to be and the kind of life we want to provide for a child. We promise to provide a home that is secure and loving, filled with laughter, and based on a strong set of morals and values. We promise to provide the best education we can and provide opportunities to develop the talents and interests that make your child unique.
Please know that if you choose to place your child in our home and hearts, he or she will be given unconditional love and be surrounded by friends and family who are loving and kind. We promise to be open and honest with our child about adoption and look forward to maintaining a relationship with you that is comfortable for each of us.
Thank you for taking the time to read about us. We look forward to meeting you one day and answering any questions you may have. If you would like to get to know us better please email us at CherieandDale.ACFB@gmail.com or reach out to our adoption counselor, Tobi Ehrenpreis, at (800)869-1005. You may also text Tobi at (847)366-6351 or email her directly at  Tobi@centerforfamily.com
Wishing you the best,
Cherie & Dale