Dear Expectant Mother,
We are Seth and Bryan and we want to thank you for visiting our page and taking the time to hear our story. It takes a great deal of courage and selflessness to consider adoption for your baby, and we will always honor your role in our family building. If you give us the opportunity to parent your child, we promise to give him or her loving and nurturing home and all the joys life has in store.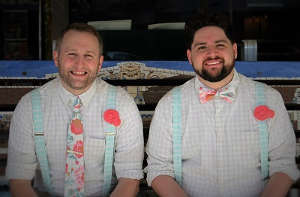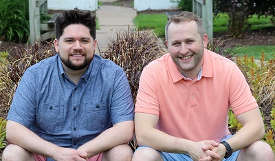 About Us
We met in June of 2011 when we were both working for the same credit union where we were introduced by mutual friends. Bryan is a Learning & Development Specialist and Seth is a Credit Underwriter, and we are both still happily employed there. After a few years of dating, Seth proposed on New Year's Eve, on the same bike path along the Mississippi River where we had our first date. We were married on May 29, 2016. We're each other's biggest support and best friend.
We grew up 25 miles apart, but worlds away. Bryan grew up in the city, spending 4 years of his childhood in California before coming back to Illinois. Seth grew up on a farm in a small town in Northwestern Illinois. Bryan's playgrounds were public parks and fenced-in yards, while Seth's playgrounds were hay bales and corn fields.
Though we had different childhoods, we share a lot of the same core values: strong family bonds, honesty, and mutual respect for others. We also have some common interests, like pop culture, improv comedy, visiting new places, and sleeping in (although we know this will probably be ending soon). We're young (34 and 38) and we've both always known we wanted children. We can't wait to be dads and have our child(ren) share in our adventures together.
Family
Family is extremely important to us. We both come from very close-knit families. Almost all of our immediate family is within a thirty-minute drive, and we get together on a regular basis. We have 11 nieces and nephews ranging in ages from 18 months to 17 years.
Our greatest source of strength and wisdom comes from our parents. From an early age, our parents taught us to treat others with respect and dignity, even those we don't agree with. Seth has two older brothers and a younger sister, and Bryan has an older brother and a younger sister. Our siblings are our closest friends and confidants. We've also formed very tight-knit bonds with close friends who are like family to us.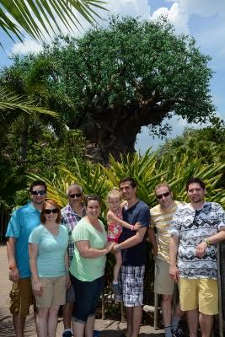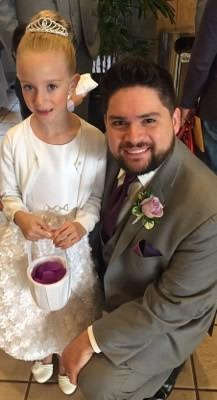 Seth About Bryan
What I love most about Bryan is his devotion and respect for others. He has always been someone I can depend on. Bryan's kindness and selflessness are unmatched. He makes sure that the needs of everyone else come first. We easily find things that we both enjoy, but we also have our own hobbies. Bryan enjoys reading a book (or comic books), playing board games, watching a movie, cooking, or doing something crafty. He loves music and plays the clarinet, alto sax and guitar, volunteering time every summer to play in the orchestra for community musical theater. He's also appeared onstage in quite a few local plays, including "Strangers on a Train," "Visiting Mr. Green" and "Proof".
Bryan's family loves Disney. A few years ago we took a family trip to Disney World and it was such a fun time to be part of a family that really gets into the spirit of all things Disney. I love being a part of Bryan's family and can't wait to introduce our future child into this fun-loving group.
Bryan About Seth
I remember the first time I saw Seth. He was all smiles and there was a twinkle in his eye. That twinkle has never left. Once I actually got to know Seth, I realized that there's much more to him than a great smile. He's very intelligent, family-oriented, loyal, supportive and loving. He has a fierce love of history, Star Trek, road trips, geocaching and politics. He has also recently taken an interest in amateur drone flying. I've heard Seth say many times: "I can't wait to take our child to the swimming pool," or "I hope our child loves road trips as much as I do," or "I can't wait to see how our influences shape our child into the adult he or she will become."
If Seth's love for me and our family and friends is any indicator, he'll be an amazing father whose love will know no bounds. I'm so proud, honored and lucky to have him by my side.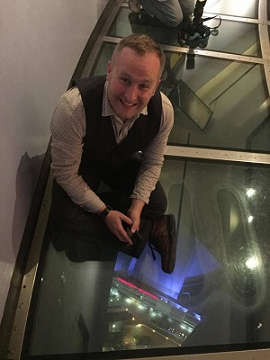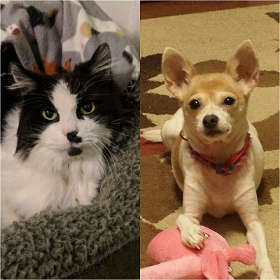 Our Pets
Ezri is our 12 year old cat, born on Seth's family farm. Most days you can find her curled up on a chair, perched on a windowsill watching the birds outside, or cuddling with one of us. Foxy is our 10 year old dog. Her days mostly consist of sleeping, playing with toys, running around in circles, and sitting on laps.
Where We Live
Our community is extremely diverse. We live in the Quad City area in Northwest Illinois and Eastern Iowa. It is a metropolitan area with people of all races, religions, ages and experiences. The Quad Cities are filled with schools, parks, churches, shops, restaurants, theaters, sports complexes and quaint neighborhoods. We're right on the Mississippi River, so there's boating, fishing, water skiing and even a yearly tug of war between the Iowa and Illinois side, with the rope spanning across the river. This is a fun, energetic, thriving area that we feel very proud to call home.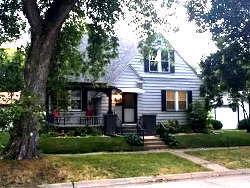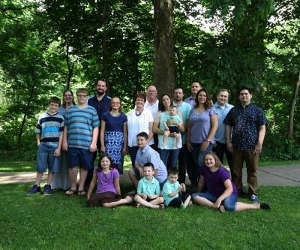 Our Promise to You
If you do us the greatest honor of placing your child with us, we promise to communicate and remain open with you, if that is your wish. Rest assured we will give your child a loving and nurturing family, and you will always have a place not only in your child's heart, but in ours, too. We respect and honor whatever decision you make for you and your baby. We thank you for your consideration and hope to hear from you!
You can email us at BryanandSethACFB@gmail.com or text our adoption counselor, Tobi Ehrenpreis at 847-366-6351. We'd love to answer your questions, get to know you and hear your story.
With Warm Wishes,
Seth and Bryan