Brenna and Justin plus four
Hello!
We are Brenna and Dustin. In an instant, our future child will have four eager, welcoming brothers and two experienced, grateful parents. We have four wonderful children, Colton, Carson, Camdon, and Cayson and we want to continue to grow our family through adoption. We love to laugh and be silly together and enjoy being adventurous in all aspects of our lives.  Our number one priority is family. We already have two open adoptions with Camdon and Cayson's birth moms and have enjoyed welcoming them and all of their extended family into our lives.  We look forward to this possibility with you as well.
We understand this is a journey for both our family and for you and we are thankful that you are willing to share this blessing with us.  Adoption is very much in our hearts. Your courage and strength in considering adoption is admirable as we can imagine this is a very difficult decision.  We feel privileged to have our lives intersect in this process.  We would be honored to be chosen by you as the adoptive parents for your precious baby.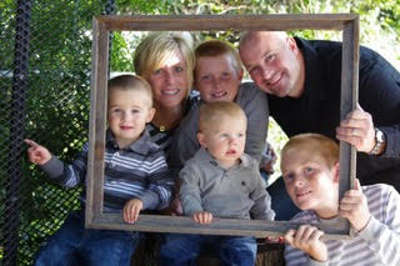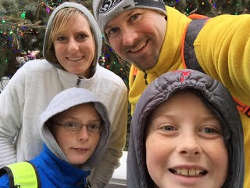 We started dating our junior year in high school, dated all through college and married one year after we graduated. Our marriage is full of lots of fun and love and we have been happily married for over 14 years.  Dustin grew up with a brother two years younger and Brenna grew up with two younger sisters.  Colton (age 12) was born two years into our marriage and Carson (age 10) arrived exactly two-and-a-half years later.
Through adoption, we were blessed with the arrival of Camdon (age 3 1/2), and our youngest Cayson (age 2). They will all be terrific big brothers!  We have so much love to give and have always wanted a large and diverse family.
Dustin worked in the technology industry both in a corporate environment and small business world for nine years.  Five years ago, he resigned from these environments to become the Pastor of IT & Communications at a non-denominational Christian church.  Brenna worked in the insurance industry for approximately 11 years and is now delighted to be a stay-at-home mom.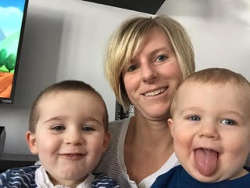 Dustin Talks About Brenna
Brenna has been my best friend from the day we started dating.  Just thinking about my feelings for her and what she means to our family brings tears to my eyes.  She's the most loving person anyone could meet and cares for her family and friends with a completely selfless heart.  She is very athletic and always finds time to be an additional teammate in the family game outside.  The trait that I love most about Brenna is her never ending and always-available compassion and grace for other people, especially our children.  Just seeing one of our kids sitting in her lap brings great joy to my heart knowing that her love for them is so enormous that they will never be able to absorb all the love that she has to give.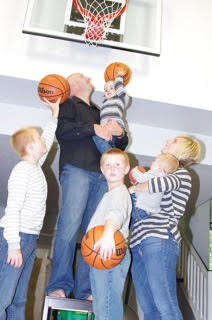 Brenna Talks About Dustin
What attracted me to Dustin was his fun and loving personality.  His love for his family goes beyond words.  In addition to his faith, we are the top priority in his life.  He is very involved in coaching our boys' sports teams and often times I find Dustin out on the court playing with our children and the neighborhood kids.  He is an extremely involved father and is devoted to raising his children to be individuals with strong morals and values.  As a husband, Dustin shows me love and respect all of the time.  He helps out with all responsibilities around the house and is an extremely handy individual.  Dustin is an excellent role model as a husband, father, and friend.  He is my best friend and I am so thankful that he is my partner in life.
Family Life
We are a very active family and enjoy doing things together.  Our older boys are very involved in church activities, school activities, and sports while our younger two boys enjoy trying to keep up with their brothers!  We love to play outside, take walks around the neighborhood, and bike around town.  We also enjoy spending time with our family and friends.  We make it a point to go on a yearly family vacation and always enjoy spending weekends at nearby amusement parks.  Additionally, our family takes a yearly mission trip to Haiti to spend time with our Haitian friends.  We are excited to open our hearts to another child.  We welcome a child of any race.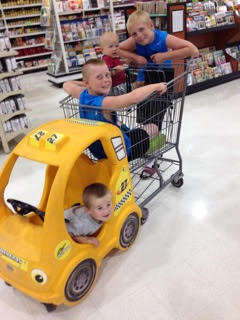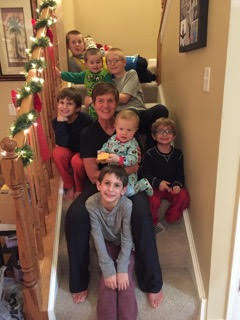 We live in central Illinois. We both were raised in the same hometown but went away to different colleges.  After experiencing city life, we decided to move back closer to home to raise our family.  Our town has over 125,000 people and offers a lot for families to do, such as park activities, walking and bicycling trails throughout the town, local sporting events, and different family events at the local coliseum.   It is an extremely diverse community, which is very important to us.  Our extended families are close by which allows us to be able to get together to celebrate birthdays and do dinner and fellowship time at least once a month.  We have lived in this town for the past 14 years in a single family home that is close to walking trails, parks, schools, and much more.
Our Wish
We are looking forward to sharing our love and compassion with another child. Our children are very excited to welcome another sibling into our family.  We want to thank you for the courage you have and the love you have demonstrated for your baby.  We know God has a plan for your life and for ours.  We hope that there is a reason that our letter has found it's way to you. Our lives could be linked together through adoption.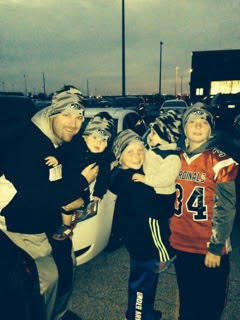 Please contact our adoption counselor, Maggie Benz, at 
1-800-869-1005
 or text at 847-366-6343 or email 
maggie@centerforfamily.com
.  She would be happy to talk with you and put you in touch with us.
God bless you,

Dustin, Brenna, Colton, Carson, Camdon, & Cayson