Dear Expectant Parent(s),
We are Blane and Marton. We are two dads who are excited to become parents. Whether or not you choose to place your child with us, please know that we respect and admire your strength as you are considering an adoption plan. We are a creative, energetic and warm-hearted couple surrounded by awesome friends and a loving family. We live in Chicago and enjoy the diversity of people and experiences that the city has to offer. After being together for more than five years (and married for nearly four!), we are ready to grow our family and welcome a child into our loving home.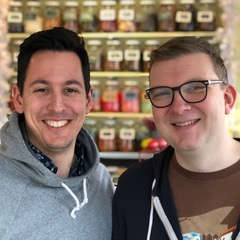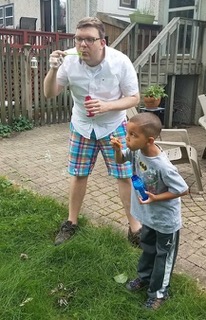 About Blane:
I was born in Texas and have lived in several places around the country. I have a big family that includes my mom, stepdad, four brothers, one sister, three nieces and two nephews. Although my family mostly lives in Texas (and my sister is in Dublin, Ireland!), we talk regularly and see each other throughout the year at Easter, summer vacations, Thanksgiving and other events and gatherings. I went to the University of Illinois at Urbana-Champaign as a journalism major. After leaving college, I built a career in technology. I am now an executive at a marketing technology company that I helped start. In my free time, I like to bake, take road trips, see plays, go hiking, ride bikes, sing karaoke and, in general, be around people who make me laugh.
About Marton:
I was born and raised in Budapest, Hungary, and moved to Chicago for a job in 2012. Most of my family still lives in Hungary. Blane and I go to Budapest for Christmas and in the summer, and my sisters and parents visit us in Chicago. My parents (who will be first-time grandparents!), aunts, uncles and cousins are all very excited to welcome a new family member into their lives. During my college years I spent six weeks in Moscow and a full semester in Finland. I'm fluent in several languages. I have a master's degree in business and am now a senior marketing strategist at an advertising agency. In my free time, I love being outdoors, hiking, biking and gardening. I like theatre and I take acting classes. Sports are important to me. As a teenager, I competed in multiple sports. Now I play in a kickball league and try to swim and run regularly.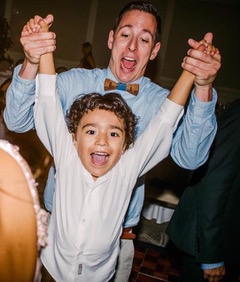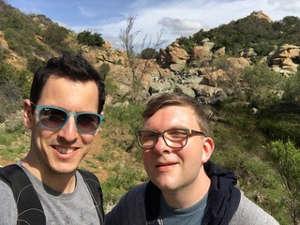 About Us:
We met at a friend's birthday party in 2012. We both immediately knew that we found someone special.
 We got married in 2014 and our friends and families joined us for a wonderful celebration. We started talking about the kind of family we hoped to build relatively early in our relationship and feel extremely lucky to be given the opportunity to adopt a child.
We are highly active people, and you will find us on any given weekend spending time with friends, working in the yard, cooking, baking, and finding a way to be outside. One tradition we are eager to continue with our child is weekly nature walks — three generations of Marton's family share this time together and we look forward to passing it on. Nothing would make us happier than bringing your baby into our lives and family.
Why I think Blane will be the best dad (by Marton):
Blane is my soul-mate, the love of my life, and I couldn't imagine a better person with whom to share the adventures of parenthood. He's very caring and smart. I know Blane will be the perfect dad because he's well-organized, able to handle any situation that is thrown at him, has a great (and silly!) sense of humor and has more love in his heart than anyone I know.
Why I'm convinced Marton will be the best papa (by Blane):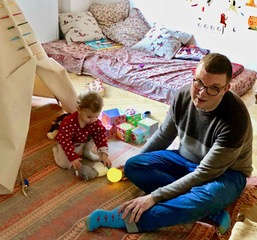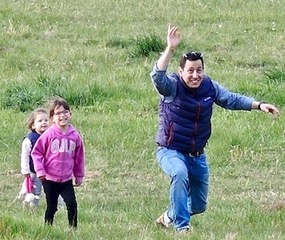 Marton is amazing!
He is so outgoing, empathetic, family-oriented and loyal. Marton's eyes light up when he's around kids, and more importantly, they go crazy for him because he's the most inventive, tireless playmate they could ever hope for. I'm quite certain that there is no one who has ever wanted to be a dad more than Marton.
Our family:
Both of our families are extremely excited to see us become parents. Our child will be surrounded by the love of aunts, uncles, cousins, grandparents, friends and more.
Our family is multicultural, with different religious, racial and cultural backgrounds. A child of any race or cultural background would be welcomed into our family, where they would find deep respect for what makes us alike and different.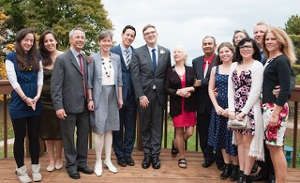 Our home is in Rogers Park, an amazingly diverse neighborhood on the north side of Chicago. We've got a super backyard and great neighbors who have young kids eager for another playmate! We live on a quiet street with lots of trees, playgrounds and a frozen custard shop. We can't wait to raise our children here!
We feel strongly that having an ongoing connection with you will be a huge gift both to your child and us. We are committed to finding and honoring the level of openness that you will feel comfortable with, and want your child to have full ownership of their life story from day one.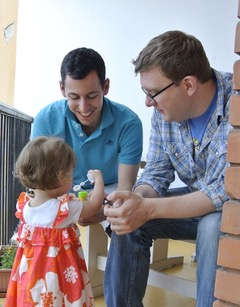 Our promises:
We believe that teaching a child love, kindness, tolerance, resilience, courage and self-discipline will prepare them to be independent and face both the good and tough times that life throws their way. From the very beginning, we will make sure that we provide the best education possible. Our group of family and friends is full of teachers, counselors, journalists, scientists, technologists, crafters, athletes, entrepreneurs, and police officers — so we will have a lot of support in teaching skills outside of the classroom too.
We live our lives with joy, and will encourage your child to sing and dance and seek joy in everything they do. Most importantly, we will surround your child with love so they grow up to love themselves and spread love to others.
With love,
Blane and Marton