Hello!
We are Beth (32), Justin (34) and Eli (3). We are high school sweet hearts, who were introduced by mutual friends when Justin was a senior and Beth was a sophomore. We instantly clicked and have been inseparable ever since. We always knew we wanted children. Unfortunately, we went through three years of failed infertility treatments, so we definitely understand the pain of loss. At that point, we knew God had different plans for us. We felt a peace and calmness with deciding that we are meant to adopt.
We were blessed with Eli in May of 2011. His courageous birth mother placed him with us at birth. We thank God every day for her brave decision and we also thank God for our infertility. If we hadn't suffered through that, we wouldn't have Eli, and we can't imagine a life without him. He has added a whole layer of love to our family. We believe everything happens for a reason. We hope our paths are crossing for a special reason.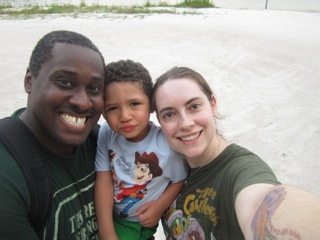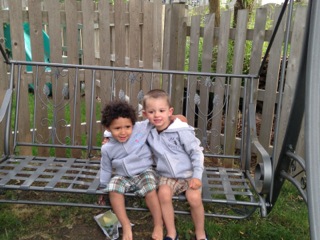 Beth:
I am the oldest of three. I have two younger brothers, Brian and John. We have always been close friends. In fact, John was Eli's nanny for a summer. I am also the oldest grandchild. I have 15 younger cousins. The youngest two are Eddy (4) and Kaelyn (2). It is so precious watching Eddy, Kaelyn and Eli bond and become friends. We are eager to see our next child as part of this trio too!
I am a librarian working in a law firm library. I love my job because I find great joy in helping people. I also love books! Every night we read to Eli, and he always begs for "one more".
Both Justin and I grew up and now live in Evanston, a suburb north of Chicago. Evanston is very diverse and we both had friends of all ethnicities. I think that is an important element to growing up with an open mind and heart.
Justin:
I have one brother, Nate, who is two years younger. We were very close growing up. I spent most of my childhood playing various sports, and I still have that love for sports. I was able to play baseball and basketball throughout high school, and this helped me to grow as a person. I learned the value of teamwork and trust in others. This is something that I have been able use in my work as a nurse and at home with Eli. I am a registered nurse, working at a rehabilitation hospital. I truly enjoy taking care of others.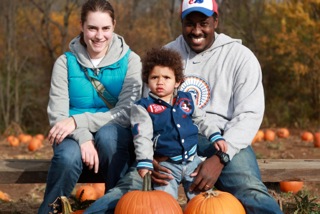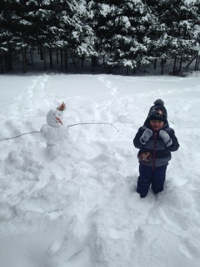 Eli:
Eli is a boy on the go! He is very active and loves playing sports of all kinds. He is most in love with hockey. He takes skating lessons and loves getting daddy to play hockey with him in the living room, using the fireplace as the goal! Eli also loves to read. We have a huge collection of his books, as well as all of Beth's old children's books. Eli also likes to play pretend. One example is every week at gymnastics, he always pretends the pommel horse is his actual horse. He also pretends the foam blocks, that are used as padding, are his ice cream scoops, and he always shares with mommy and daddy. We have been talking with Eli about him becoming a big brother. He is very excited about it, although, he said he would like to name the baby Batman! Eli would make a great big brother. He loves to give hugs and kisses.
Beth on Justin:
Justin is the perfect husband and father. He is caring, attentive and loving. I can honestly say that he would give everything to protect Eli and me. He is always so respectful to his parents (as well as mine) and willing to help them out whenever they need it. I believe it is because he was raised that way and he is raising Eli in that same manner. For example, Eli is so polite that it can be funny sometimes. He will say sorry to himself if he bumps into something on accident! Justin and I have just always clicked and we get along perfectly!
Justin on Beth:
I am lucky to have such a great wife. She is my best friend. Beth is one of the most caring people that I have ever met. She has always been there to give me all of the love and support that I could ever ask for, and more. I have seen her grow in to a loving woman and a wonderful mother. It has been amazing to watch her care and nurture Eli.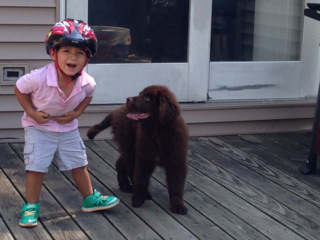 Teddy:
We also have a dog, Teddy, who is one year old. He is a Newfoundland, which
is a breed that is known as the "gentle giant". He is a big dog, but he wouldn't hurt a flea.
Eli has tons of fun playing with him. Newfoundlands are great swimmers, so
as he gets older, we plan to take him, and our kids to the doggy beach where we live.
Interests:
-Museums – we are members at the Field Museum (we all love dinosaurs)
-Disney World – we have taken Eli three times already and we are going again in December
-Going Up North to Beth's parent's lake house where we swim, hike, and water ski
-Sports – Justin wants to visit every baseball stadium in the country and so far we are halfway there
-Walking around our neighborhood – going to the local parks, library, and coffee shops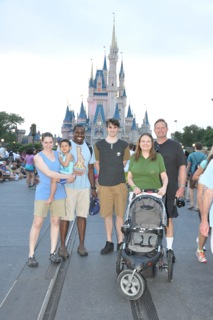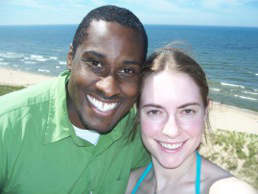 In closing:
Just like we have been with Eli, we want to be supportive and open with our next child. We will always be supportive and nurturing as our children determine their own interests and goals in life. We want our children to feel free to come to us with any issue or question. Most importantly, we will want them to know that they will always be loved, no matter what. We would like to foster an open relationship with you. We want our child to know the love you have for that child to make this tough decision.
Please contact us directly at BethandJustinACFB@gmail.com. You can reach Maggie, our adoption counselor, at: 1-800-869-1005, maggie@centerforfamily.com, 1-847-366-6343 (text).
Thanks for reading about our family,
Beth and Justin