Dear expectant parent(s),
Hello! We are Beth and Drew and we admire the courage and love you are showing by considering this important decision for you and your child. We greatly respect and appreciate you, and hope that we can assist you through the adoption process and that you feel confident that we will provide a warm, nurturing, and loving home for your child.
We are excited about growing our family through adoption. We hope to raise our child with lots of support from grandparents, siblings, aunts, uncles, cousins, and friends. We hope that this support network will also include you: we would like an open adoption and are committed to building a positive, long-term relationship with you.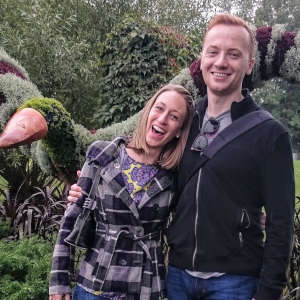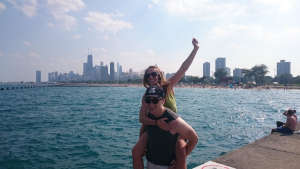 ABOUT US
We met in August of 2010 and hit it off immediately – we found that we could talk to each other for hours without any effort. Four years later, we were married in front of our friends and family at what we have been told was "the most fun wedding ever!" Since getting married, we have bought a house, laughed together every day, and planned for the future. A typical weekend at our house involves Beth cooking eggs for breakfast while Drew plays with our cat, The Beast. The Beast is extremely friendly and loves people, but she and Drew have a special bond – and they both love peanut butter! We also spend a lot of time with our large friend group in Chicago, many of whom have young children.
Drew is the head lawyer at a small investment company in downtown Chicago, and Beth works at a non-profit organization where she focuses on reducing crime in Chicago. We both enjoy our careers, and especially appreciate that they provide a stable income, the flexibility to work from home occasionally, and allow us to spend time together every day.
ABOUT DREW, by Beth
Drew is the best friend and partner I can imagine. He ensures that we see every Star Wars and Avengers movie the day it's released, and is always ready to discuss the plot development in detail. Our personalities complement each other perfectly; he is smart, extremely generous, kind, and funny – his friends even gave him the nickname Mr. Jokes! Drew has a calming influence on me and is usually the "sensible" one in our relationship – but he has a secret goofy side and always helps with the unusual or quirky ideas I throw at him, from hanging a punching bag from the ceiling to having chickens in our backyard. As a father, he will be full of joy, understanding, and excitement about life.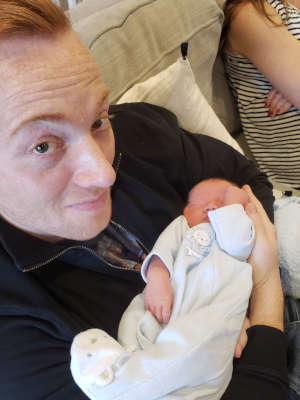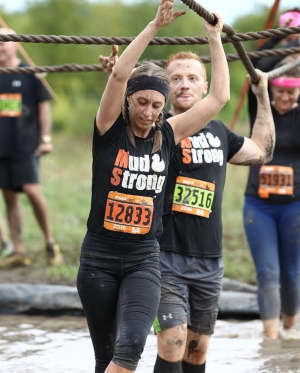 ABOUT BETH, by Drew
I was instantly drawn to Beth because she is intelligent, funny, happy, and sweet, and fell in love with her because she is incredibly kind, impossibly passionate, and my absolute soul mate. She also makes good pies! Beth helps me be a better, more well-rounded person every day, whether teaching me about cooking, getting me up and dancing at weddings, or convincing me to be more conscious of my environmental impact (I know a lot more about recycling thanks to Beth!). Beth is an incredible best friend and I know that she will be a wonderful mom for all of the reasons I love her and more.
OUR FAMILIES
Both of our parents have been married for over 35 years, and we have learned a great deal about parenting from watching them and our other family members. They have taught us the importance of strong family bonds, faith and tradition, education, hard work, communication, consistency, and, most importantly, unconditional love. We have also learned a lot about the special bonds that adoption creates as Beth has two young cousins that were adopted as infants and are beloved by the entire family. Both of our families are looking forward to welcoming a child into the family through adoption.
Drew's sister lives a few minutes away from us with her husband and infant son, so we plan to raise our child closely with his or her cousin. Drew's parents live just outside of Chicago and he has several aunts, uncles, and cousins living nearby who will provide lots of love and support as our family grows.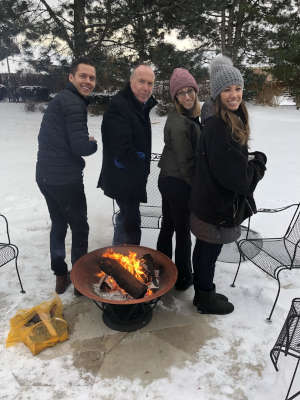 Beth has a large extended family that is spread across the country, which means our child will have opportunities to go horseback riding in Colorado, play in the pool in the desert of Arizona, explore big cities, and will always have the benefits of a big family. Beth's parents live in Tucson, Arizona and visit us regularly, and her cousin also lives in Chicago. We have a family gathering in Tucson every Thanksgiving – there are usually dozens of people and at least four turkeys!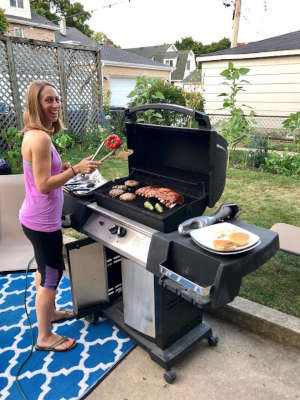 HOME AND COMMUNITY
Our house has three bedrooms, two bathrooms, and a large basement, in a diverse and friendly neighborhood in Chicago. There is a front and backyard, and we regularly barbecue in the backyard. Beth grows apples, grapes, berries, and lots of vegetables – we look forward to teaching our child the joy of eating tomatoes straight off the vine! We have five friendly chickens that live in a large pen in our backyard, so we have all the fresh eggs we can eat.
Three houses from us, our quiet street ends alongside a river; there are several other families with young children that play out front every evening. We live close to two large parks, one of which has a hill for sledding in the winter. We spend lots of time outside and hope to raise our child with a love of the outdoors and respect for all living things.
IN CLOSING
We hope that you will consider us when making your adoption decision and that this is just the beginning of our relationship with you. Please know that your child will be raised in a loving and nurturing home, full of attention, excitement, laughter, and support. He or she will always be taught that your adoption decision was motivated by love, courage, and personal sacrifice.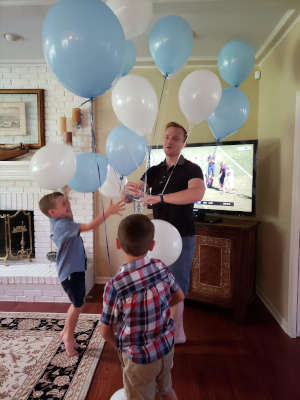 If you are interested in getting to know us better, please contact us directly at:
bethanddrewACFB@gmail.com
You can also reach us through our adoption counselor, Maggie Benz, at:
800-869-1005 toll free
847-366-6343 text
maggie@centerforfamily.com
Warmly,
Beth and Drew