Dear Birthparent/s,
Hello! We are Bernie and Daisy and we are so glad to have the chance to introduce ourselves to you. From very early on, we knew we wanted to be parents and we always thought it would happen through adoption. For us so far, the adoption process has felt exciting, enriching and occasionally, overwhelming. At times it feels like the experiences of adoptive parents and birthparents must be really different, and it's hard to know what you are going through. That's why we look forward to the possibility of meeting you and hearing your story. We bet once we do, we'll find lots of common ground, even though very different circumstances have led us here.
We want you to know right off the bat that we absolutely believe in open adoption. We don't know exactly what that will look like but it is important to us that our child has a relationship with his or her birthparent/s.
info@centerforfamily.com
847-674-8634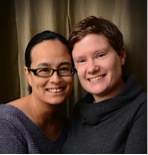 MEET BERNIE
bernieI was born and raised in Chicago with three siblings. Both my parents grew up in Mexico and came to the US after two of my siblings were born. I grew up immersed in Mexican culture with Chinese influences (my grandfather on my father's side was Chinese). We didn't have a lot of money, but growing up I never knew I was poor until high school. I have such great memories of my childhood.
I am lucky to have my family nearby. I see all my nephews several times a week (they hang out at our house after school). My parents also live in Chicago and are looking forward to loving a new grandchild! Having so much family close by means our holidays are chaotic and a lot of fun!
I have a Master's degree in Public Health and I have been working as a program director at the Chicago Department of Public Health for over ten years. I am lucky to work with so many diverse people, and provide health education to community residents who I really feel a connection with.
MEET DAISY
daisyI grew up in Minnesota with a twin sister and amazing parents. My mom passed away about 10 years ago, which was very hard, but I'm so glad I had her in my life for as long as I did. And even though we live in different states, I feel lucky to be very close to my sister, step-mom and dad. My sister Annie lives in Alaska but we still manage to see each other every few months, even with the long distance between us. She has a two-year old daughter named Daisy (!) and it has been so fun to be in her life. My dad still lives in Minneapolis and we see him and my step mom a lot, too. They are absolutely devoted "grandparents" to our nephews.

Oh, and although it doesn't define me, I do love my job. I'm Vice President of Access Living, a great organization that fights for the rights of people with disabilities. I have worked there for 13 years, since almost right out of college, and I don't imagine I'll leave anytime soon.

YOU LIVES TOGETHER
ourlivesAs two women, we will be offering your child something a little different than the traditional family. It's probably safe to say your goal is to find a family that will be able to offer your child a great life. To help you decide if we are the right fit, here's a glimpse into our lives together.
You probably wouldn't suspect we were a couple if you didn't know it. On the surface, we are very different. Bernie is boisterous and fun loving; Daisy is quiet and kind. And somehow, it just works. Despite our different personalities, we have the same values, priorities and outlook on life, which in the end, is what really matters.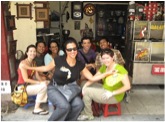 OUR IDEA OF FUN
funTravel is one of our favorite things to do together. We've been to every part of the US, Thailand, Vietnam, Laos, Greece, Iceland, Italy and France. It's important for us to experience the world, so we are always planning a new trip. We know having a kid will make travel more difficult, but we will always find a way to make it work.
And, speaking of food, you can't know us without understanding our love for it. We love to make it, eat it and share it with friends. We love to grow food too but as it turns out, neither of us was blessed with a green thumb so that hasn't worked out so well.
Finally, we love to ski. Daisy's mom is originally from Utah and is lucky to have a family cabin in the mountains. Daisy has been skiing since she was little. Bernie discovered a love for it later in life but for both of us, it is a passion.
OUR NEIGHBORHOOD/OUR HOME
neighborhoodWe live in Albany Park on the Northwest side of Chicago in a house that we really love. It is important to us that our house is a welcoming place for all of our friends and family. In fact, many of those closest to us have their own set of keys. We never know who might stop by (or be at our house when we get home!). That makes things unpredictable, but it's also pretty great. We chose Albany Park because it is a hub of so many different communities, which makes it a diverse and very interesting place to live.
And, we can't talk about our lives without mentioning our dog, Charlie. He's big, super friendly (he loves giving kisses), and has lots of energy. The more people around him, the happier he is, so we have no doubt he will love having a new family member in the house.
FINALLY
We know you have a big decision to make. We thank you for taking the time to learn about us. If something in our letter caught your eye, we look forward to meeting you and hearing your story. If not we wish you the very best in your journey.
Please contact us by email at info@centerforfamily.com or contact our counselor, Tobi at 800-869-1005. You can also text Tobi at 847-366-6351.
Sincerely,
Bernie and Daisy