We are Amy and Dan, and we want to thank you for taking the time to read a little bit about us. We can't imagine the challenge of the decision you're facing, but we know it must take a special love and a deep strength to handle it, so we can't help but admire you already. We look forward to meeting you, getting to know you, and partnering with you throughout this process.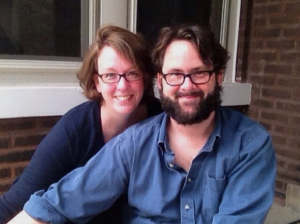 OUR STORY
We met in 2000 through mutual friends, while Amy was working on her doctorate in nonfiction writing and Dan was working at an internet start-up. We started dating in 2002, moved in together after a year, engaged a year after that, and then married in 2005. Nine years later, we're just as happy and as much in love as we were from the very start. Our shared interest in music, the arts, education and nature have helped us to grow together as a couple. Whether we're going to museums or music venues in Chicago or visiting the family farm in Ohio or just hanging out with friends at home with our dog (L.P.), we feel lucky to share those experiences with one another . . . and, of course, we can't wait to share that with our child (our first!).
Dan now works as a web developer for a research group attached to the School of Social Work at the University of Illinois. He's lucky to work from home and will be nearby to spend as much time as he can with our new baby. And after ten years of working in Marketing and Communication at Columbia College Chicago, Amy now works part-time at freelance/contract work so that when a baby arrives, she can have a flexible schedule that allows her to parent full-time.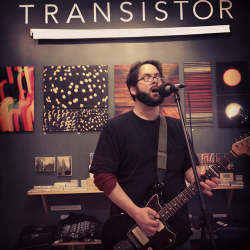 AMY ON DAN
Whenever I talk about Dan, it's hard to choose what I love about him most. He's so smart and kind and gentle and loving. He makes me laugh every single day. He's introspective and thoughtful, always taking stock of his reactions to things and trying to figure out a better and more generous way of seeing the world and the people around him. He's a reader and endlessly inquisitive–traits I know he will teach to our child. And he's a brilliant musician. He plays guitar and sings–writing, performing and recording all of his own music–and is friends with a big group of people in the local music scene.
Dan is also a great caretaker. He takes excellent care of me and will do the same for our child. Watching him with our niece and nephew and all of our friends' kids is a delight. He can make them giggle and play them funny songs and play with trains with the best of them, but he really shines at bedtime story time. I'm excited about the prospect of parenting a child, but I'm equally excited watching Dan become a father.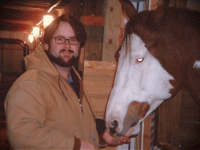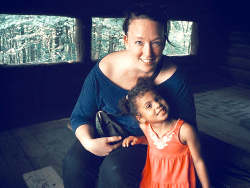 DAN ON AMY
Aside from being beautiful, funny, and warm, Amy is one of the smartest people I've ever met. But what knocks me out is that she's not just intelligent in a bookish way — just the opposite. Like her parents, Amy believes that teachable moments are all around us and that sharing them brings us all closer. It will be a treat to see that kind of spirit passed on to the next generation.
Of course, Amy can be lighthearted and silly, too, and her love of all things cute (like the little knitted creatures she makes) is genuinely infectious. I guess what I'm saying is that there's a core of generosity in everything she does — whether it's cooking for big groups of friends or hand-writing notes to her niece and nephew in the voice of our dog. She's a big-hearted and special woman, and it's clear to me that she's going to be an outstanding mom.
Extended Family
Our extended family is very diverse and we LOVE it! Kourtni's dad is African American and her mom is Caucasian. They live in Michigan along with her younger brother. Kourtni's older brother lives in New Mexico with his wife and daughter. We enjoy Face Timing with them every week. Kourtni's dad's side of the family still lives in Michigan and we get together with them several times each year.
Josh is the second oldest of 6 kids, with siblings and spouses living in Washington state, Michigan, Iowa, Texas, and South Africa. Josh's parents also live in Washington and enjoy keeping in touch with their 15 (and counting) grandchildren. Josh, too, is part of a multicultural family with relatives from India, South Africa, the Philippines, and Nigeria, including three unique adoption stories. Needless to say, our baby will be welcomed with open arms!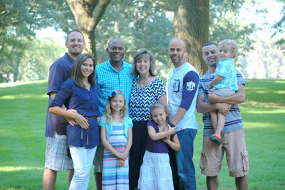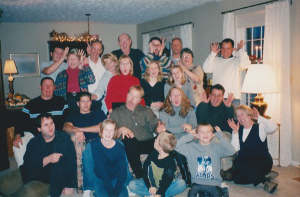 OUR FAMILY
We're incredibly close with our families and they're over-the-moon excited to meet their new grandchild, who will be the very first grandchild on Dan's side! Dan grew up in Cleveland, and his mom (Susan) and stepdad (Tony) still live in the area, while his twin and older brothers (Scott and Brian) live in North and South Carolina, respectively. Amy's folks (Dick and Karen) still live in the house she grew up in Cincinnati, and her brother (Richard) and his wife (Christie), along with their two children (both adopted!) live in a nearby suburb. Amy has aunts, uncles and cousins in Minnesota and the DC area, and a cousin in California who is expecting his first child as well!
We talk to our families regularly, and we spend Thanksgiving in Cleveland with Dan's huge extended family and Christmas in Cincinnati with Amy's folks. We also vacation for two weeks in summer with Amy's family, and we host our parents and brothers here in Chicago–something that's bound to happen way more often once we have a child. We have a lot of fun with our families, and we genuinely like spending time with them, whether it's sight-seeing, nature-walking, or just playing board games and catching up.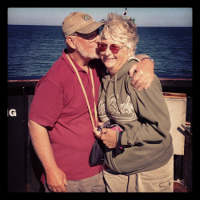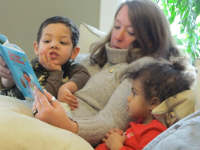 OUR CHOSEN FAMILY
Throughout our lives, we've been lucky to collect an amazing and diverse chosen family. Some are near us in the western suburbs, some live in the heart of Chicago, and the rest are scattered from California to Philadelphia. This network of friends is as important to us as our biological family. They include filmmakers, lawyers, teachers, and more–many with kids (including adopted kids). We're lucky to be part of such a loving group, which will doubtless welcome the newest member of our family with open arms.
CONCLUSION
We believe the most important thing in the world is treating everyone around us with respect and love. We want to grow our family with a baby, but the first thing we want to do is meet you, get to know you and start to build our relationship—a relationship that we hope will continue and flourish in the future. We believe in and celebrate open adoption and hope that the birth mother (and family) of our child will become a member of our chosen family, too. If you have questions please contact our counselor Maggie Benz at 1-800-869-1005, or maggie@centerforfamily.com or text her at 847-366-6343. Or contact us directly by email at danandamy.ACFB@gmail.com
With warmest wishes,
Amy and Dan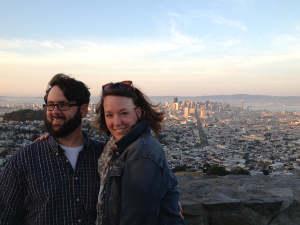 With love and gratitude,
Gretchen and Mark