Hi There!
We are Allison and Tom. Thank you for taking the time to get to know us. We are thrilled to start this new phase in our lives and can't wait to welcome a baby into our family!
We imagine considering placing your baby for adoption is an overwhelming decision. You are clearly a brave and selfless woman trying to make the best choices for yourself and your child. We have an enormous amount of respect and admiration for you. If you choose us as the adoptive parents, we will give your baby a life full of love, fun, and adventure.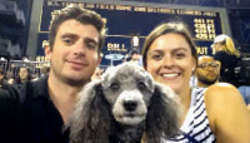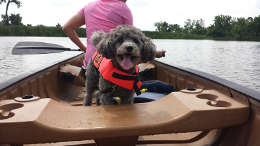 Everyday Life
We are a young couple (early 30s) and we have been married for 7 years. We live in a three-bedroom home in a diverse neighborhood west of Chicago with great schools and lots of activities for families. There are parks and playgrounds everywhere. We have great block parties in the summer, usually involving a bouncy castle right outside our front door.
We are both fortunate to work from home and get to spend a lot of time with each other and our playful dog, Tiggy. We love to bike around the neighborhood enjoy dinners out, visit parks, and spend time exploring the area. We also like to visit Chicago museums, attend concerts, and take Tiggy to Lake Michigan and "Bark in the Park" every summer.
We love to travel and visit England a few times a year to see Tom's family and friends. When visiting, we often take a short getaway to nearby cities in Europe. This Christmas we spent a few days in Berlin visiting German Christmas markets, which was a dream come true! We love traveling around the U.S. too, and Allison LOVES to visit Disney World whenever she gets an excuse. We have a wonderful marriage, terrific life, and can't wait to share it all with a child. It is truly the only thing missing.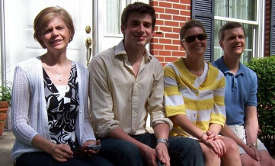 Our Circle of Trust
We are extremely lucky to have devoted families and friends. Allison's family is big and traditional, with everyone still living in Indiana. We see Allison's parents often. Allison's closest friends are like family, and will have a big role in our child's life. We love to visit her best friend, Katie, in Colorado, and Jess (another great friend) lives nearby in downtown Chicago. The three girls love to travel together and are Allison's most frequent Disney companions. Katie is due to have a baby in April and most of Allison's friends have young children.
Tom's family lives in England but we see them often. Luckily, FaceTime enables us to catch up in between visits. Tom's brother and sister-in-law welcomed our nephew Harry into the family 2 years ago. We love spending time with Harry and he adores his Uncle Tom. Tom has a wonderful group of friends who make an effort to see each other throughout the year.
We have been on this journey to start our family for what seems like forever, including 5 years of infertility treatments and some bumps in the adoption road. We are so grateful for the support that family and friends have provided throughout this time. It would have been impossible without them. We know they will be overcome with joy in welcoming a new member into our circle.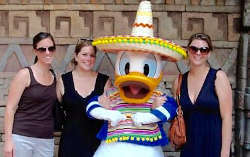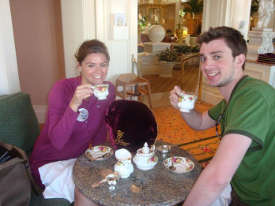 Meet Allison (by Tom)
I met Allison when visiting my brother in Washington, DC. He was away on a work trip and arranged for his neighbor, Allison, to take me and my friend into town for our first night in America. I have never met anyone like Allison. She is the most kind, genuine, and beautiful person I've ever known and no one makes me laugh like she does. Allison loves surprises! I recently arrived at the airport with no idea where we were going and we ended up spending a hysterical few days riding bikes around Copenhagen. Allison attended college at Indiana University, majoring in Health Administration. She moved to D.C following graduate school.
Here's a few quick facts about Allison:
• She is an amazing yoga teacher and swimmer.
• She serves her country through her work at the Dept of Veterans Affairs.
• She loves dancing, music, and concerts (she's hoping for a baby dance partner because I'm rubbish).
• She loves to cook and bake healthy food, but is obsessed with ice cream.
Meet Tom (by Allison)
When I met Tom for the first time I was planning to stop by and cancel the plans for later but changed my mind when he answered the door. Tom is the quintessential, witty Englishman. He is smart, kind, and a gentle soul with a big heart. Everyone who meets Tom adores him. Tom grew up in London and the south coast of England and moved to America to be with me and build our life together. We shared our wedding with friends and family, overlooking the White House.
We just have so much fun together. One of my favorite memories is of Tom taking me ice skating in Hyde Park in London. I'm a horrible skater and he was actually really good! I thought he'd be like a gangly giraffe (he's 6'6") on the ice, but boy was I wrong! Tom attended college in England and has always worked on something to do with cars. He worked in public relations for car manufacturers and now writes about self-driving cars. Tom will be a wonderful Dad and I am so excited to share my life and parenting journey with him.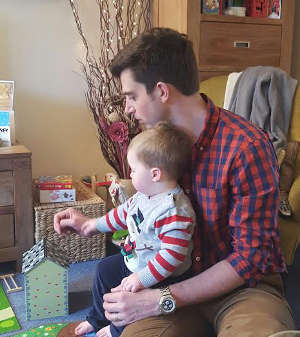 Here are a few fun facts about Tom:
• He loves cars! Seriously, loves (he once worked on the tv show, Top Gear).
• He has a motorcycle and rides off on adventures with my Dad.
• He went to school at Hogwarts, minus the magic part. His boarding school was the inspiration for Hogwarts for the Harry Potter movies.
• He loves tea and crumpets (I said he was very English).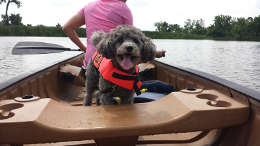 Meet Tiggy
Hi, I'm Tiggy! I'm a silver poodle and very cuddly and sweet. I love playing fetch most of all but I also love canoeing, tennis balls, swimming in the lake, walks, tennis balls, agility training, and tennis balls. Did I mention I really like tennis balls?
Thank You
Thank you for reading our profile. If you think we may be the right family for your baby, we are happy to talk, meet, and get to know you. We promise to always consider your wishes and respect your feelings as we go through this journey together. Most importantly, we will always ensure openness and honesty so our child grows up knowing how very much he or she is loved and valued.
Please email us anytime at allisontom.acfb@gmail.com. You can also chat with our adoption counselor, Tobi Ehrenpreis at 800-869-1005, text her at 847-366-6351, or email tobi@centerforfamily.com
Wishing you all the best,
Allison and Tom