Dear Expectant Mother,
We are Alison and Michael and we are hoping to adopt a child. We are excited to be parents together and grow our family. We feel blessed that you are considering us for this privilege and look forward to the responsibility of parenthood. We believe that the choice you are making is extremely brave and selfless and we hope that you will find peace in your decision.
We have been very happily married for four years. We have a deep desire to be parents and we promise to raise your child in a loving home. We will make sure this child will know about the loving and careful decision you made in order to ensure that he or she is well cared for, loved, and cherished.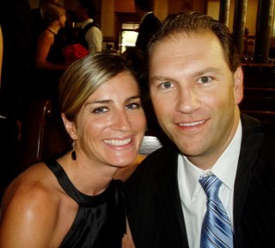 About Us
We met six years ago and our relationship developed quickly. We were married two years later. We have a strong relationship built on shared beliefs, communication, and most of all laughter! Michael works in the banking industry and Alison is a pediatric emergency room nurse.
We are an active couple and enjoy traveling to new places and are excited to include our children. This past year we drove along the beautiful coast of Maine and also spent a relaxing week on the beaches of Florida.
We love to listen to music, and spend our days off with our two dogs running around the park. We love to make each other laugh. When we disagree about something, the conversation usually ends with one of us cracking a joke and both of us laughing! We are very close with our families and with most of them living in the area, we spend lots of time with them.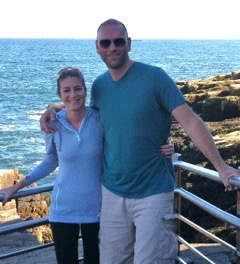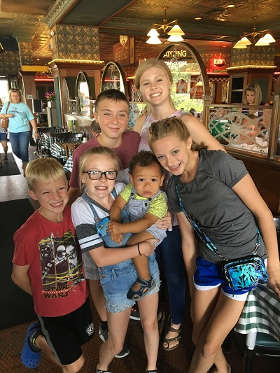 Our Family
Alison's parents have been married for 46 years and live nearby. They are ecstatic about having a new grandchild to spoil! Both of Alison's sisters are married and there are a total of five nieces and nephews between them. We always celebrate holidays and birthdays together. We enjoy hosting the kids for sleepovers and taking them to museums in Chicago. When they come over to our house they love to play games, rollerblade on the sidewalk and in the basement, go sledding, work on crafts, make their personal pizzas, and watch movies. They can't wait for a new cousin to arrive and join in the fun!
Michael's parents were married for 53 years and, sadly, they have both passed away. Michael is the youngest of four siblings. His sister lives across town with her family. Michael also has two brothers, one in Colorado and the other in Arizona. Both are married with grown children. Michael's family is very familiar with adoption as his nephew, his nephew's daughter and his brother's two grandchildren all came into the family through adoption. As you can see, we know from direct experience with adoption that our family will treasure your child.
We have two sweet, playful dogs, Oscar and Roxie. Both dogs were adopted through rescue shelters. They love people and other animals. Oscar played the role of Sandy on stage along with our nieces in the musical Annie a few months ago!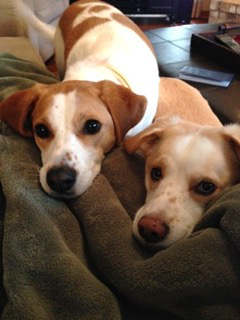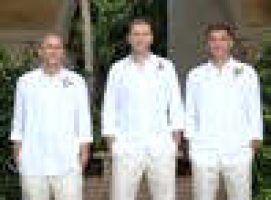 About Michael
Michael is truly the kindest person I have ever known. His friends joke that he is a "gentle giant." At 6'6", some might be intimidated by his appearance but kids LOVE Michael! He has always been sensitive to the needs of others. Michael is also a man of honor; he is completely loyal and trustworthy, which played a major role in my love for him and desire to marry him. He is committed to making our marriage work. Michael is loving and thoughtful and always makes me laugh! Michael is the father to two grown sons from a previous marriage. He did an amazing job raising boys who are respectful, kind, and funny! They are excited to be much bigger brothers. The baby we adopt will have all the attention of being an only child but will also have older brothers too! It's the best of both worlds!
About Alison
I was attracted to Alison's positive attitude and high energy level when I met her. She is a very caring person with a huge heart. Although I think she would be successful in just about any field, Alison is absolutely perfect for her job as a pediatric emergency room nurse. When I'm around Alison, I don't stress when things go wrong. She gives me a sense of calm and has a way of making me feel that we will overcome anything that comes our way. I always knew that Alison would be an absolutely great mom!
Alison works hard but also really enjoys having fun. She enjoys beating me at board games, card games and foosball. Despite being nine inches shorter, she isn't afraid to occasionally take me on in a game of basketball! When we go to family parties, all the kids can be found hanging near Alison because she always comes up with fun ideas.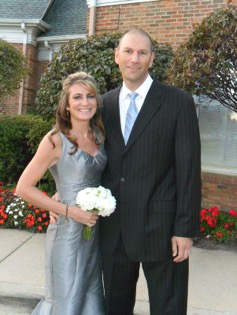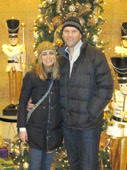 Our Community
We live in the western suburbs of Chicago. Our town is a great place to raise kids. Our neighborhood is full of families of many ages, races and religions. We have lived in our house for three years. There is a brand new park just down the street from us. The schools in our district are top ranked in both the state and the nation.
Our Promise
Should you choose us to raise your baby, we promise to love him or her unconditionally. We promise to raise your child in a supportive, caring, and fun home with faith-based values. We promise to make sure that your child always knows how very deeply you loved him or her and that you made this difficult decision out of love.
Feel free to contact us directly by email at: michaelandalisonACFB@gmail.com. Or you can contact us through our adoption counselor Maggie Benz by phone at 800-869-1005, by text at 847-366-6343, or by email at Maggie@centerforfamily.com.
We look forward to hearing from you and hopefully meeting you.
Wishing you the best!
Alison and Michael